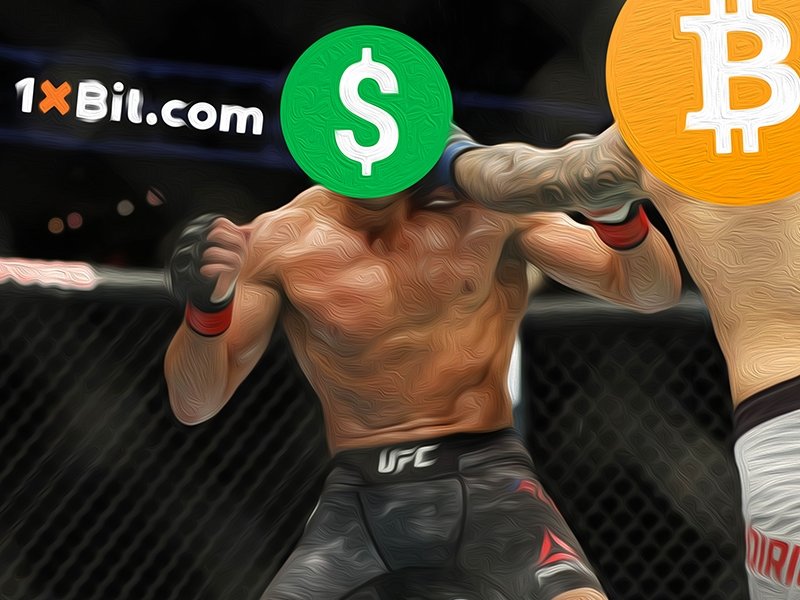 In the past couple of years, many brands and institutions have adopted cryptocurrency and blockchain to increase their efficiency and maximize the convenience offered to their users. This technology influenced a multitude of platforms and sectors, and the sports betting industry has also seen such implementations.
1xBit is among the few betting platforms that made a full transition from fiat to digital currency support. In addition to Bitcoin, the platform accepts over 20 cryptocurrencies, counting popular altcoins such as Ethereum, and Litecoin. By not limiting itself only to Bitcoin, it offers its services to a broad range of crypto bettors.
The website enables users to choose from a myriad of sports, events, and leagues, having everything from American football to Darts. The list of events is updated on a daily basis, and a slew of bet types is available for each sport.
Introducing the UFC Section
1xBit users are able to navigate the website and place bets easily by accessing their specialized sections. The newest one to join the group is the "Bets on UFC" section, which features stats and odds for Ultimate Fighting Championship (UFC) events. UFC is the most recognized entity that organizes mixed martial arts matches. Only the most skilled fighters are featured in its roster, and the matches receive a lot of attention from both the media and fans. The page shows the fighters for each match, the odds, and their times.
The inclusion of this new section was due to the increasing popularity and interest that fans have shown for this sport.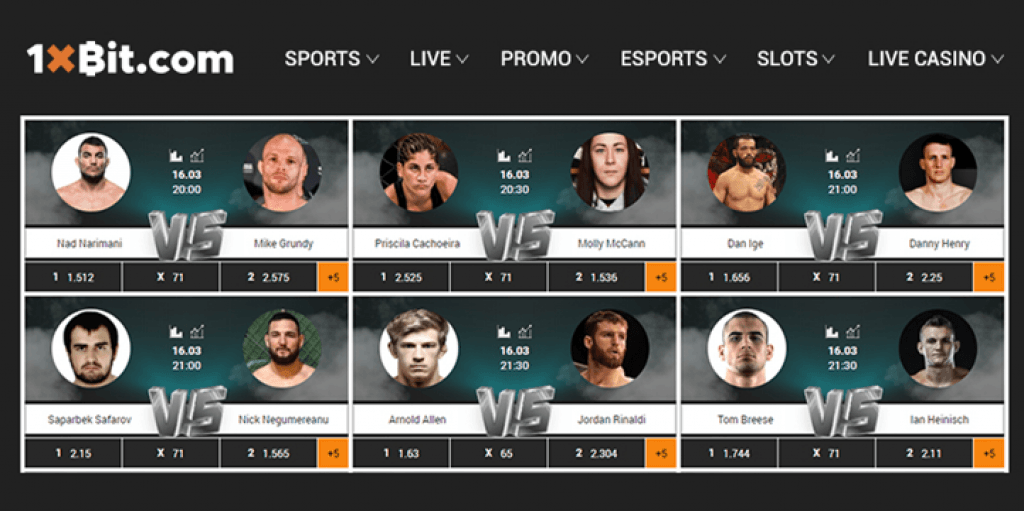 Can DLT Better the Betting Industry?
Although thrilling and enticing, sports betting also comes with its downsides. There is a lack of transparency and trustworthiness which discourages many users from partaking in action. Stats and odds can be manipulated, accounts can be banned, and earnings can be confiscated by bookies that are interested in profiteering as much as possible.
But 1xBit's use of blockchain technology enables it to provide transparency and fairness for its customers. As the platform aims to support only cryptocurrencies, transacting with digital assets means that all data is stored safely and immutably on the blockchain. Members of the blockchain network are able to check the validity of the transactional information at any time and any place they want.
An improvement is also noticeable in the transaction speed, as cryptos have faster processing times as no external financial mediator is needed.
Compared to traditional bookies, DLT-based sportsbooks do not require as much personal data. The signup process with 1xBit requires just a valid email address. Users have to select their account currency, enter their email and click on the register button. A password and account ID will be generated instantly and sent to the provided email address. After this, the user is able to activate 2-factor authentication to enhance account security. This ensures that bettors can benefit from anonymity without compromising security.
Blockchain-based bookies, such as 1xBit, offer a wider range of betting categories due to a higher efficiency of transaction processing, which increases the earnings opportunities for its players.
In a league of their own: Cryptos and Sports
Cryptocurrencies have been expanding and diversifying their advertising strategies to include various deals and sponsorships from different domains.
Last year in December, the Litecoin Foundation struck a partnership with Ultimate Fighting Championship (UFC) in order to promote the altcoin. By sponsoring the UFC 232: Jones Vs Gustaffson fight, Litecoin became the first cryptocurrency to be displayed in the MMA fighting ring. The crypto continued to make an appearance in UFC-related headlines, as in 2019 Litecoin was used to sponsor UFC fighter Ben Askren in the UFC 235 fight.
1xBit also posted on its blog about a recent deal in which Stratis, a dApp blockchain project, got involved in the boxing world. Stratis (STRAT) is a blockchain as a service platform which enables private blockchains to create and deploy decentralized apps (dApps). James DeGale was the boxer who benefited from the Stratis Sponsorship in his match for the Super-Middleweight title.
1xBit's blog features crypto sports news and guides for crypto use and betting. If you want to find out more about blockchain and its use in the sports scene, access their blog, and while you are there, maybe you can take a quick glance to their UFC section.