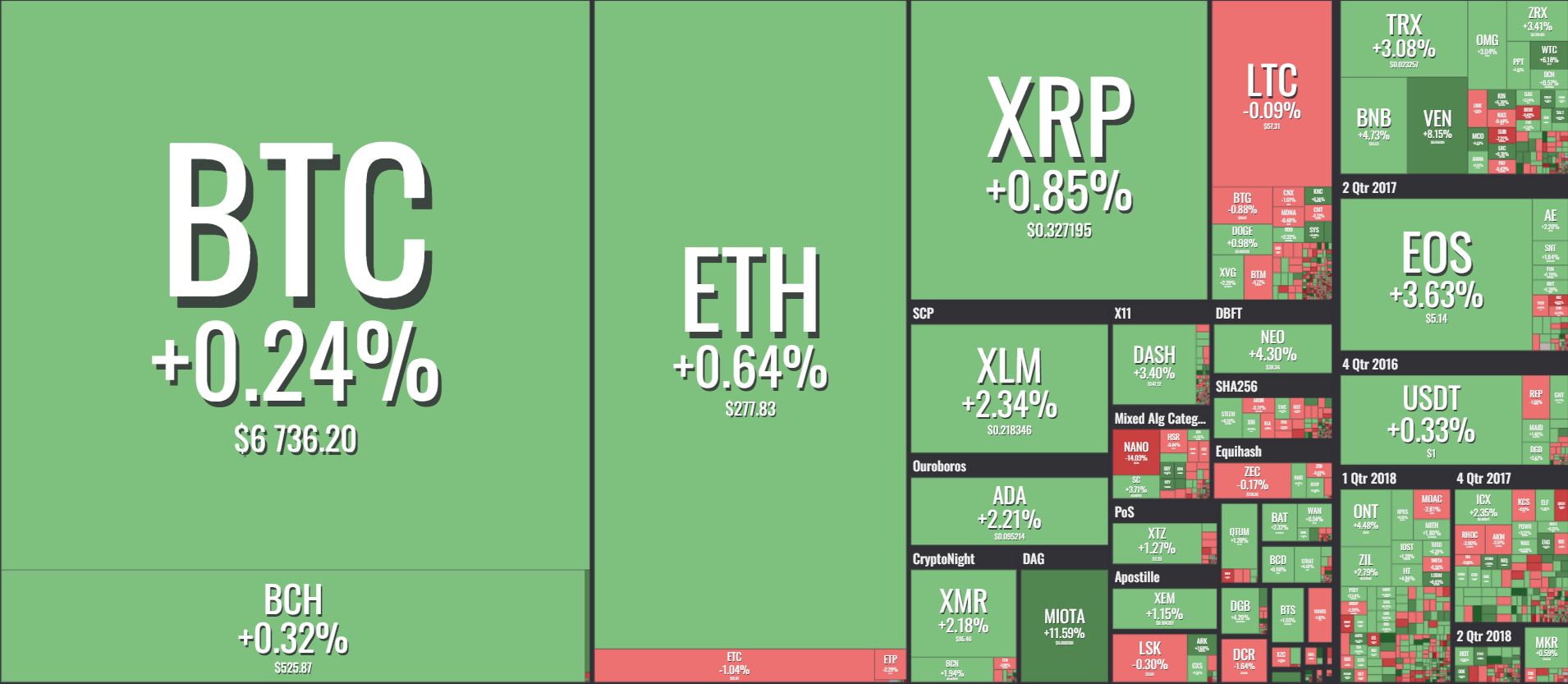 Crypto market has been looking lively as of late and it seems like money is finally becoming courageous enough to enter them. While BTC is still looking to break the newly set $6850 resistance, several altcoins have decided they won't be waiting idly for this break-out to happen and will rather start moving upwards themselves. Let's take a look at some of the most recent community inputs:
Bitcoin (BTC)
TheChartGuys from TradingView are sensing a move is about to happen:

"BTC has been forming a 4 hour equilibrium for a day at this point and is likely to see a volume spike and break of this range shortly. We already got a small bull break on coinbase for the bulls but no follow through so far. With a bull break we look to the top of the BitMEX move, and with a bear break we look back to $6,400s." They conclude their analysis by saying: "Bulls still holding EMA 4 hour support to try and remain in control as they have for the last few days. We should see some clear directional momentum today to start the week."
Take a look at their complete analysis here to see why they feel previous BitMEX manipulation breakout of $6850 is the next resistance and which direction will the next breakout be headed in. TiborVrbovsky had a similar view, offering some timely insight:
"On 5 min, you can see there is a lot of pressure on 6700, slowly wiping support buy orders, RSI founding support at 40 which is a good sign, MACD also expected to turn up as it's oversold and we have demand, which would lead 15 min MACD to confirm the uptrend."
Ethereum (ETH)
We turn to TheChartGuys once again for the analysis of the most popular altcoin on the market:

"ETH has been very tight for the last 5 days staying within the highlighted range as the volume continues to drop off as well. We are looking for a clear break and volume spike either today or tomorrow to see a break of this range. The bears still have full control on the daily, and will have to get over EMA resistance to see any kind of follow through on a bull break.
Check out the analysis here to see their thoughts on who controls the market right now and how BTC will affect the upcoming ETH move.
Ripple (XRP)
InJayWeTrust gives a clear overview of where XRP is headed next:

"I am seeing 0.0195 for our next target with retrace to 0.015, followed by 0.024 with retrace to 0.0196 which will form a cup and handle to gear up for the HUGE BREAKOUT! Followed by those predictions i would love to see it stay above this support line going up and breaking the long term wedge around 0.0297 – 0.040 with volume spike. "
You can check out his complete analysis here to see which exact factors made him short-term bullish on this cryptocurrency.
Other thoughts
The rest of the market was undecided for the most part, but several cryptocurrencies did make strong moves upwards. Nano, Waltonchain, Venchain, WaBi, IOTA, ICON, all altcoins with decent fundamentals, managed to perform nicely over the weekend/Monday and grow around 20% and more. Some of them have started retracing already (Nano is today's biggest "loser" with a drop of 11% in the last 24 hours) but a breakout like this one was a welcoming sight.
Some traders are spotting Adam and Eve/double bottom patterns all over their charts as well, and are staying bullish for now. Others feel we can't go up much further, as there seems to be a clear lack (or at least exhaustion) of the buying volume. We might not have to wait a long time to see this change, as another $50 million Tether just got printed today.
Tether printed $50 Million earlier today.

To ensure you don't miss the next print, join our Telegram channel for instant notifications: https://t.co/4Vz1hsTQE7

— [blokt] – Bitcoin, Blockchain & Cryptocurrency (@bloktcrypto) August 27, 2018

CaptainAltcoin's writers and guest post authors may or may not have a vested interest in any of the mentioned projects and businesses. None of the content on CaptainAltcoin is investment advice nor is it a replacement for advice from a certified financial planner. The views expressed in this article are those of the author and do not necessarily reflect the official policy or position of CaptainAltcoin.com