FMFW.io (ex. Bitcoin.com Exchange) Review – Fees, Supported Coins & Countries, KYC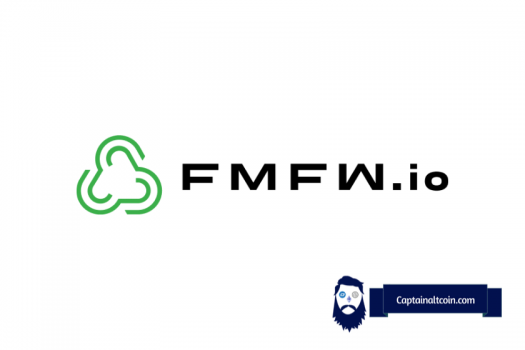 High security
Dedicated 24/7 support
Deep liquidity
Consistent trading competitions and giveaways
User-friendly
Up to 10x leverage
Suppose buying, selling, or trading cryptocurrencies is something you do on a daily basis as a crypto trader. In that case, fmfw.io could be the perfect choice for you. In this review, we will go over everything you need to know before you start doing business on the platform. So, without further delay, let's go over the review.
FMFW.io Overview
---
FMFW.io is a crypto trading platform founded in 2018 that has its headquarters in Saint Kitts and Nevis. The platform was formerly known as Bitcoin.com Exchange, but on the 29th September 2021, they changed the name, rebranding themselves into fmfw.io, which is short for "Free the Money, Free the World."
This easy-to-use platform offers you the service of buying, selling, and trading more than 200 digital assets in a secure and fast manner.
Services & Features
---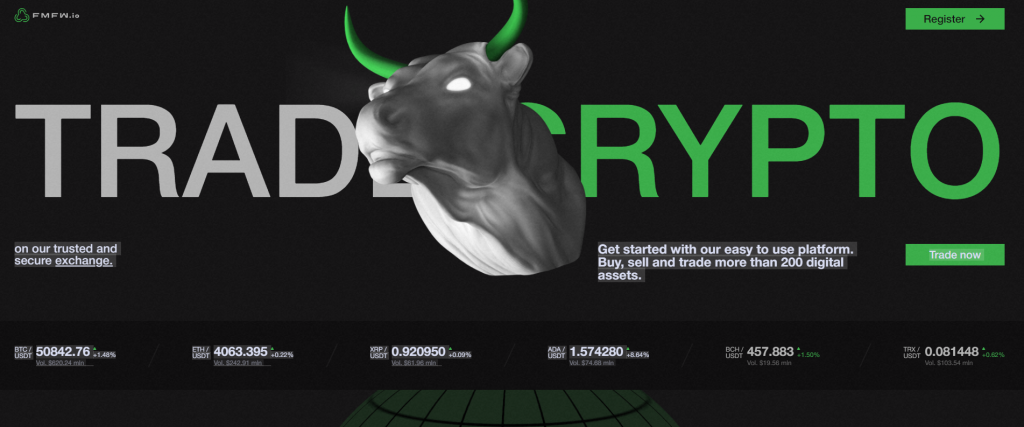 FMFW.io offers a lot of services and features to its users. It provides you with analytics so you can constantly check the prices of the coins you invested in while also giving you a Social Feed so you can keep up with the news all in one simple, straightforward, and easy-to-use interface.
Furthermore, it offers trading competitions you can participate in, margin trading, IEO, market overview, as well as a possibility to buy crypto with fiat, which is important if you are just starting your journey in the crypto trading world.
Buy & Sell Crypto
---
Like we mentioned above, on FMFW.io, you are able to buy, sell and trade cryptocurrencies. You can choose from more than 200 digital assets that are supported on the platform and start trading right away in a safe and secure manner.
Spot exchange
---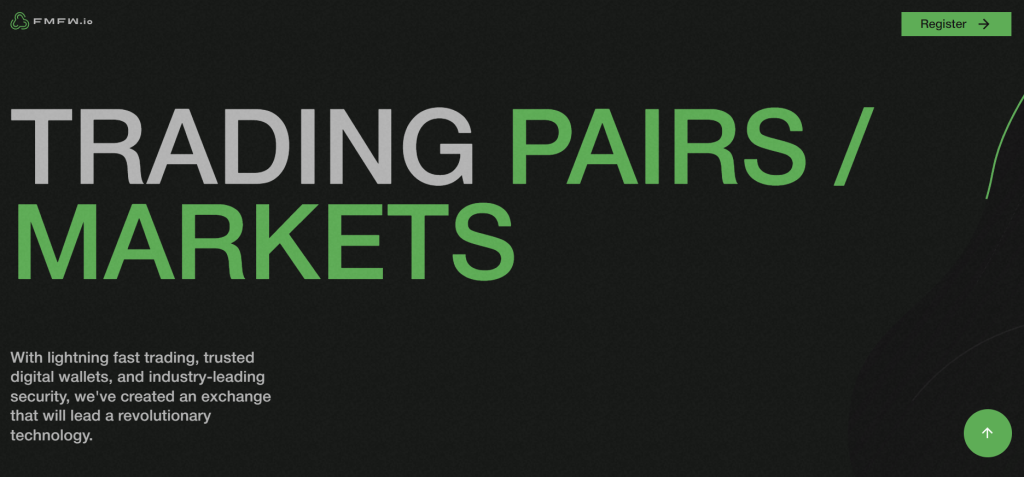 First, let's start by saying what spot exchange is. Basically, it is a current price available on the market to exchange one currency for another one, while the delivery date is as early as possible. What makes FMFW.io special is not that they offer spot exchange but the feature of Stop-Loss.
Stop-Loss is a method that helps you by giving you an option to place a limit on your downside exposure while you trade. With this, you are able to specify how low the price can get before Spot-Loss activates and sells your asset, saving you from losing further value. To access spot trading on FMFW.io, all you have to do is transfer funds you already have in your wallet to the spot account.
Futures trading
---
When it comes to futures trading, it is categorized as a financial derivate that draws their value as an underlying asset. What futures trading does is that it allow you to buy an underlying cryptocurrency without having to provide all of the necessary capital.
When you decide to open a futures position, you need to deposit only a part of the market value. Consequently, this is a great option for traders to fight the already existing positions without needing to buy the underlying crypto.
Future prices are determined depending on the price that the underlying cryptocurrency is being traded at the spot market as well as the futures premium.
Futures premium can either be positive or negative. When negative, it means that the future price is lower than the spot price, while if it is positive, it means that the price is higher. This feature oscillates depending on the rise and fall of supply and demand for that futures asset.
Margin trading
---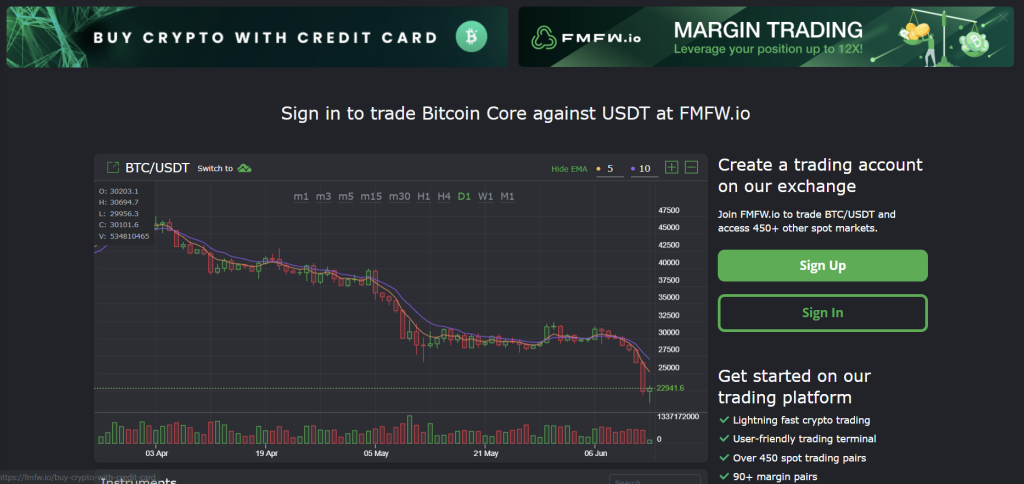 FMFW.io also offers margin trading on their platform. Margin trading gives you the option to borrow the assets you plan to trade with by opening long or short positions on several different cryptos with up to 10x leverage.
Available up to 10x leverage on:
BCH/USDT, BTC/USDT, ETH/USDT, XRP/USDT, ETH/BTC, BCH/BTC, XRP/BTC, TRX/USDT, LTC/USDT, EOS/USDT, XMR/USDT, ETC/USDT, ADA/USDT, TRX/BTC, LTC/BTC, ETC/BTC, ADA/BTC, XMR/BTC, EOS/BTC
Available up to 5x leverage on:
ZEC/USDT, DASH/USDT, VET/USDT, DOGE/ USDT, XLM/USDT, ZEC/BTC, DASH/BTC, XLM/BTC, DOGE/ BTC, VET/BTC
FMFW.io IEO
---
Initial exchange offering, also known as IEO for short, is where a cryptocurrency exchange looks over the sales of a certain token. IEO provides several advantages and benefits for blockchain projects. With IEO, these projects go through a thorough evaluating process, and they gain more publicity for their crowdfunding.
Here we will mention a few such blockchain projects that have paired with FMFW.io:
First, we have Ideology.io, which is a blockchain project that is based in Dubai and has recently gained a lot of attention by focusing on completely restructuring the digital entrepreneurship on blockchain technology.
Supporting the leading cryptocurrencies, Ideology helps entrepreneurs, project managers as well as freelancers with a complete platform where they can achieve all their initiatives.
Next, we have the Atarichain. The goal of Atari is to achieve decentralization when it comes to the video game industry as well as the entertainment industry. With more and more products that are being exchanged digitally on a global scale, the need for a safe and secure platform that is reliable is great.
The goal of Atari is to empower the trend of in-game trading by providing the necessary platform to the users.
FMFW.io supported coins
---
FMFW.io supports a lot of different coins. As of today, the following cryptocurrencies are supported: Bitcoin, Ethereum, Cardano, XRP, Polygon, Bitcoin Cash, EOS, TRON, Zcash, Stellar, Monero, Litecoin, Binance Coin, NEO, Algorand, FTX Token, Basic attention token, VeChain, Polkadot, Dash, Chainlink, Qtum, Chiliz, Enjin Coin, Decentraland and more.
FMFW.io deposits & withdrawals
---
FMFW.io, like many other similar platforms, gives you the option to deposit cryptocurrencies to the platform. Apart from this, FMFW.io also gives you the option to buy and sell crypto by using your debit and credit cards.
One thing to remember is that it does not support deposits that are done via Wire transfer. It is important to mention that FMFW.io accepts a fiat currency deposit which means it is an "entry-level exchange" where new users can start their crypto trading adventure.
Fees
---
FMFW.io does not have its own fees, but rather when you go through the process of withdrawing crypto from your wallet that is on the platform, the only fees you will have to pay are the network fees. With this, FMFW.io focuses on high transaction speed, and the fees are not based on the withdrawal amount while they are automatically updated to the market status.
Methods
---
When it comes to depositing methods, you are presented with two choices: Debit or Credit card. The platform does not support Wire Transfer.
Note that if you accidentally put the address of another currency or an unsupported wallet, you will get an error that will warn you to change the address or a wallet. Each and every currency has its own specific wallet and blockchain.
With that being said, please double-check everything when you are withdrawing, as the platform will not always be able to detect the wrong address. If you send funds to the wrong address or wallet, FMFW.io clearly states that they will not be able to reverse the transaction, and you might lose your funds forever.
Limits
---
Withdrawal limits on FMFW.io are as follows:
· Individual: $25.000 daily / $100.000 monthly
· Individual Pro: 100 BTC daily / No monthly limits
FMFW.io Trading Fees
---
FMFW.io uses a trading fees model called "maker-taker." With this, they are focused on increasing liquidity, motivating new market-makers, and narrowing down the spread on the markets.
In this model, the "taker" is a trader that places an order that removes liquidity from the book and that instantly matches with an already existing order on the book; the "taker" has to pay a fee for that trade.
The "maker" represents a trader that provides liquidity by setting a limit order under the best ask price for buying while also setting the best bid price for selling.
FMFW.io implements a dynamic fee structure meaning that the more you trade, the less of a fee you will have to pay.
Spot trading fees
---
When it comes to spot trading fees on FMFW.io, if a position is liquidated, the fee is 0.5% of the value of the position, and it is charged in the currency trading.
Margin trading fees
---
If you have a margin position open, you will have to pay a daily interest rate. This fee is necessary no matter if you are going long or short on a certain asset.
| | | |
| --- | --- | --- |
| Bitcoin | BTC | 0.024% |
| Ethereum | ETH | 0.027% |
| EOS | EOS | 0.021% |
| Tether | USDT | 0.099% |
| Chiliz | CHZ | 0.021% |
| Bitcoin Cash | BCH | 0.018% |
| TRON | TRX | 0.039% |
| Ripple | XRP | 0.027% |
| Binance Coin | BNB | 0.021% |
| Zcash | Zec | 0.030% |
| Litecoin | LTC | 0.021% |
| NEO | NEO | 0.021% |
| Monero | XMR | 0.081% |
| Stellar | XLM | 0.021% |
| VeChain | VET | 0.021% |
| QTUM | QTUM | 0.021% |
| Cardano | ADA | 0.042% |
| FTX Token | FTT | 0.021% |
| Chainlink | LINK | 0.021% |
| Maker | MKR | 0.021% |
| Verge | XVG | 0.021% |
| NEM | XEM | 0.042% |
| Basic Attention Token | BAT | 0.021% |
These interest rate payments happen three times per day: at 0:00 UTC, at 8:00 UTC, and at 16:00 UTC.
Futures trading fees
---
In the case of futures trading fees, they are the same as spot trading fees. The fee is 0.5% of the value of the position, and it is charged in currency trading.
Does FMFW.io require KYC?
---
When it comes to KYC, FMFW.io does not have a mandatory KYC. That being said, FMFW.io may ask for your personal information if it is required. This means that there is a risk scoring system that can detect suspicious activity, and if the system marks the transaction, it is put on hold until further notice, and you need to pass AML/ KYC verification before your trade can go through. The system has proven its effectiveness in catching scammers, money launderers, and other criminals.
FMFW.io supported countries
---
Here is the list of countries that are supported on the FMFW.io platform:
Australia, Austria, Belgium, Brazil, Bulgaria, Canada, Croatia, Cyprus, Czech Republic, Denmark, Estonia, Finland, France, Germany, Greece, Hong Kong, Hungary, Iceland, Ireland, Italy, Japan, Latvia, Liechtenstein, Lithuania, Luxembourg, Malta, Mexico, Netherlands, Norway, Poland, Portugal, Romania, Russia, Slovakia, Slovenia, South Africa, South Korea, Spain, Sweden, United Kingdom
Are US investors allowed on the FMFW.io?
---
Sadly, US investors are not allowed on the FMFW.io and will have to opt for other platforms that do support them.
How to start with FMFW.io? (steps like registration, activation, verification etc.)
---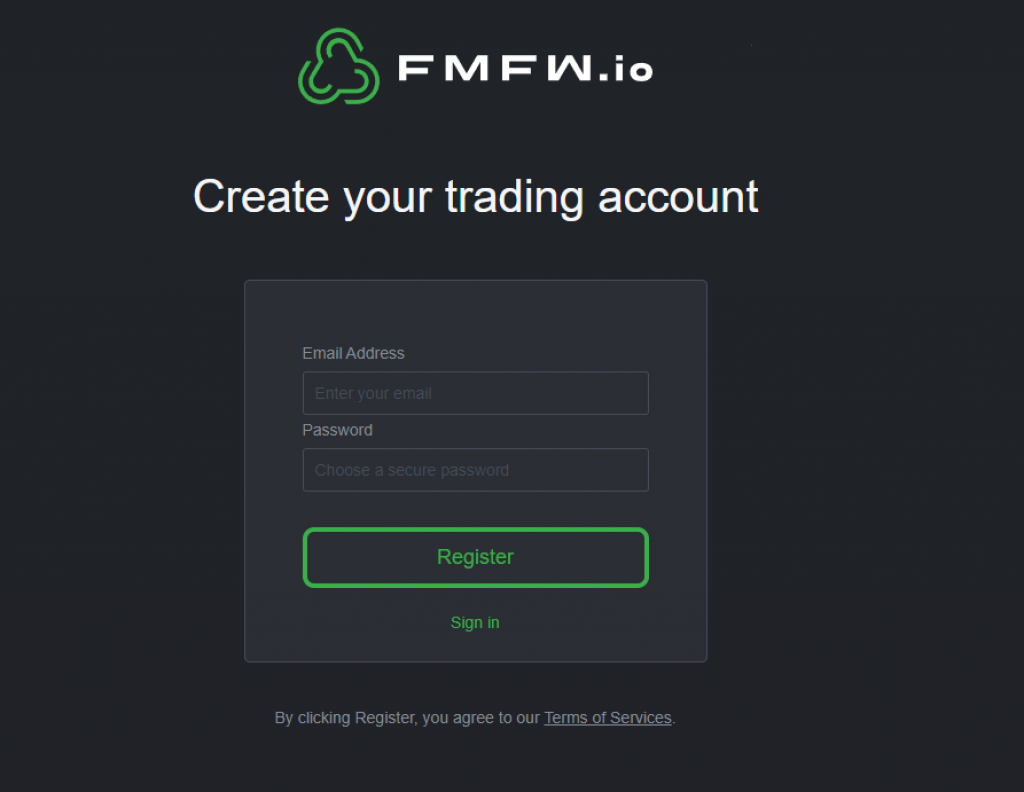 Starting with FMFW.io could not be easier or faster. There are a few steps you need to take that will not take you more than 5 to 10 minutes.
Firstly, go on the platform and click on the Login/Signup, which is located in the top right corner.
Secondly, fill in the form that is presented to you, things like first and last name, mobile phone, email ID, and password. Here is also where you enter a referral code if you have one.
Thirdly, you will have to wait for the activation email when you finish the form and submit it. When the email arrives, you need to click on the link that says "Confirm Email."
Lastly, after you finish everything and you activate your account, you will receive a 6 digit one-time password (OTP) that you will need to use to enter after you log in.
Does FMFW.io have a Native Token?
---
According to our research, we did not find any valid information regarding if there is a native token on the FMFW.io platform as of today.
Is FMFW.io legit and safe?
---
FMFW.io takes the security and safety of its users very seriously. Information is stored in cold storage, effectively keeping them safe from any attacks. As a user, you are also provided with the best tools to keep your account safe as best as possible. There is 2-factor authentication, and it is recommended that you use a strong password that you often change.
Is FMFW.io Regulated?
---
During our research, we did not find any information on whether this exchange is regulated or not. We have not found information on the FMFW.io official website related to the legal framework in which this exchange operates.
The only information we have found is that by agreeing to use the services of this exchange, you agree to the laws applicable in your country of residence and the country in which the exchange is located, "Applicable Laws."
So, we can't label FMFW.io as a fully regulated exchange.
Conclusion
---
To conclude, considering all the different platforms that you can choose from, FMFW.io is a solid option to pick, moreover, if you are just starting your crypto trading journey. With its straightforward and easy-to-use interface, trading should pose no problem.
All in all, if you opt to give FMFW.io a chance, you will certainly not regret it, and you never know, you just might make a solid profit on it.
Read also:
FAQs
---
Deposits & Withdrawal Methods
8
PROS
High security
Dedicated 24/7 support
Deep liquidity
Consistent trading competitions and giveaways
User-friendly
Up to 10x leverage
CONS
Higher than global market average fees
No wire transfer

CaptainAltcoin's writers and guest post authors may or may not have a vested interest in any of the mentioned projects and businesses. None of the content on CaptainAltcoin is investment advice nor is it a replacement for advice from a certified financial planner. The views expressed in this article are those of the author and do not necessarily reflect the official policy or position of CaptainAltcoin.com