Nuri Crypto Review – Fees, Payment Methods, Supported Coins & Countries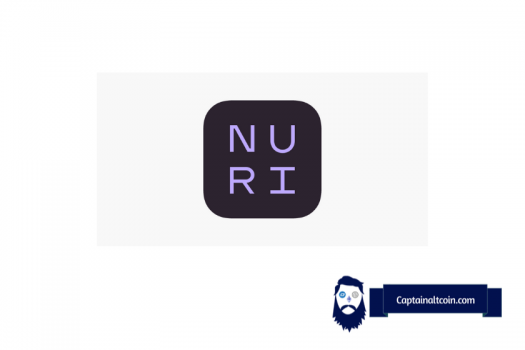 Free bank account
Visa credit card
Auto-invest systems for Bitcoin and Ethereum
High-interest rates on Bitcoin (up to 5%)
Available on all relevant platforms since there are standalone Android, iOS, and web versions.
✅ Most of the bank account-related actions and services are completely free of charge
✅ Tax reports available
What is Nuri?
---
The Crypto world never stops entertaining us, doesn't it? Every now and then, some crypto platform pops up that catches our attention. In this review, I will take a close look at one of the platforms that fall into that category. The name of the platform is Nuri.
In fact, Nuri is a digital bank that has become extremely popular among investors who combine cryptocurrency and fiat money. It was launched back in 2015 so it is not a new player on the market. Nuri is based in Germany and operates on German laws.
The whole purpose of Nuri is the look into the financial future and be innovative. The platform wants to offer its users a free bank account where you can feel the new reality of banking with easy access to cryptocurrencies, such as Bitcoin (BTC) or Ethereum (ETH). 
At the time of writing, Nuri has more than 250,000 active users which is a respective number, to say the least. It speaks about the popularity of the platform, especially in Germany and western Europe. What is particularly interesting about Nuri is that it offers a variety of features and services that are interesting for crypto investors. In this article, I will break each one and help you get to know Nuri better. 
I particularly liked the mantra shown on Nuri's website that says "We are a bunch of enthusiasts from all over the world with one mission to help grow people's wealth as simply as possible." Just a sentence you like to see when you are deciding which crypto platform suits your goals and needs.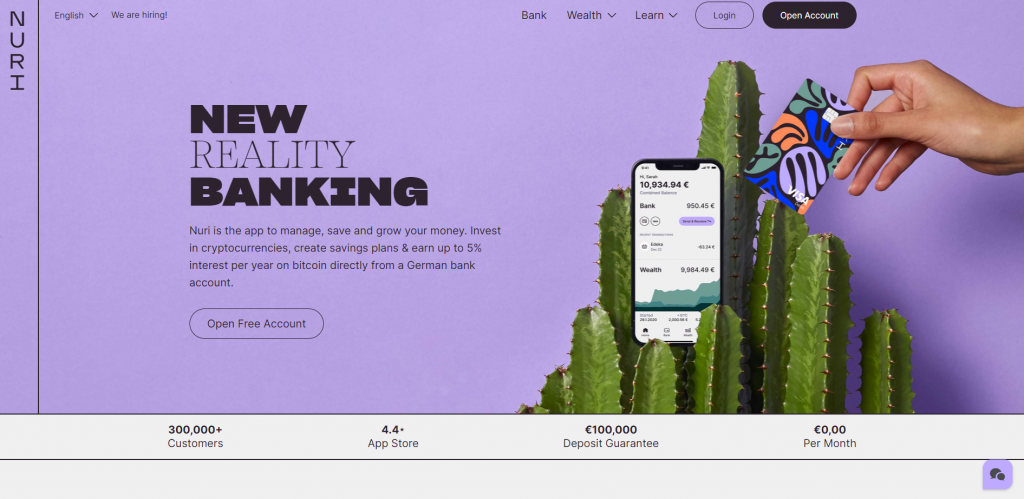 The story behind Nuri's name is quite interesting as well. The goal of the platform is to allow its users to enter a "new reality", so we have Nu Ri.
The negative side of Nuri is a pretty limited number of cryptocurrencies are supported as well as a  limited number of countries where it is available. In fact, only Bitcoin and Ethereum are supported for now. But, let's go to the focal points of the article and we will see where it gets us. 
Nuri Main Features
---
The main features of Nuri include Bitcoin interest accounts, free Visa debit cards, savings plans, Nuri wallet, tax reports, etc. Let me break each one.
Visa Credit Card
---
One of Nuri's focal features or the one that stands out is their free Visa debit cards that can be used globally. The key thing about Nuri's credit card is that it offers unlimited free ATM withdrawals wherever you go.

What increases the safety of the Nuri's card is the fact that you can lock or unlock it anytime using Nuri's mobile app which is a pretty useful feature, especially if you lose the card. I will talk about Nuri's credit cards fees a bit later in the article.
Auto-investing
---
Yet another innovative and unique feature of Nuri is its auto-investing system. But, what does this actually mean? "The Nuri Savings Plan" lets users invest in Bitcoin and Ethereum automatically every month, taking advantage of the cost-average effect. To be honest, I consider this a pretty unique feature since I have not seen it many times on other crypto investment platforms.
The purpose of Nuri's auto-investing system is to create recurring crypto purchases every month. Sounds pretty exciting, doesn't it? If you are an investor who does not like to invest the whole budget at once, then Nuri's auto-saving feature is something you should definitely consider.
Wallet
---
In addition to the above-mentioned visa credit card and free bank account, Nuri also offers a digital wallet where you can store Bitcoin or Ethereum.
The wallet is easily accessible, just ap on the portfolio tab and you can check your balances there. Nuri Wallet has all functionalities of any other digital cryptocurrency wallet – you can easily send and receive crypto.
If you want to receive it, just tap on the receive button in the wallet and your cryptocurrency address will display. You need to send this address to the sender, so the process is the same as on any other popular crypto wallet, like Metamask for example.
Sending is the same procedure, but another way around. Tap on the "send" button and enter the amount you want to send and copy the crypto address you got from the receiver.
Tax report
---
Nuri has a partnership with the cryptotax.io platform which is a very popular tool among all tax tools in the crypto world.
A lot of countries require their citizens to pay crypto taxes. Our suggestion here is (as always) not to play with taxes and be responsible based on the tax laws in your country.
Nuri tries to simplify this process by downloading an individualized, ready-to-use tax statement for all your Nuri transactions with a click of a button from your dashboard. Filing your tax statements on your cryptocurrencies trades should be a straightforward process.
Supported countries
---
What I found is that Nuri is supported only in European Economic Area (EEA). For those of you not familiar with EEA, or rather what are countries included in the list, here is the complete table of countries:
| | | | | | | | |
| --- | --- | --- | --- | --- | --- | --- | --- |
| Belgium | (BE) | Spain | (ES) | Hungary | (HU) | Slovakia | (SK) |
| Bulgaria | (BG) | France | (FR) | Malta | (MT) | Finland | (FI) |
| Czechia | (CZ) | Croatia | (HR) | Netherlands | (NL) | Sweden | (SE) |
| Denmark | (DK) | Italy | (IT) | Austria | (AT) | Germany | (DE) |
| Cyprus | (CY) | Poland | (PL) | Iceland | (IS) | Estonia | (EE) |
| Latvia | (LV) | Portugal | (PT) | Liechtenstein | (LI) | Ireland | (IE) |
| Lithuania | (LT) | Romania | (RO) | Norway | (NO) | Greece | (EL) |
| Luxembourg | (LU) | Slovenia | (SI) | | | | |
Platforms (android and ios apps, web app)
---
Nuri is available on all relevant platforms since there are standalone Android, iOS, and web versions.
What is Nuri Savings Plan?
---
Nuri Savings Plan will help you to set up recurring crypto purchases on a schedule that works for you. This eventually gets you to the situation where you reduce the impact of volatility by spreading out your crypto purchases over time and not investing the whole investment budget at once (this can sometimes be very costly).
Moreover, the Nuri Savings plan allows users to avoid emotional decisions which can sometimes lead to bad decisions.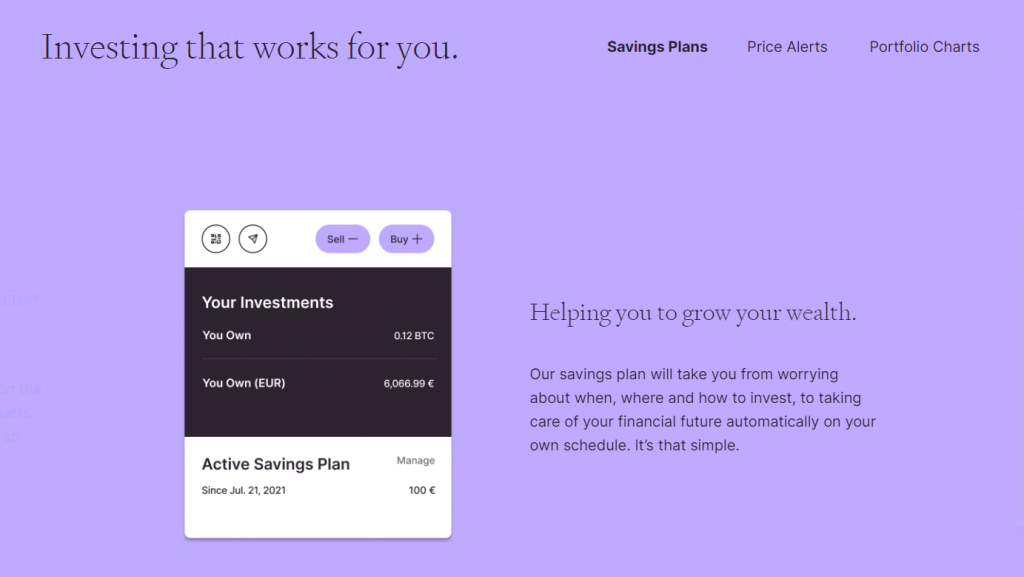 Dollar-cost averaging tool
---
Yet another interesting feature, or rather tool of Nuri. The dollar-cost averaging tool helps you to spread out your investment. The tool works closely with Nuri's auto-investment plan. It is actually a mechanism that does the work based on your auto-savings plan. You can set the fixed amount of Bitcoin purchases each month, on a regular schedule, regardless of the price, or market conditions.
For example, you can set a dollar-cost averaging tool to invest $100 in Bitcoin each month, completely disregarding the Bitcoin price or crypto market situation. The main purpose of the tool actually is to protect you from price volatility. Furthermore, it helps you spread your money over a period of time, rather than investing all at once, which more often than not can help you earn more in the crypto world. 
As with any other automatic tool, the dollar-cost averaging tool helps you to exclude your human emotions which are often drive-by market movements. It is a set-and-forget investment tool that will reduce stress, pressure, and impulsive purchases that you may regret eventually.
Nuri Debit Card – Fees & limits
---
What I like about Nuri's card is almost completely free. There are no transaction fees but exchange rates follow the standard daily Visa exchange rate. You can check them here.
Break down the transaction fees:
Card Payment in Germany: €0
Card Payment in € in SEPA Area: €0
Card Payment in other Currency in SEPA Area: €0
All other Card Payments: €0
Maximum offline and online disposal:
Maximum Offline Card Disposal per Day: €3,000
Maximum Online Card Disposal per Day: €5,000
Nuri does not charge any trading fee or any fees when it comes to withdrawals. However, keep in mind that some ATMs may charge their own fees. The maximum amount per withdrawal is $3,000. 
Banking Services
---
All bank accounts on Nuri are hosted by Nuri's partner bank Solarisbank AG. Most of the bank account-related actions such as account opening and management, outgoing transfers and transactions, and incoming transfers are completely free of charge. Nuri allows a bank transfer in Euros.
The thing you like to see when you are choosing a bank.
Customer service
---
Phone and email support are available for clients, however, there is no live chat service. To be honest, support for international customers is not well optimized, as you can only call within German business hours.
Is Nuri safe?
---
The fact that Nuri has over 250,000 users with no heavily negative reviews speaks a lot about the platform's safety. Nuri is a German platform that has a reputation for being completely safe and legit. All of Nuri's accounts are hosted by a partner bank – SolarisBank AG.
Furthermore, at least as far as I saw, Nuri does have a mandatory KYC (Know Your Customer) verification system which always increases security and reduces the number of scammers on the platform.  Verification is available in both English and German. 
However, keep in mind that it is not a good sign when a platform's security mostly depends on its partners.
How to open an account on Nuri?
---
Opening an account on Nuri is not an easy process I would say. Onboarding is fast though, just enter your email, and password, and then verify your email and that is pretty much it.
Then, comes the verification part which can be tricky and requires video confirmation as well (other than requested ID documents). As already mentioned above, it is available in both English and German. However, verification can sometimes take longer as the verification partner has long wait times.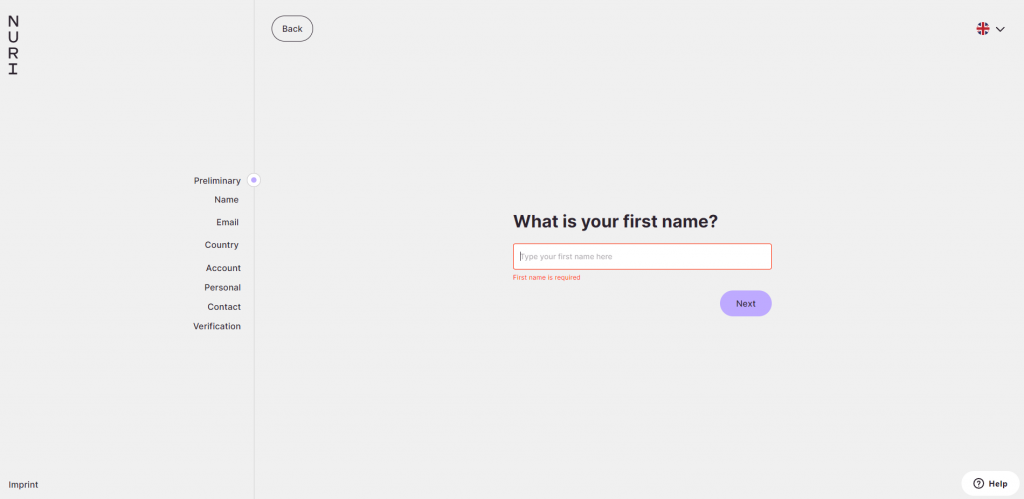 Once you finish onboarding and verification, you will be granted an IBAN number and a non-custodial Bitcoin + Ethereum wallet.
Drawbacks of Nuri
---
For those of you not familiar with the term, a drawback is a feature that renders something less acceptable. So, what are the drawbacks of Nuri, does it have them at all? Certainly, yes!
I guess a difficult onboarding process with a lot of required documents and video confirmation can be seen as a drawback for some crypto investors and traders. However, keep in mind, that every cryptocurrency exchange will ask you to verify yourself before fully allowing you to use all of their features.
Furthermore, I would single out two potential drawbacks and name them "Master of None" and "European Union Only". Let me break each one.
Master of None
---
Nuri does offer everything you want and expects from a cryptocurrency platform. However, keep in mind that trading fees, compound interest rates, and similar features are worse than on most cryptocurrency exchanges. 
Trader and Maker fee is 1% which is significantly higher than on Binance, Coinbase, or Crypto.com. To some extent, this is predictable due to the challenges involved in inventing a new business model. 
European Union Only
---
As you can imagine from the heading itself, you need to be a resident of the European Union if you want to use Nuri. If you are not a citizen of the EU, your account will be invalid and dismissed. This is pretty unfortunate since Nuri is actually not available in most countries. Moreover, Nuri allows a bank transfer only in Euros.
The reason behind this is that Nuri has a partnership with Solarisbank and therefore, it is subject to German and EU laws.
Conclusion
---
Nuri is a reliable bank that offers various crypto-related features, like any other major cryptocurrency exchange. If you live in the EU and you are in search of a useful crypto platform, then Nuri is definitely one of the options you should consider. Nuri can also help you with your "traditional" finances.
The thing I like about Nuri is its innovative approach to financing. Even though the crypto world is growing, it is still a very rare case that a "traditional" bank decides to include crypto in its everyday business. In my honest opinion, if that becomes the case more often than not, then Nuri will be the bank that will be one of the pioneers. 
However, keep in mind that Nuri (as any other platform out there basically) has its flaws and drawbacks. For example, if you live outside of the EU, your account will be dismissed from the platform. Furthermore, if you are deeply into the crypto world, or in other words, if you are an experienced investor, there is a high chance that you trade more than just Bitcoin and Ethereum. 
Keep in mind that these are only my opinions based on my thorough investigation of the Nuri crypto platform. Please do your own research before deciding whether you want to invest in any of the above-mentioned features.
At this point, it is good to note that all opinions and suggestions written in this article are not considered financial advice.
If you are not fond of Nuri, Make sure to check out our guides on other cryptocurrency exchanges:
FAQs
---
Let's look at some of the frequently asked questions when it comes to the Nuri crypto bank platform.
PROS
Free bank account
Visa credit card
Auto-invest systems for Bitcoin and Ethereum
High-interest rates on Bitcoin (up to 5%)
Available on all relevant platforms since there are standalone Android, iOS, and web versions.
✅ Most of the bank account-related actions and services are completely free of charge
✅ Tax reports available
CONS
A limited number of cryptocurrencies are supported (only Bitcoin and Ethereum)
Available only for residents of EEA countries
Maximum trading limit of €30,000 per week (not suitable for experienced traders)
Support for international customers is not well optimized
The complicated and overwhelming verification process

CaptainAltcoin's writers and guest post authors may or may not have a vested interest in any of the mentioned projects and businesses. None of the content on CaptainAltcoin is investment advice nor is it a replacement for advice from a certified financial planner. The views expressed in this article are those of the author and do not necessarily reflect the official policy or position of CaptainAltcoin.com