We all know what Ledger Wallet is and we are all aware it is quite popular. However, D'cent has made the news with their improving security and inclusivity as well. In this article, we would like to compare the two wallets and see which one is the right fit for you.
Just like picking a swap, exchange, or anything in the crypto world, it depends on who you are and what you need.
There is no single right answer in this comparison either. If every single person in the world used Ledger there would be some that wanted one like D'cent, whereas if all used D'cent some would want something like Ledger. So in this article, we will not be talking about which one is "best" or "better", it is more about which one you should pick personally.
Check also: Ledger refreshed its first Nano S wallet with a new version dubbed Nano S Plus. Here is the Ledger Nano S Plus review.
Quick D'cent Wallet vs Ledger Nano Comparision
| 🔑 Key Features | Ledger Nano | DCent |
| --- | --- | --- |
| 💰 Pricing | From $49 | ~$119 |
| 📝 Features | French cybersecurity agency ANSSI's fully certified secure element chip for added security, Ledger Live desktop application, supports up to 1100 coins, 200 native apps, small screen size, trusted development team, offers Ledger Live mobile app and wireless Bluetooth support | Mobile and Bluetooth connected wireless hardware wallet device, biometric security for added convenience, easy to use for on-the-go transactions, supports over 2000 tokens, mainly focusing on the token world and ERC20 tokens, larger screen size, ideal for users who prioritize ease of use and convenience, supports newly promising coins such as AVAX, MATIC, and ADA |
| 🪙 Coin Support | Up to 1100 coins | Over 2000 tokens |
| 👍 Pros | High security, supports a large number of coins, trusted development team, offers mobile app and Bluetooth support | High security, supports a larger number of tokens, biometric security for added convenience, larger screen size, supports newly promising coins |
| 👎 Cons | Small screen size | Not mentioned in the article |
Ultimately, the choice between these two wallets will depend on the user's individual needs and preferences. If security and supporting a larger number of coins are top priorities, then the Ledger Nano might be the better choice. However, if convenience and ease of use are more important, then the D'CENT with its biometric security and larger screen size may be the better option. Both wallets have their unique selling points and are solid choices for storing and securing cryptocurrencies.
Supported Coins
---
With Ledger Nano X you are getting over a thousand coins supported! That is a magnificent number that you can't find in most wallets. This also allows them to expand it by using third-party apps as well. Right now around 200-250 of those are native whereas all the rest could be installed via using other apps in ledger live. I believe there is a good case that this number could grow into 2000+ coins by the end of 2022 because of how most projects focus on getting into Ledger as well.
D'cent on the other hand started the supported coin world a little later than most others and the current situation reached 2000+ tokens total, it wasn't until very recently that they increased this number. Mainly focusing on the token world and ERC20 tokens to inflate the number, they still have a pretty good number of top coins to go along with it. While adding new Defi hyped currencies, they also focused on getting more newly promising coins as well such as Avax Matic and ADA, but missing some important ones like Solana.
At the end of the day, when you are picking a wallet, which coin it supports is one of the biggest reasons to go with a wallet. If the coins that you admire and invest in are not in the wallet you are looking into, then buying that wallet doesn't make any sense either. The most logical argument could be made by saying you should build your portfolio first, then buy your wallet later to know which coins you will end up owning, and compare that to the supported coin list of the wallet you want to buy.
Visit D'Cent Now Visit Ledger Now
Security and ease of connection
---
Ledger
---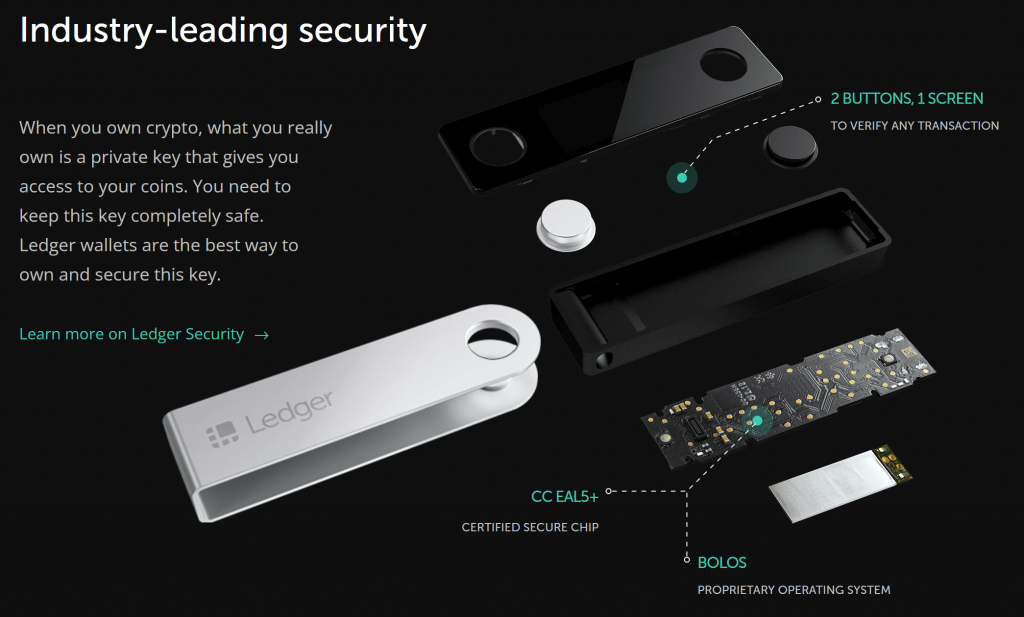 With a chip called "secure element" in it, Ledger can boost its security more than any other hardware wallet. This chip is basically focusing on security over anything else and protects the wallet from almost any attack known to man. They trusted their security so much so that they went to what is known as "Common Criteria security evaluation" and passed it.
This is usually reserved for bank cards and so forth because they are a trillion-dollar industry around the world so security is very important to them. Ledger took it and got an EAL5+ security rank from it which is amazing. So when you are using Ledger, you will know that you are as secure as you could get.
The ease of connection part is quite good as well. It is a simple USB stick that you plug into your PC, and the ledger live is right there to help you. Of course, you do some stuff on the stick itself as well, such as confirmations and so forth, but all of them are quite easy and quite good-looking as well. The design it has (both hardware and ledger live) is magnificent.
You could also find all kinds of help online as well, many youtube videos explaining from the simplest part to the most complicated parts, which are not that common because there are not that many complicated parts.
D'CENT
---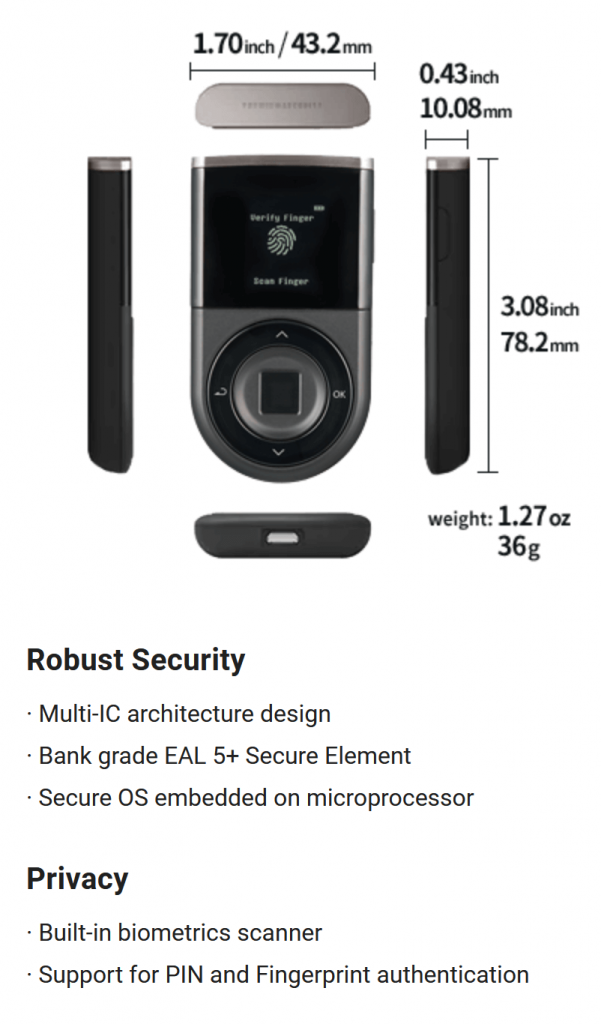 What D'cent has that any other wallet doesn't have is a fingerprint sensor. It is one of the best security features in all of the hardware wallet world. It improves the security by a mile instantly. Without your fingerprint, you will not be able to do anything with the wallet.
Even if someone has all the info on it, without your fingers, they will not be able to use it. Their chip has the same EAL5+ secure element as well for security and this puts them at a highly extraordinary security level.
The design of the wallet itself is huge, compared to all the other competition it dwarves even the biggest one of them. This could be seen as a good thing or a bad thing depending on your preference. However, it is hard to dispute that it is easier to use when you have such a huge screen.
You could use QR codes to make movements since the screen is larger, and it is easier to navigate as well. Another factor to consider would be the easier way of upgrading without needing to back up constantly, which makes it quite faster.
CC EAL5+ SECURE ELEMENT
---
Both of these products have EAL5+ secure elements for different parts. However, they are quite secure in their own way. CC is "common criteria" and it is used while talking about security in technological products. EAL means "Evaluation Assurance Level" and talks about how much it is evaluated and at what level it is. So CC EAL 5+ means that both of these products are at least "semi-formally designed and tested" and that is nearly as good as it gets for security.
Of course, we have EAL7 as well but 5+ means it is anything at 5 or higher in most parts. This is why using a Ledger or D'cent wallet is the top of security, doesn't mean it is impossible to have anything bad happening with it. However it certainly means there isn't any more secure one out there, you would be as secure as it gets with them.
Physical Properties
---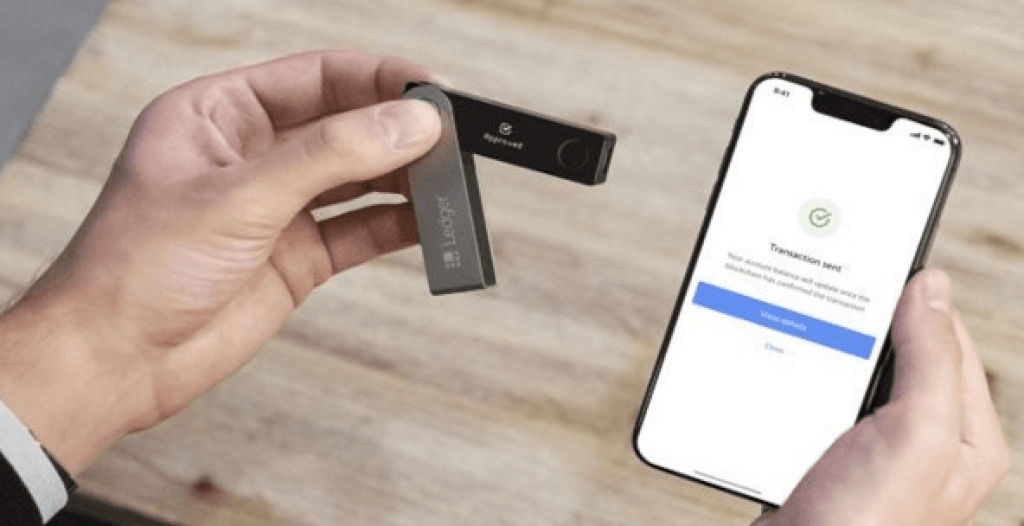 Ledger is basically just a USB stick, it doesn't have too much size, and it doesn't cover too big of a space. This allows Ledger to be carried in your keychain if you want to and not feel a big difference. All in all, Ledger is useful and simple and yet the size does bring in some problems along with it. Because it is so small and the screen is quite tiny as well, QR code reading is not available, which makes things a little harder to work with.
Also since it has tiny buttons and a screen, it becomes harder to read and confirm stuff as well. Doesn't make it any worse, but it does make it comparatively not better either.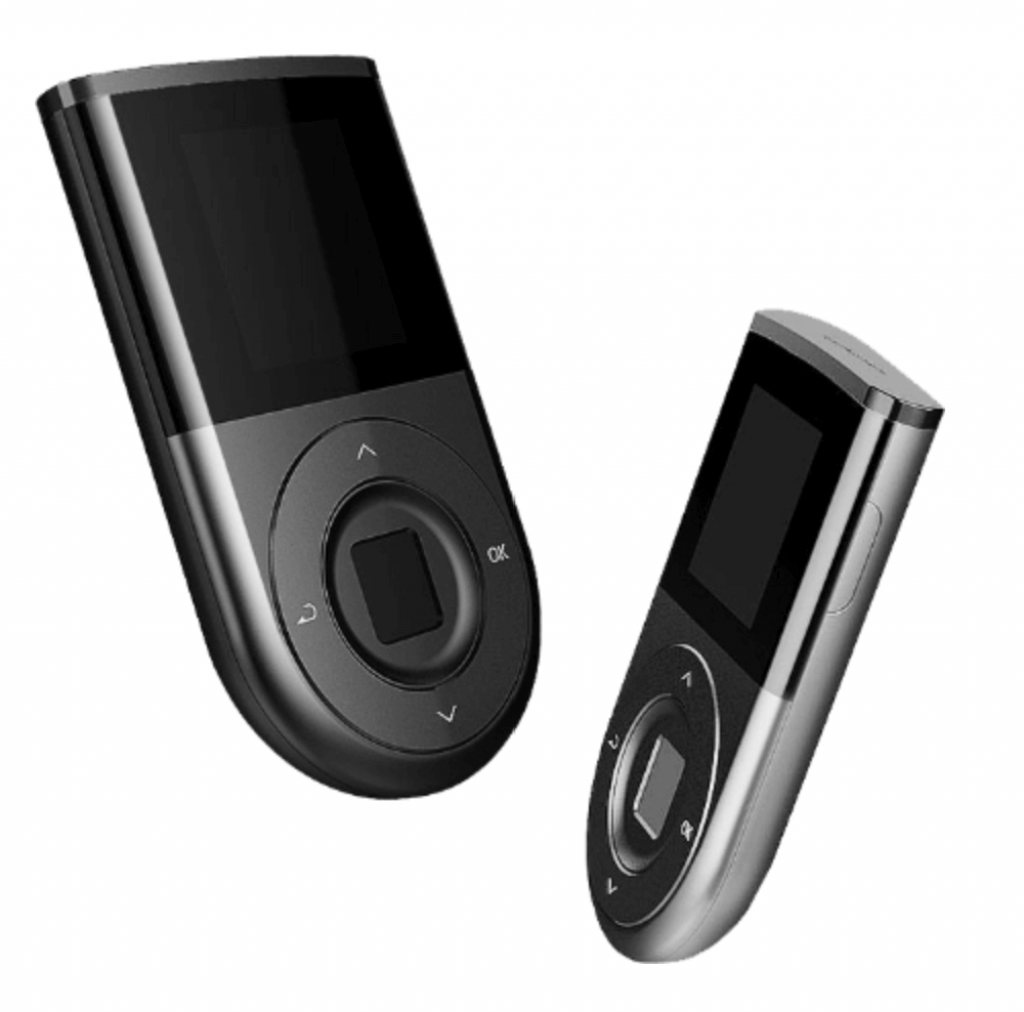 D'cent on the other hand is huge, the downside is that carrying it in your pocket becomes a challenge, if you want to put it in your drawer and only take it out when you want to use it, then this is not a problem at all. However, if you like to carry your hardware wallet with you then after a while it becomes trouble to carry something so large everywhere.
However the upside of having such a huge size is that it can be used with QR code, and with its app on your phone, so you are capable of doing anything on the move. You are on the bus and want to move your BTC to eth in a minute? With the big screen and QR code and mobile app, all of them combine to help you to make that move very quickly before you reach your stop and get out of the bus.
Price
---
Ledger Nano offers different wallets types, the cheapest one being priced at $49, while Dcent wallet costs around $119.
They have as much as %50 drops at certain dates, so it would be smart to keep a watch on it. That way you would be paying a lot less than $79 or $119 if you do not want to pay the full price.
Can you do DeFi with Ledger and D'cent?
---
They are both open to the Defi and token world. With ERC20 and even BEP20 with the certain app helps, they can be used along with wallets like Metamask to do whatever you want.
This way you can connect your hardware wallet into your wallet extension and they will work in unison to help you use them in the Defi world.
Can you store NFTs with Ledger and D'cent?
---
You can connect them to your Metamask or similar wallet, which means you could buy any NFT you want, store them in your metamask, then connect it to your hardware wallet to secure it even further. This way all of your NFT will be in your pocket and very secure at the same time.
D'CENT vs Ledger Nano X: Conclusion
---
If you are still not sure about which one to buy, then consider a few things that we discussed in this article. Are you a trader that constantly buys and sells? Do you use the Defi world too much? Do you prefer mobile or PC? Do you deal with NFT a lot? Do you diversify a lot, or do you have few coins that you dabble with? Would you rather have a big screen to read, or do you prefer a small size for carrying? If you know the answer to these questions then you could go back and read the article again and you will realize which one you would prefer. Ledger is obviously the more popular one and for a reason, but D'cent is trying to break that by offering more features and positive improvements. This is why you need to pick one that is appropriate for what you do and not what the wallets offer.
Make sure to check out our guides on other cryptocurrency wallets:

CaptainAltcoin's writers and guest post authors may or may not have a vested interest in any of the mentioned projects and businesses. None of the content on CaptainAltcoin is investment advice nor is it a replacement for advice from a certified financial planner. The views expressed in this article are those of the author and do not necessarily reflect the official policy or position of CaptainAltcoin.com