Cryptowatch Review – What Does It Cost & Is It Safe To Use?

Available on all operating systems and platforms (Linux, macOS, or Windows on your desktop computer)
Considered a safe and secure platform (never had a database breach)
The platform is owned by Kraken which is widely considered one of the most secure crypto platforms
Free version is available (to some extent though). With the free (basic) account you are able to trade on multiple exchanges in one place
Offers trading inside your portfolio tracker (unique feature)
You can easily use chat to contact their support or chat with other existing users on the platform
A lot of exciting, advanced, and unique features such as Liquid Bids, or Correlations
A significant part of exchanges supported
Cryptowatch crypto platform overview
---
We live in a fast-based crypto universe where traders need to have the ability to recognize patterns through charting. This ability is of utmost importance for every trader if they want to be profitable. Furthermore, charting helps the traders to see current trends during key market movements.
In addition, traders also use trading terminals so that they can distinguish between what is real and what is fake when a big change or break happens in the market. With that being said, using an efficient trading terminal is one of the most vital elements of trading tools.
Charts and trading terminals are usually parts of the portfolio tracker, the tool that is becoming widely popular among crypto traders. The reason why portfolio trackers are becoming so important to traders is quite simple – it makes their lives easier and increases the chances to make profits, which is the goal for basically every trader.
So, it is not hard to conclude that portfolio trackers are very important to traders, and today, you will find out a lot of details and features of one of the most exciting portfolio trackers I have recently seen.
Cryptowatch is widely considered one of the most underrated portfolio trackers in town. It was founded back in 2014 by Artur Sapek. The platform started as a regular website that simply follows movements in the crypto market. However, it gradually evolved, especially since it was bought by one of the leading cryptocurrency exchange (Kraken). Cryptowatch was bought by Kraken back in March of 2017.
Even though Cryptowatch is owned by Kraken, it supports various major exchanges. Therefore, you can use Cryptowatch as a single trading platform even if you hold your crypto assets on multiple exchanges. This is probably the most significant feature of the platform.
Cryptowatch has made trading on Coinbase Pro and more platforms (such as Coinbase Pro) simpler than ever since Kraken purchased it.
In this article, we will go through the Cryptowatch platform and try to understand how it works, and what are the best features on the platform. Of course, Cryptowatch does have weaknesses as well, and we will pay attention to those as well. Are you excited? Well, I am! So, let's go into the details.
Cryptowatch desktop application
---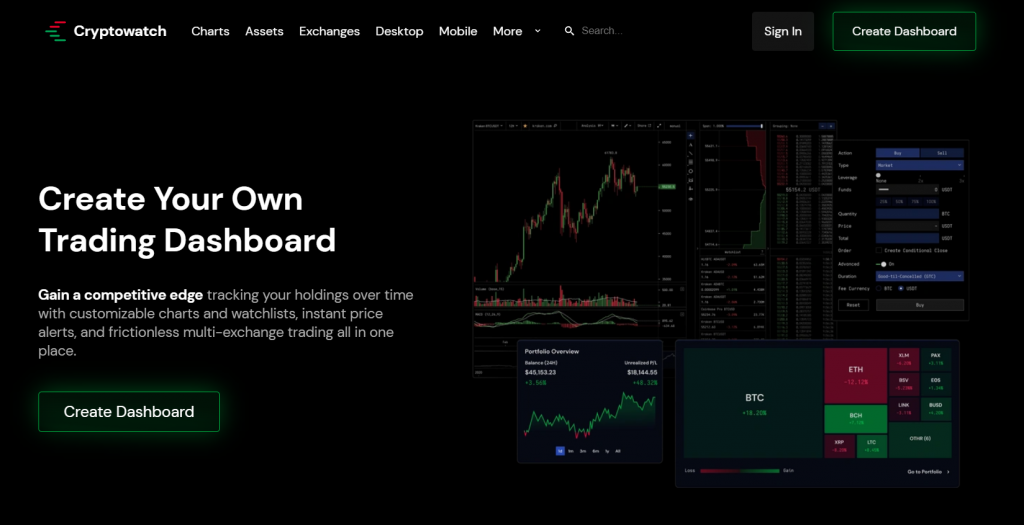 The Cryptowatch desktop application works with Boards. While starting, it will show a BTC/USD diagram from Kraken, the request book, and the new history of exchanges. Everything is live and instantly refreshed.
These boards are filled with Modules. Modules are time scales, a custom text box, watch lists, candle charts, order books, summaries, tick charts, and tickers. 
The Cryptowatch application works quickly and doesn't need a ton of computational force, yet it can show a ton of data on one screen, a few charts, live information, tickers, etc.
However, even though the application has a ton of information, it does not offer a lot more than that.
There are no specialized indicators included, there is no portfolio highlight or any way of associating with exchange accounts, exchanging is unimaginable, and the interface looks fairly not nice, with no options to change the colors.
The application is available for macOS, Windows, and Linux. Since it is available on all operating systems, this is where Cryptowatch really shines.
Cryptowatch web version
---
Cryptowatch platform has a web-only version as well and it seems to be better than the application. The web version has charts that come with indicators. Every indicator can be customized to the settings suitable for you.
Since Cryptowatch works in the internet browser on both Android and iOS systems, the platform additionally applies to cell phones. Cryptowatch seems to be accessible on desktop PCs only. However, the application is accessible on every one of the three significant operating systems. In other words, Cryptowatch is effectively available on every platform.
Features of the Cryptowatch app
---
We come to the vocal point of the article – an analysis of all features on the Cryptowatch platform. So, let's have a look.
Assets
---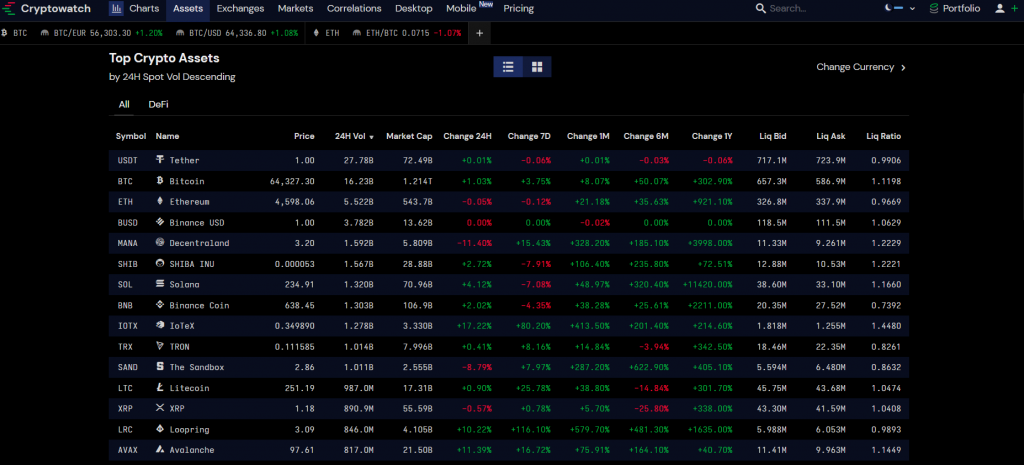 The main strength of Cryptowach is that it offers a lot of data that is presented to you. The assets section is a nice example since it shows the performance and price movement of currencies over different periods. You also have the possibility to change your main currency.
Trading with Cryptowatch
---
Cryptowatch supports trading on various exchanges with the Cryptowatch account API connectivity. It is worth noting that Cryptowatch supports trading for free (except for the standard exchange fees). Cryptowatch's trading data is supported directly from cryptocurrency exchanges via the APIs system and covers over 4,000 markets.
Cryptowatch offers the trade of literally thousands of cryptocurrencies including Bitcoin, Ethereum, Ripple, and many others. It is a rare thing that portfolio trackers offer trading, so in that sense, Cryptowatch is a unique system. In fact, most of Cryptowatch's competitors do not offer the trading option (more about that below).
Portfolio
---
As already mentioned at the beginning of the article, Cryptowatch is a portfolio tracker. The platform offers you to manage your portfolio (your crypto net worth) in real-time data.
The Cryptowatch allows you to keep track of your portfolio. I highly recommend using this platform if you hold your crypto assets on multiple exchanges since you can see them all in one place if you decide to use Cryptowatch. (you would need to connect all of your exchanges to your Cryptowatch account).
The platform offers you to monitor your crypto portfolio on any device, regardless of the operating system, you're using (Linux, macOS, or Windows on your desktop computer).
Correlations
---
Cryptowatch offers you to plunge further into information and contrast markets dependent on their relationship and the currency you need. A trading tip is that trading correlations aren't really for amateurs. However, it can give you an understanding of which markets are identified with one another.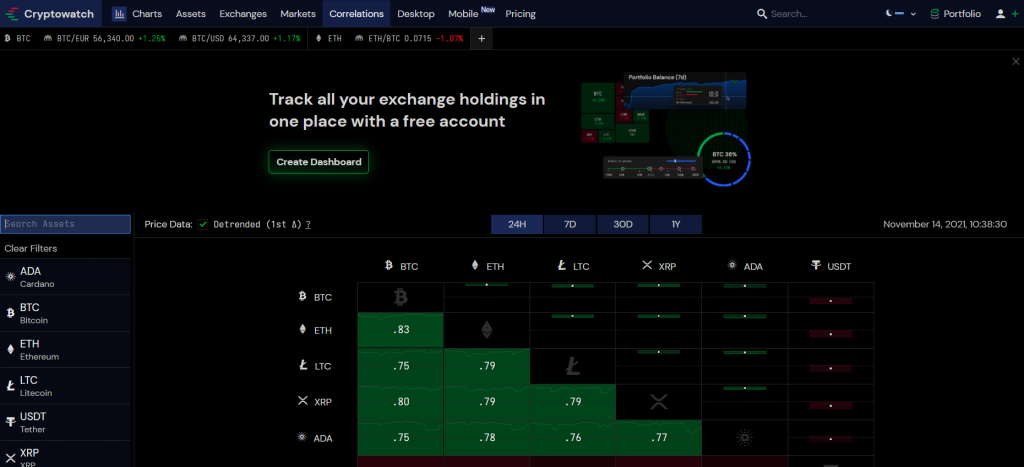 Let's have a look at one example to understand better how correlations work. Imagine that Bitcoin and Ethereum have high correlations in the long-term movement. One day, you notice that Bitcoin had positive movement, but Ethereum hadn't. Based on the correlations they had so far, you can expect Ethereum to have a positive movement in the upcoming days, or weeks. 
Liquid Bids
---
One of the more exciting features of the Cryptowatch platform is the Liquid Bids option. You can use Liquid Bids when you want to compare different crypto assets. This works in the way that it effectively shows the total amount of buy orders that are currently recorded for a particular crypto asset.  
This feature allows users to see how much real demand there is for a particular asset, which can be useful as an alternative to often-manipulated and sometimes not useful stats like a market cap.
Pricing
---
The Cryptowatch offers two types of plans, or accounts – Basic and Upgraded. The first one is free to use, of course. However, if you want to use an Upgrade account, you have to pay for it.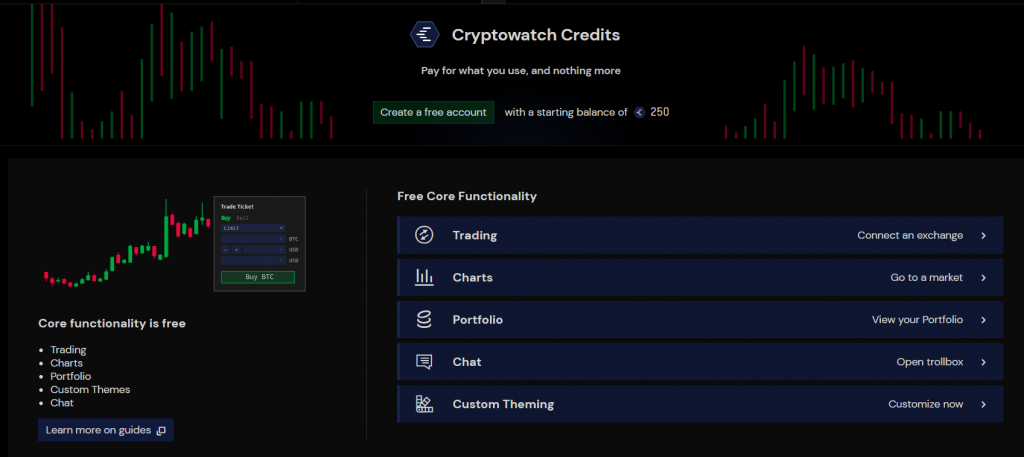 In 2021, Cryptowatch has replaced its SaaS-style price system (the fee for the upgraded account was $15 per month) with a new, more flexible à la carte pricing model called Credits. In other words, if you decide to use the Upgraded account, you will actually use the Cryptowatch credit system. 
The idea behind this decision was that all of the platform's core services (Portfolio, Trading, Charting, and Chatting) remain cost-free. Furthermore, clients will be able to use whichever services they're interested in and pay only for those, instead of having to choose a predetermined monthly pricing tier with a fixed set of features.
Once you create an account and register, you will get 250 credits (1 credit is worth $0.01 which means that 100 credits are worth $1, and 250 credits are worth $2).
As already mentioned, Cryptowatch does not have extra fees for trading. Credits are mostly there for developer tools and alerts (volume alerts). One alert costs one credit. Credits could also be used for API calls which cost about 0.002 to 0.015 Credits per call.
There is also an option to pay 120 credits for WebSocket API (for streaming normalized cryptocurrency market data). You can also pay 15 credits for Zapier integration. Zapier is an online automation platform that connects with more than a thousand different Apps, including MailChimp, Gmail, and Slack. In other words, you will receive notifications, and alerts on your Gmail, or even via text message (about interesting price changes and market movements).
At this point, it is good to note that all opinions and suggestions written in this article are not considered financial advice.
Markets tab
---
On the markets tab, Cryptowatch users can see real-time viewings of market movements across many different exchanges that happen due to significant changes, and movements in the crypto market. The tab can be a bit overwhelming if you are a beginner in the crypto universe, so if you are a newbie, my strongest suggestion is to skip this tab (at least for now).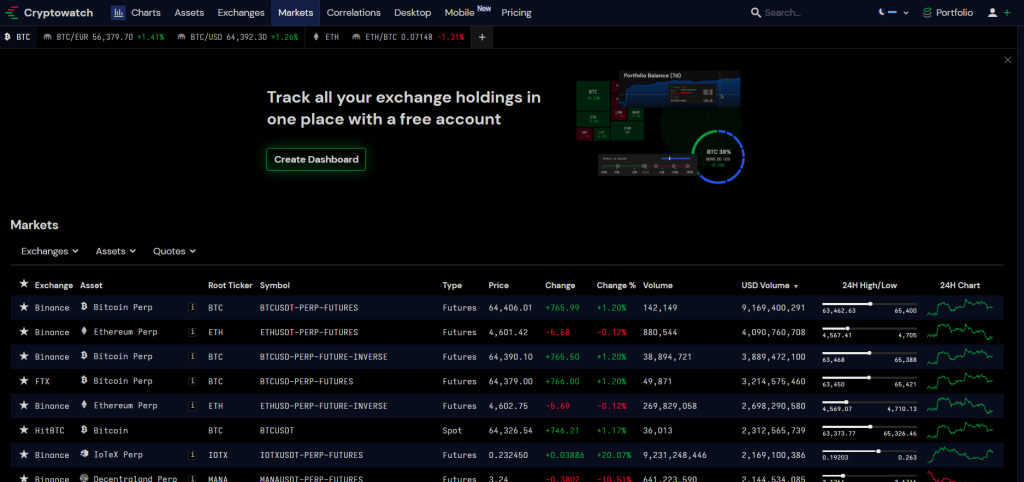 On the market tab, users can also filter the list by exchanges, quotes, and crypto-assets as well as sort on any of the columns
What Cryptocurrency Exchanges are Supported?
---
Cryptowatch supports various exchanges and a significant part of the ones that are most popular among traders. Here are the exchanges that are supported on the Cryptowatch app:
Is Cryptowatch Safe?
---
Cryptowatch is a very underrated platform in terms of safety and security. The main reason why Cryptowatch should be considered a safe, and secure platform is the fact that it is owned and controlled by Kraken. Kraken is widely known for paying special attention to safety. 
Cryptowatch keeps your data safe with military-grade AES-256 encryption. The platform also offers some advanced security features, such as two-factor authentication
As per the Cryptowatch website, they "never had a database breach of any kind". 
How to use Cryptowatch?
---
I found the Cryptowach platform straightforward and easy to use. Creating a profile is actually quite easy to do. Let me break the process into a few simple steps:
When you open the platform, explore price charts, crypto markets, etc.
On the top right corner, click on the account icon in order to create an account
Keep in mind that it is completely free to register on Cryptowatch
Set your phone number
Set up your preferred billing details
Set up your MFA (Multi–Factor Authentication)

Two available forms – TOTP (Mobile device), and U2F (Yubikey, or similar)

Create price alerts 
Connect some of the exchanges you want to use at Cryptowatch
Once you are connected, you can place an order, and view your portfolio 
Set up your preferred color theme
Contact chat support if you have any issues
Advanced features – Connect to the WebSocket API, or Set up a zap on Zapier (please keep in mind that these features are not cost-free)
For even more detailed instructions on how to use Cryptowatch, please visit their website here. 
Supported Operating Systems
---
The Cryptowatch offers you to monitor your crypto portfolio on any device, regardless of the operating system, you're using (Linux, macOS, or Windows on your desktop computer). Supporting all significant operating systems is a unique thing since it is a rare feature for portfolio trackers (usually used only for tracking your crypto data).
Cryptowatch alternatives
---
I have listed in this article all the unique, and advanced features Cryptowatch offers to its users. Even so, there are quite a few alternatives you can use if you did not like the platform (for any reason). 
In fact, there are more than 25 alternatives to Cryptowatch for a variety of platforms, including Online / Web-based, Windows, Android, iPhone, and Linux. Some of the most popular alternatives include CoinMarketCap (free), MetaTrader (Free), Coingecko (Free), Good Crypto (Freemium), and Coinalyze (Free).
The most unique feature of the Cryptowatch platform is that it allows trading from multiple exchanges in one place. This feature is what separates Cryptowatch from most part of its competitors. Also Cryptowatch has good charting documentation and portfolio documentation.
The one that is worth separate mentioning is the Good Crypto platform. The main advantage of the platform is that it supports 30 exchanges and more than 10,000+ trading pairs.
CoinMarketCap is the one that I would separate from the others as well. It is extremely easy to use, straightforward and on top of that, it is completely free to use. In other words, if you are a beginner in the crypto trading world, CoinMarketCap is probably where you want to go. 
If you are not a fan of Cryptowatch, please read our CoinMarketCap vs CoinGreko comparison. Also, have a look at other top crypto charting tools like Tradingview, Altrady, Coinigy or GoCharting.
FAQs
---
PROS
Available on all operating systems and platforms (Linux, macOS, or Windows on your desktop computer)
Considered a safe and secure platform (never had a database breach)
The platform is owned by Kraken which is widely considered one of the most secure crypto platforms
Free version is available (to some extent though). With the free (basic) account you are able to trade on multiple exchanges in one place
Offers trading inside your portfolio tracker (unique feature)
You can easily use chat to contact their support or chat with other existing users on the platform
A lot of exciting, advanced, and unique features such as Liquid Bids, or Correlations
A significant part of exchanges supported
CONS
There is no standalone mobile app available for users how to prefer that kind of use
Desktop app functions might be limited to some part of traders
Cryptocurrency news portal not at the highest level

CaptainAltcoin's writers and guest post authors may or may not have a vested interest in any of the mentioned projects and businesses. None of the content on CaptainAltcoin is investment advice nor is it a replacement for advice from a certified financial planner. The views expressed in this article are those of the author and do not necessarily reflect the official policy or position of CaptainAltcoin.com