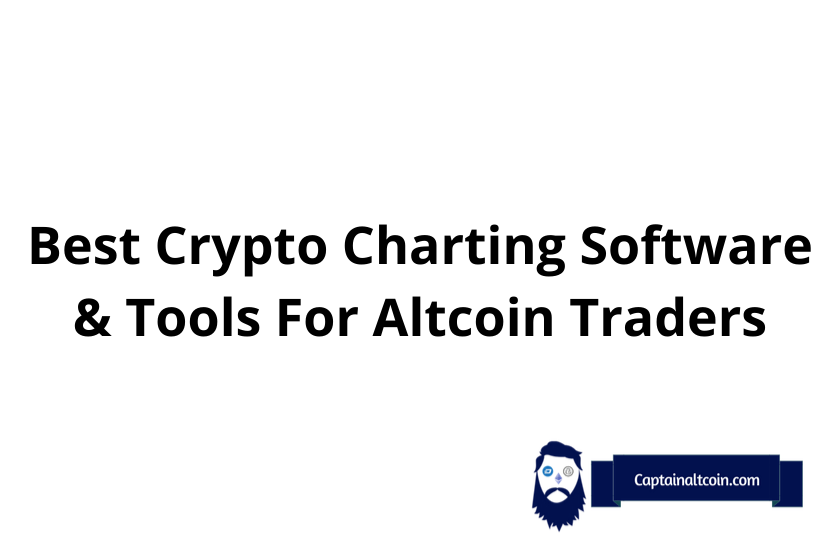 If you're going to do something well, you need the right tools for the job. There are many aspects to managing and trading your portfolio, and depending on your investing style, some will be more important than others.
Traders using multiple exchanges like to have all their assets visible on one screen. Longer-term Investors appreciate knowing their ongoing profit and loss over extended time periods. Technical analysts just love all those moving averages, Fibonacci doohickies, and Bollinger thingamabobs.
Macro-economic news and event notifications are key to longer-term strategies. The most accurate and prompt information about user-defined market trigger points is critical for swing trading. Trading robots are another whole set of tools in their own right. The modern all-in-one crypto trading platform needs to support bots, either proprietary off-the-shelf bots or user-defined creations.
Whatever your style, there's an altcoin trading product for you. Below I take a look at the best software platforms for altcoin traders and identify the killer apps. I compare the prices, and comment on the look and feel.
Free Crypto Charting Tools
---
Let's have a quick look at 3 best options when it comes to the best free crypto charting tools.

Social network for traders
Free trial is full-featured to test out
Live video streaming of real trades
Best Crypto Charting Apps For Technical Analysis
---
Tradingview
---
For thousands of years, traders have been creating charting tools to predict the future, the Holy Grail of trading. Like perpetual motion and time travel, nobody has quite managed it yet. But it doesn't stop them from trying. TradingView is noted for its charting tools to help you achieve the impossible dream.
TradingView claims to have the world's best charts along with the best tools for analyzing said charts. They offer dozens of standard ready-made indicators, like moving averages, RSI, Bollinger, etc, but there are new indicators listed that I had no clue about. There's a whole social network where people are sharing ideas so it's very informative for the enthusiastic trader looking for an edge. The more committed traders can use PineScript to encode their bespoke technical indicators and strategies.

The site was originally for trading Stocks, Futures, Major Indices, and Forex. The legacy traders have been developing technical analysis tools for years. TradingView allows you to apply these well-understood technical analysis tools of regular trading, to cryptocurrency.
From a practical point of view, the user interface is intuitive and everything you need to do is never more than a few clicks away. This comes from years of fine-tuning. The charts scroll and zoom smoothly and the whole thing is a pleasure to use. The data feeds are up to date and don't rely on some third-party, delayed data aggregation. This real-time data comes at a price, however.
There are 3 levels of membership – Pro, Pro+, and Premium. They are a nickel under $15, $30, and $60 respectively. You get progressively more technical analysis tools and charts. The main reason to buy the Premium option would be the enhanced data feeds and the license for up to five separate devices. All the offers are available as a free 30 trial. It's very revealing that several other platforms and exchanges offer TradingView charts as a standard option.
Read also:
Coinigy
---
Another option is Coinigy who offers services to "Master the crypto markets on a single platform," and to "Manage your digital wallets across multiple exchanges and trade anytime, anywhere." It's another genuine cryptocurrency platform, rather than a legacy trading software with added crypto extras.
Apart from comprehensive Portfolio Tracking, you get an array of technical analysis tools and indicators. There's a free version with all of the above, but for $18.66 per month, you get access to advanced order types and API integration with your exchanges. Beyond this Pro-Trader option, there's the API Developer Pro option which gives you the full suite of tools.
I was impressed by the instructional videos on their Youtube channel. There are also quite a few interviews and topical debates. The Coinigy Blog contains a mix of technical writing and new features. It's very professional in its presentation, as is all the marketing and P.R. material.


There's a mobile application that syncs to your desktop version, and at the last count, you could trade on 45 exchanges. Coinigy is proud to mention that there are no fees beyond your monthly plan. I should hope not!
Like all the rest of these platforms, you can pretty much run your entire portfolio from Coinigy. The charts look like all the other platforms, but you can customize your trading windows to your heart's content. Overall, I like the look of Coinigy, but I would certainly take advantage of the free version to make sure, before parting with any money.
Altrady
---
Altrady's smart trading features can take the pressure off with 'take profit orders' and 'trailing stop orders.' You can configure your orders, for example, to take profits on a pre-defined portion of your trade while moving your stop-loss upwards to protect your gains thus far (this is not yet fully implemented, it is coming up soon according to their roadmap).
Altrady is compatible with all the major exchanges. Binance, Kraken, Coinbase Pro, Bittrex, Huobi, Poloniex, HitBTC, and OKEx. If a token isn't listed on one of these exchanges, I would question whether I want to hold it.
If you've ever waited for the price of a coin to fall before you bought, you'll know how much time you can waste checking your trading accounts every 2 minutes. Altrady enables you to set up alerts from all your crypto exchanges all in one place, in an organized fashion. You can receive updates as emails and straight to your device running the application.
If you want to improve your effectiveness then you need to look at your performance data. That's where the truth lies. It's easy to become emotional about what's really happening with your trading strategy. Raw data displayed dispassionately leaves no room for doubt. It might not always be good news, but it's the only accurate way to assess your trading performance.
Altrady offers a powerful analytics dashboard so you can detach from your emtions and trade on hardcore data.
Aside of these, Altrady has a packed roadmap with plans to launch their own trading bots (DCA, grid, scalping) and signals marketplace. And with a competitive pricing, Altrady is definitely worth checking out.
Coinrule
---
Based in London, UK, Coinrule offers services to automated traders. They have developed a suite of high-quality market products including market data feeds and efficient trade execution algorithms. Coinrule aims to provide professional-grade tools to retail traders.
There are 3 paid versions plus a free demo. The Hobbyists and Trader tariffs are reasonable at $30 and $60 respectively. $450 per month for the Pro version seem like a lot, however. But what do you get for your money?
The statement on the landing page says "Coinrule empowers traders to compete with professional algorithmic traders and hedge funds. No coding required." The focus of Coinrule is making automated trading available to the masses. You can test strategies on historic data. These can be comprised of 150 predefined rules, plus your own inventions.
Automatic trades can be placed across multiple exchanges according to your strategy. The advertised exchanges are Binance, Coinbase Pro, OKEX, HitBTC, Bitstamp, Bitmex, and Kraken.
It's all very user-friendly and professional-looking. However, even if you had the same tools as the pro-traders, would you be confident using them as effectively? Check out the Tutorials for some really good explanations of basic principles. It's aimed at intelligent people who are new to trading. There's some more in-depth technical theory for the ambitious trader.
Shrimpy
---
The headline on the Shrimpy welcome page invites you to "Manage Your Entire Crypto Portfolio In One Place." I took the invitation and hit the 'View Demo' button. This sends you to the Dashboard page where you can view the recent performance of all your holdings. You can add exchanges to include yet more tokens.
Other actions include rebalancing your portfolio – don't you just hate it when your mid-cap altcoins 3x resulting in an unbalanced portfolio? You can define the percentage of each coin you wish to hold and Shrimpy will make the necessary trades to adjust your portfolio. You can also configure stop-losses on this page.
There's a trading page that looks fine, but I recommend clicking the "Switch to Advanced Trading" toggle switch, located in the top right-hand corner. This brings up a Tradingview style page. Most people are familiar with the familiar green and red candles, but it takes a while to adjust to the look and feel of any new platform.
There's a list of the 20 supported exchanges on Shrimpy showing the price comparison. It was interesting to see the 1.5% variance across BTC prices across the major exchanges. Maybe there's an arbitrage trade available there?
The 'Social' page has a list of superstar traders that you can follow. I clicked on a few of the more likely looking candidates and was encouraged to see a clear, simple breakdown of their portfolios. It made for interesting reading. Please be aware that it's easy to look like a genius when the market is shooting up. Take a look at these influencers/traders when the market is crumbling, or in a crypto winter.
There is a backtesting module that's so easy to use, it's quite fun to play with. Indeed, Shrimpy is the most intuitive platform on this list. Everything is simple to operate and you're never more than a click away from the thing you need. Very impressive!
The Starter option costs $19/Month and is aimed at "Those who are just getting started in trading." For $79 you get the Professional package, giving you "In-depth control over your investment." $299 bags you the Enterprise version for "Companies seeking enterprise-level portfolio management." Take a look here for the full price list.
Quadency
---
Having a single set of charting tools across all your trading data allows you to compare like with like. Quadency has both parts covered. The tools look great and the affiliated exchanges are many. Their full roster of exchanges is here but a few highlights are Binance, Kucoin, Binance US, Coinbase, Gemini, and Bittrex. Just about every serious token is listed by at least one of Quadency's partner exchanges.
I opened an account and had a great user experience. Quadency guides you through the setup very gently, starting with an email address confirmation. There are explanations about 2FA (Two Factor Authentication), APIs, and general security before you select which exchanges you would like to use. Some of them have special offers from 3 to 6 months for new accounts. The best offer was Liquid exchange with 6 months of Pro level for pre-existing accounts. You can see the full offer details here.
Enter your API keys, your secret key, and name your account. If all are present and correct you can now execute your exchange account business from Quadency. The trading charts are fairly standard, though I found the colors were a bit aggravating – I'm sure that could be adjusted.
Your account balances are displayed below the central chart and your exchange accounts are listed to the top left of the screen. Apart from that, it's just like using any other trading platform. There's a news feed dropdown and a dedicated page resembling Coinmarketcap or CoinGecko. Here you can get quick quick-fire info on just about any token out there. You are never more than a couple of clicks away from whatever you need to know.
The initial highlight of Quadency is the enormous functionality of the demo version. Take a look here for the full features list. The Pro version is $49 per month and the Unlimited version is $99.
CryptoView
---
Synchronizing exchanges and wallets has always been a chore. Remembering which wallet you were using for which transactions can be a terrifying experience. This situation does not arise with traditional trading as all exchanges are custodial services. CryptoView handles all this awkward crypto wallet administration with a slick portfolio manager.
Equally impressive is the integrated trading platform. There's a bunch of technical indicators and charting tools, a news aggregator, and market alerts. Take a look at the demo here, it's quite impressive.
The attraction of CryptoView over other platforms is that it's a cryptocurrency platform. Some of the others are general trading platforms with cryptocurrency features bolted on as an afterthought. For example, CryptoView centralizes all your account data, including your attached wallets, and automatically uploads it to the platform. Everything remains synchronized and you are never left searching through lots of old wallets trying to find your crypto.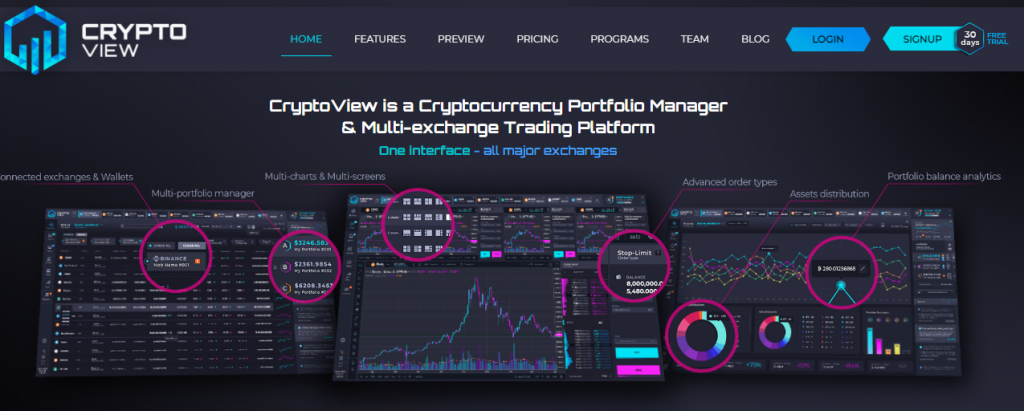 If you're a day-trader or managing an array of wallets and exchange accounts, CryptoView is great, but how much does it cost?
There's a 30-day free trial plus their Free Plan which is fine to get a feel for the platform. You get the really useful stuff once you pay for a Premium Plan, like multi-exchange trading and their advanced order types. The price depends on how long you sign for. For $19 you can buy a 1-month license. This falls to $13 per month if you commit to a whole year. There's an affiliate and referral program so you could claw some of this expense back. Check out the CryptoView tariff page for details.
Other notable mentions
There are a lot of new trading tools that cater to crypto traders like Altrady, GoCharting, Trendspider, TabTrader or Cryptowatch.
Conclusion and Thoughts
---
With all the regulatory oversight headed cryptocurrency's way, even the biggest centralized exchanges are looking riskier. Binance had problems in the UK, and Coinbase is enjoying the gaze of the SEC as we speak. This above all others is the reason to use multiple exchanges. It used to be a good idea so if an exchange got hacked, you didn't lose all of your assets.
Well, the exchanges are being hacked right in front of our eyes. – by the regulators. It would be easy for the SEC/FBI to pull the plug on a centralized exchange, so don't commit all your crypto to one exchange.
Having a single set of charting tools across all your trading data allows you to compare like with like. Prompt news aggregation and market-triggered notifications are essential for those "buying the rumor and selling the news."
As always, whichever trading software you choose will depend on your requirements and your budget, but all of the above are worth a look before you decide.

CaptainAltcoin's writers and guest post authors may or may not have a vested interest in any of the mentioned projects and businesses. None of the content on CaptainAltcoin is investment advice nor is it a replacement for advice from a certified financial planner. The views expressed in this article are those of the author and do not necessarily reflect the official policy or position of CaptainAltcoin.com