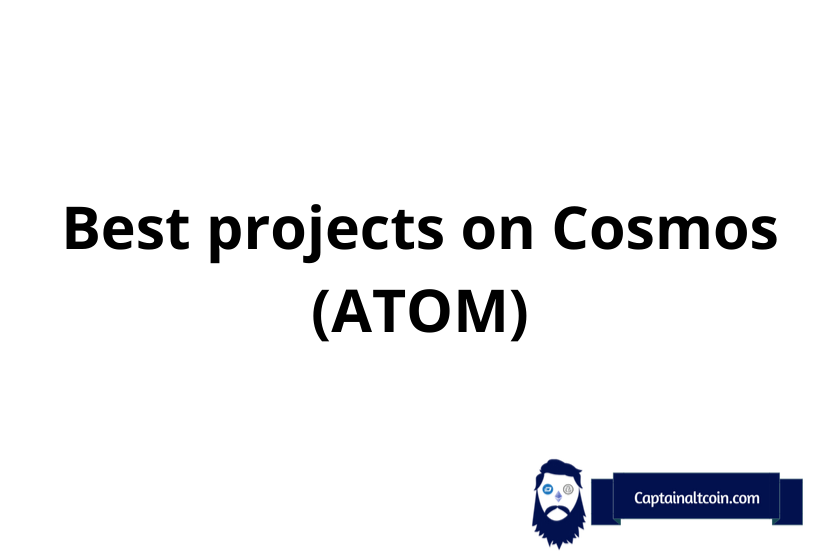 What is Cosmos – quick intro
---
Cosmos is a decentralized network of different parallel blockchains. The main blockchain is called Cosmos Hub and it operates as the center of the network and records all activities on it. Several other blockchains are also part of Cosmos and they are called "Zones" and all of them are attached to the main blockchain Hub.
Similarly to any other blockchain, DeFi apps can be built and deployed on Cosmos Hub. Furthermore, Cosmos Hub is interoperable with any other blockchain that uses the common protocol which makes it very unique and different when compared to other blockchains.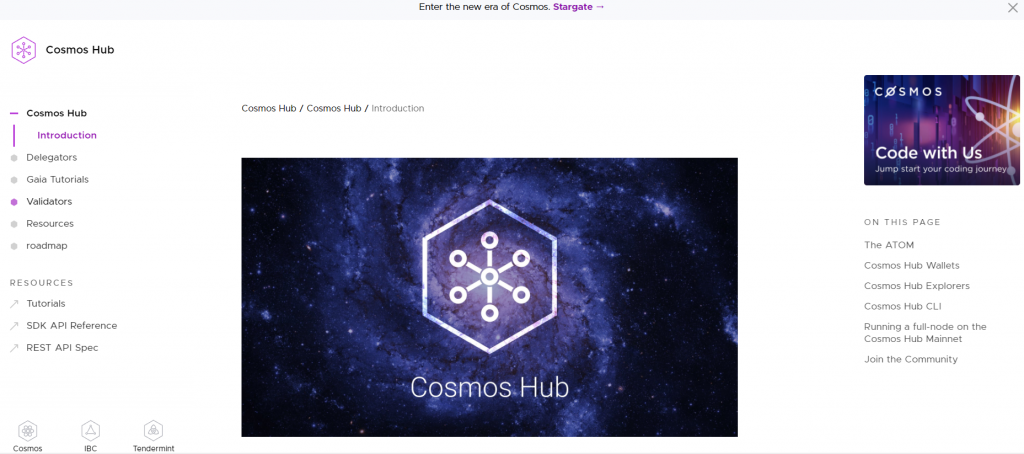 Cosmos main purpose is to resolve the main issues of the more popular and stronger blockchains, like Ethereum network – scalability. The main problem with the Ethereum blockchain is that gas fees are very high and it does only 20 transactions per second (which is pretty low for example when you compare it to PayPal that does more than 190 transactions per second).
ATOM is the native cryptocurrency of the Cosmos network. It is used for several very important functions on Cosmos blockchain, with the most important one being to execute smart contracts and complete transactions.
Read also:
Best Cosmos projects – list of projects built on Cosmos
---
Cosmos itself is an extremely ambitious project that aims to become the blockchain that will pull all other blockchains in its own interoperability platform. Therefore, quite a few blockchains and projects were built on Cosmos, and in this article I will take a close look at some of the best ones.
Osmosis
---
Osmosis is one of the blockchains, or so called "zones" that is attached to the Cosmos Hub. It uses a secured Proof of Stake system which offers many of the same professional staking services that secure the Cosmos chain. Its native cryptocurrency is called OSMO.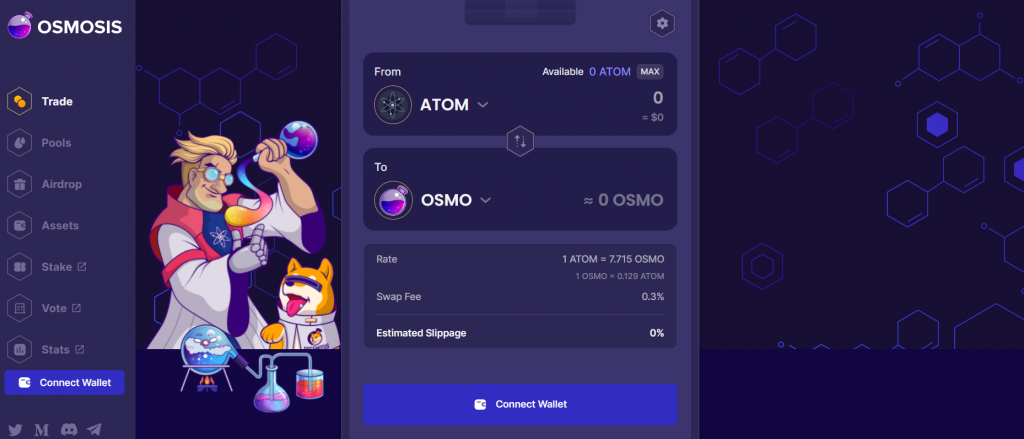 OSMO holders can delegate their OSMO tokens with these professional stakers to help secure the network from malicious and dangerous behavior. Osmosis is considered a decentralized peer-to-peer blockchain that cryptocurrency holders can use to create liquidity and trade Inter-blockchain communication (IBC) enabled tokens.
Secret Network
---
It is a privacy-focused smart contract platform that enables programmable privacy. Secret Network will offer a privacy hub to the ecosystem, and it is great for those who are privacy advocates.
Regen Network
---
It is building a 'Proof of Healthy Earth' network, essentially backed by carbon sequestration. With Regen, we can use the power of blockchain to make the world a better place. Regen is working with Chorus One as they are pioneering the first green validator business model.
G-Bridge
---
It is a cross-chain bridge that allows users to transfer assets between different blockchains. G-Bridge is highly experimental and innovative, and it will be governed by the network of users.
Akash Network
---
Another project that operates on Cosmos blockchains is called Akash Network. The main purpose of Akash is to help Web3 developers with deploying different decentralized applications (dApps) with minimal configurations, setup, and server management.
Often called "Airbnb for Cloud Compute", the project offers the first decentralized open-source cloud, offering permissionless cloud computing resources for developers to create dApps.
When we talk about Akash Network it is also worth noting that it presents some of the most competitive pricing for dApp deployment solutions. I found out that when you compare it to some other centralized options such as Amazon web service, prices are approximately one-third of these.
Sentinel – DVPN
---
Yet another Cosmos project where developers can build and deploy dApps is called Sentinel protocol. Sentinel Network allows its users to be able to sell their bandwidth on its marketplace.
Let me just list the main purposes of Sentinel:
Scalability – since it is part of Cosmos, more zones can be established under Sentinel and therefore allow the project to increase the number of dVPN applications built with lower fees
Interoperability – Cosmos allows Sentinel to accept payments from various coins and stablecoins therefore increasing the potential target market
Governance – Sentinel can easily execute efficient chain upgrade processes since its governance network is hands of decentralized validators
Persistence XPRT
---
Persistence XPRT is an ecosystem of icrypto-native DeFi and NFT focused assets. The project is technically very well organized and it provides the infrastructure to effectively connect DeFi and traditional finance in a variety of areas.
Let's easily understand Persistence by explaining its process:
Tokenization (using NFTs) of real-world assets such as invoices
Trading tokenized assets (now NFTs) against stablecoins
Usage of these NFTs to borrow stablecoins (loans)
Loans organized into pools to create fixed income
It is not hard to conclude that the main goal of Persistence is to make sure that new capital enters the cryptocurrency industry.
Regen Network
---
Regen network is a proof of stake (POS) blockchain developed on the Cosmos ecosystem. It is used for verification of claims, agreements & data related to ecological state.
Regen Ledger enables multiple users to communicate and transact with each other producing a public ecological accounting system. It is a global marketplace and platform primarily used for earth's ecosystem assets, services, and data.


In other words, Regen creates a high-quality system for monitoring, reporting and verifying the state of the environment around the globe.
Juno
---
Juno is another platform that operates on the Cosmos network. It is an open source platform for interoperable smart contracts. Juno automatically controls and documents procedures and actions that are written in the terms of such contracts.
In other words, Juno is simply a network of smart contracts. The main purpose of the platform is to keep congestion off the hub and to retain the hub's neutrality.
As you can imagine, the main goal for Juno is to become an Inter-Chain Smart Contracts platform, this means that any smart contracts functionality built elsewhere can be easily replicated (and improved) within the Cosmos ecosystem to be used from one chain to the next.
Conclusion
---
One thing about Cosmos blockchain that will definitely make you think it's the real deal is the fact that it is a very unique system. Cosmos is trying (as many other blockchains) to be better than the Ethereum network but looks like it is the only one trying to do it in an innovative way – being the decentralized network of different parallel blockchains.
There is no doubt that exciting times are ahead of Cosmos and we will be here to follow its rapid growth.
Where can you buy Cosmos (ATOM)?
You can buy ATOM coins on any of the major exchanges like Binance, Kraken, Kucoin, Gate.io or FTX.
FAQs
---

CaptainAltcoin's writers and guest post authors may or may not have a vested interest in any of the mentioned projects and businesses. None of the content on CaptainAltcoin is investment advice nor is it a replacement for advice from a certified financial planner. The views expressed in this article are those of the author and do not necessarily reflect the official policy or position of CaptainAltcoin.com