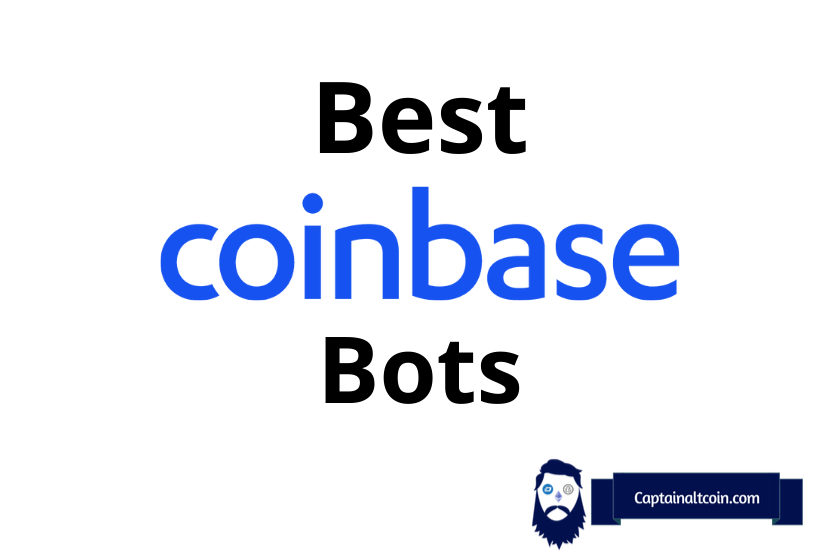 Summary (TL;DR)
---
Coinbase is the first US-based regulatory trading platform. It has become widely popular recently, and a greater part of cryptocurrency traders consider it one of the best crypto trading platforms there.
Furthermore, Coinbase is safe to use and makes sure to always make users' funds secure. However, the platform has very high fees and some are full of incessant or frantic activity.
If you want to know more about Coinbase, please read our review of the platform here. And if you want to know more about Coinbase pro, read about it here.
In this article, I will take a closer look at some of the best Coinbase crypto bots.
The best five trading bots supported by Coinbase are Bitsgap, Coinrule, 3Commas, CryptoHopper, Quadency.
We are going to find out which bot is the most popular, which one is the best for beginners, and which one supports a significant part of meaningful exchanges. Sounds pretty exciting, doesn't it? So let's go into the details.
What are Crypto Trading bots?
---
Before we explain the best Coinbase trading bots, we have to understand what crypto trading bot actually is. They are defined as systems established to automize your trades. The definition perhaps sounds simple, but it is probably not how it seems. If you want to automize your trades, you have to write a code for your trading strategy.
However, many platforms provide this service if you have a paid subscription. In other words, if you are not a fan of coding then these platforms will make your life easier and help you make your crypto trades automatic.
If you do not have a lot of time and energy to invest in crypto trading, but you still want to trade and try to make some profits, trading bots are made for you.
How does trading bot work?
---
Alright, now that we know what a crypto trading bot is, let's explain how does it work. A team of coders and traders combine their ideas to create a code for the trading strategy. The code allows the bot to automatically open and close positions based on the strategy.
The main advantage of crypto bots is that they exclude human emotions which can very dangerous for traders. Like with the majority of other things in the crypto world, these bots are not 100% reliable, but they can save and earn you money quite often.
You can think about yourself as a high-quality crypto trader and that is perfectly fine. However, perhaps you can't trade for 24 hours a day? That's where crypto trading bots become very interesting.
Best Coinbase Trading Bots
---
Once we explained how trading bots work, let's list and investigate some of the best ones on Coinbase.
Bitsgap
---
What is Bitsgap?
---
Bitsgap is probably the most popular crypto bot we are going to investigate today. The main goal of the bot is to make your trades go smoothly. It does not matter how many trading accounts use you use, on Bitgap you can use all of them in one place.
Bitsgap demo
---
You would like to test the Bitsgap bot before using it? Bitsgap demo will provide this service for you.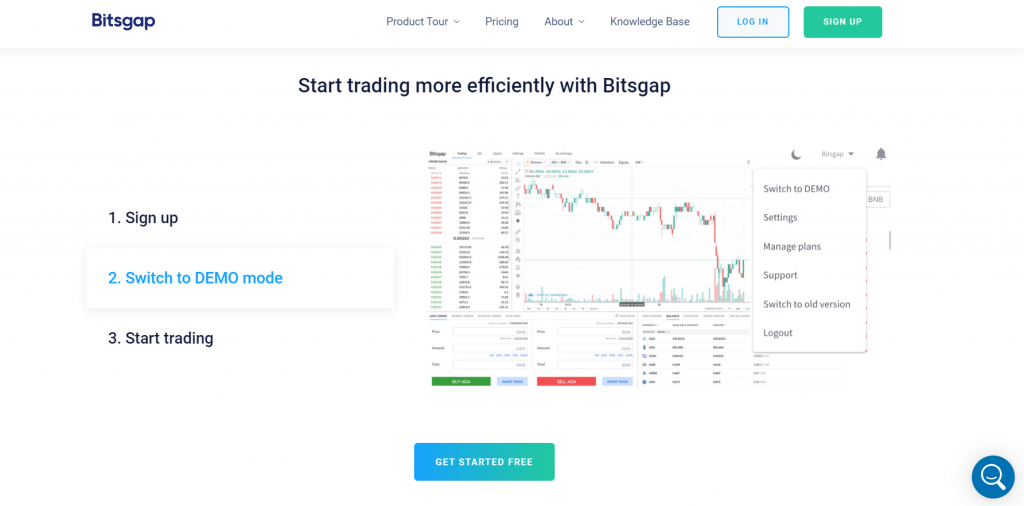 Grid trading bot
---
Grid Trading helps you to increase your trading profits by buying and selling orders at predefined price intervals. It allows you to fully take advantage of market prices fluctuations. Bitsgap Grid Trading bot allows you to automate Grid Trading Strategies.
Bitsgap Signals
---
Another exciting feature of Bitsgap is its signals. It helps you to get returns from potential market opportunities. Signals actually keep you updated on significant market changes. If the platform sees price anomalies, you will be immediately notified.
Bitsgap Pricing
---
Bitsgap offers three differents monthly plans – Basic ($19/month), Advanced ($44/month), Pro ($110/month).
The differences in features for each plan can be seen below:

Is Bitsgap legit?
---
Well, it is safe to say that the Bitsgap trading bot is legit. The bot itself is not allowed to make any withdraws, which means that your funds are safe and secure in your respective Coinbase wallet. Moreover, our suggestion is to activate the 2FA.
Bitsgap: Pros and Cons
---
Pros:
Efficient customer support ✅
Great portfolio management method ✅
Signals and demo features ✅
25 supported exchanges ✅
Option to import pre-configured trading bots ✅
High-quality Grid and DCA strategies ✅
Cons:
No Android, or iOS apps. You have to use only the website ❌
When you compare it to other similar bots, it has limited features ❌
Coinrule
---
What is Coinrule?
---
Coinrule is an easy-to-use automatic crypto bot trading platform. It will help you to trade while you sleep, which is the purpose of every crypto bot basically. To better understand how Coinrule works, let's look at some of its features.
150 Different rules to create your unique trading recipe
---
One of the best features of Coinrule is that it offers 150 different trading templates that you can use as trading strategies. This feature is particularly useful for beginners in the crypto trading business.
Backtesting
---
Backtesting utilizes chronicled information to test a trading system. It assists you with checking how these systems act in specific market situations. Though it isn't required, they will still recur the same way as they did before. The genuine outcome relies upon the execution prices that can never be forecasted.
It is worth noting that Coinrule does not support backtesting directly. However, you can use third-party service, such as TradingView.
Supported exchanges
---
Coinrule supports over 10 major cryptocurrency exchanges via API key connections. Some of the supported exchanges are Binance, BitMEX, Bitstamp, Bittrex, Coinbase Pro, Kraken, and Poloniex.


Coinrule Pricing
---
You can use Coinrule completely free to some extent. In other words, the cost-free plan has some significant limitations when compared to the paid subscription plans. Free account supports only one exchange, two demo/live rules, as well as only seven template strategies.
The paid monthly plans go from $39.99 to $249.99 based on the features available. Costs for any plan can be reduced if you choose to pay for a yearly membership.
Is Coinrule Legit?
---
Of course, it's legit! Coinrule is transparent, honest, and fair with its clients. The platform tries to motivate its customers to take needed precautions and be familiar with the trading threats.
Moreover, Coinrule is a safe and secure platform. Two-factor authentication, SMS notifications, and secure API are some of the options you can use to increase security.
Coinrule: Pros and Cons
---
Pros:
Easy to use platform ✅
Major exchanges supported ✅
Free to use to some extent ✅
150+ guideline templates suitable for beginners ✅
Nice range of pricing plans ✅
Cons:
No direct backtesting ❌
No Android, or iOS apps ❌
Useful guideline templates available only on paid plans ❌
3Commas
---
3Commas features
---
The platform is based in Miami and is considered one of the best Bitcoin bots on Coinbase. 3commas is especially suited for beginners and people who do not have any previous experience in trading and finance. The bot is widely popular and has a good reputation in the trading industry.
3commas offers a lot of trading strategies that you can use to automize your crypto trading.
3commas bot is known for great speed and security. The bost is, as already mentioned, suitable for beginners, although it offers some advanced features like DCA bot, grid bot, optional bots, etc.
3Commas Pricing
---
3commas has one free plan and three paid ones so you can use the platform free of cost until you decide to increase the number of features you can use.
Besides the free plan, there are starter ($14.5 per month), advanced ($24.5 per month), and pro plans ($49.5 per month).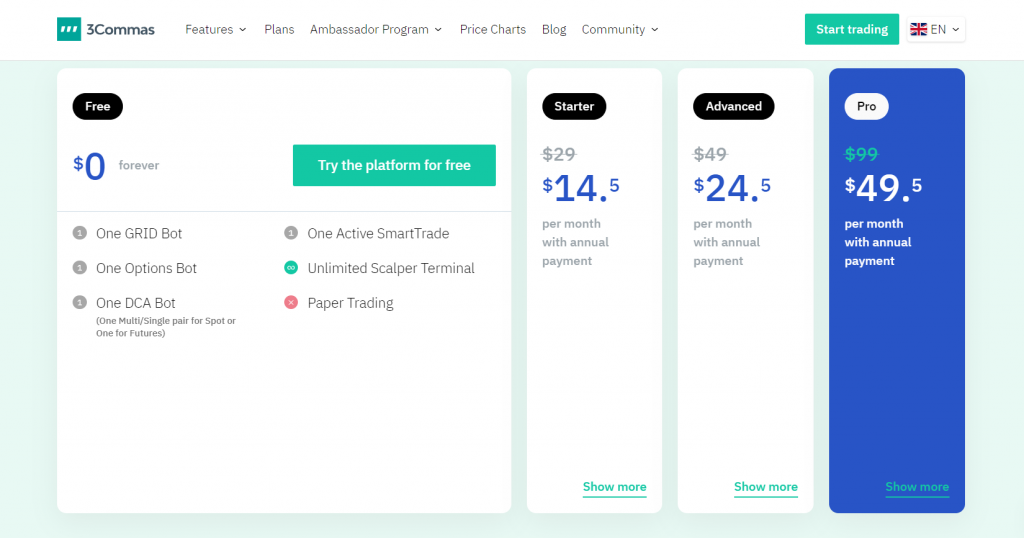 Is 3Commas legit?
---
3Commas is a completely legit trading bot and it works. To be precise, at the moment of creating the order from 3Commas, the bots begin to look at the current price and compare them to your goals and strategies.
The platform is also safe and has decent customer support. Your account is secured with 3Commas.
3Commas: Pros and Cons
---
Pros:
User-friendly and easy-to-use platform ✅
Learning and education tools ✅
Suitable for beginners as well as experienced traders ✅
Advanced features like DCA bot, grid bot, optional bots, etc. ✅
High-level speed and security ✅
Cons:
The process of onboarding can be long and overwhelming ❌
Mobile app can be better (lagging, slow) ❌
Cryptohopper
---
What is Cryptohopper?
---
Cryptohopper bot is still a relatively young automated crypto trading platform, having its domain originally registered in July 2017. It was created by two brothers from Netherland. Let's look into some of the features Cryptohopper offers.
Cryptohopper features
---
The first thing you notice when you open Cryptohopper is the user-friendly interface. The platform is very easy to use and therefore it is suitable for beginners, similar to 3Commas or Coinrule.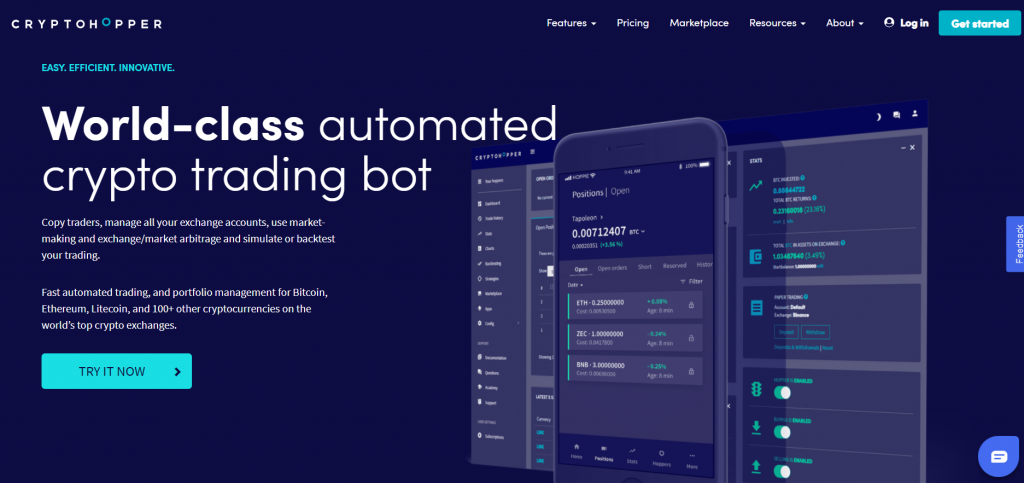 On Cryptohopper there is a simplified drop and drag designer that you can use to create your crypto trading bot from scratch. You just need to choose a few indicators, configure a few fundamentals and your bot is ready to go.
One of the latest features on Cryptohopper is an Advanced dashboard for semi-automatic trades. The dashboard allows you to operate with advanced options such as stop-loss, take-profit, trailing stop loss, and trailing stop-buy. You can also place an order by selecting a place-in directly through the order book.
Cryptohopper Pricing
---
Cryptohopper offers three types of paid plans and they are called: Explorer Hopper ($19/month), Adventure Hopper ($49/month), and Hero Hopper ($99/month).
Please note that Cryptohopper does offer a 7-day free trial period that you can use to get to know the platform and decide whether you want to use it or not. There is even a possibility to get a 30-day free period, but only if you sign up via a referral. The plans can be purchased on a monthly level and yearly as well.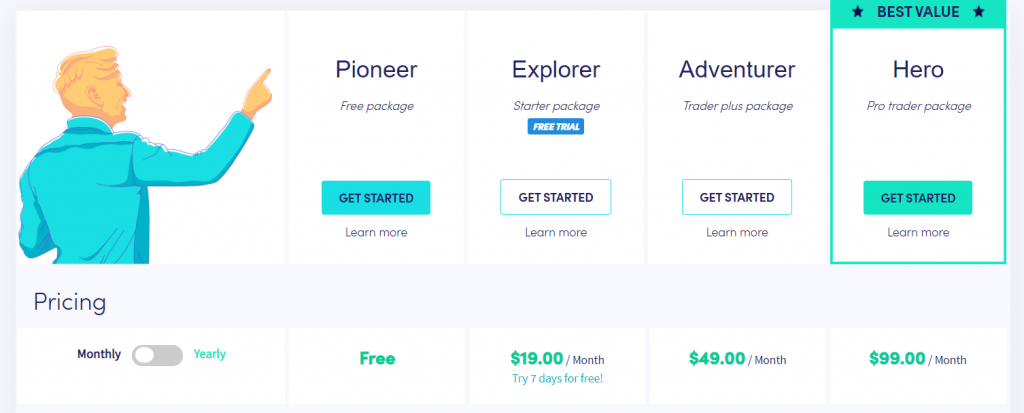 Is Cryptohopper legit?
---
Cryptohopper bot is one of the more user-friendly ones on the crypto market. Moreover, Cryptohopper is a fully functional, legitimate trading tool that can, with some hard work and a bit of luck, potentially help its users earn a profit by trading crypto.
Cryptohopper: Pros and Cons
---
Pros:
Easy to navigate and setup ✅
Lots of exciting and useful features ✅
A decent number of supported exchanges (Kraken, Bittrex, Binance, Kucoin, etc.) ✅
Cons:
Have to pay extra for signals ❌
Pricy plans ❌
Quadency
---
Quadency features
---
Quadency is also a new bot on the crypto trading market. However, it is already proven and "here to stay". The best feature of the Quadency bot is probably the backtesting option. Backtesting permits you to backtest your trading techniques dependent on information and numbers as opposed to shooting them out of the loop.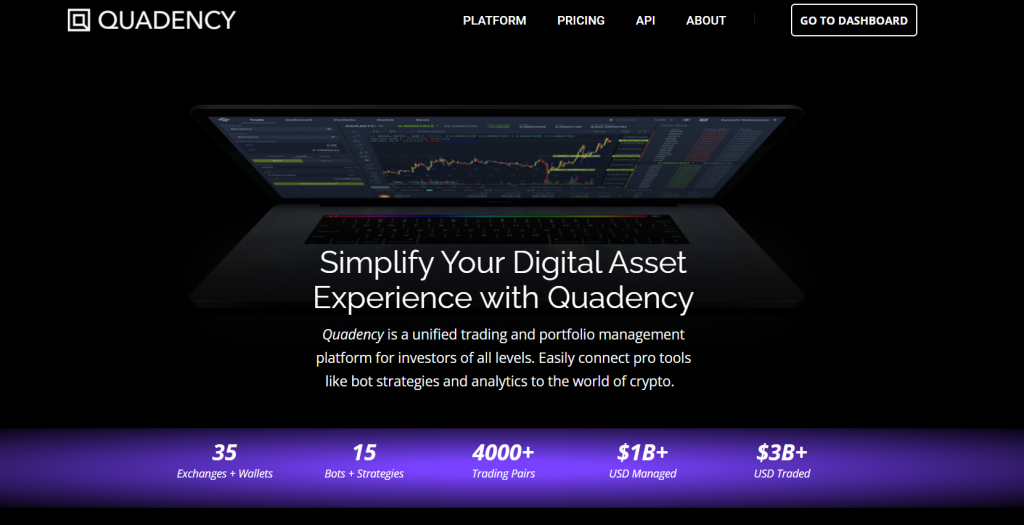 Quadency's features include Portfolio management for their supported exchanges, 7 Crypto Trading bots including grid bots, DCA, trailing profits, and Unified trading platform across exchanges, etc.
Quadency Pricing
---
Quadency has two types of plans: HODLER (free) and PRO ($49/month). Our advice is to use the free plan in order to decide whether you want to use Quadency or not. The third option is INSTITUTIONAL for professional traders. You can just contact their support and they will decide the price for this plan.
Is Quadency legit?
---
It is safe to say that Quadency is a completely legit and secure platform. What amazes most about Quadency is that their plan is very ambitious – they aim to be one of the most important tools in the crypto market.
Quadency definitely has all the tools needed to join the ranks of top cryptocurrency trading platforms and bots.
Quadency: Pros and Cons
---
Pros:
Easy to use ✅
Free plan available ✅
Beginner-friendly ✅
Cons:
Less known/popular than competitors in this article ❌
What are the Coinbase API trading bots rules?
---
Every crypto trader that decides to use some of the Coinbase trading bots has to know the specific Coinbase API trading bots rules, as per their website. Let me list some of them:
Trading on Coinbase Pro and Coinbase Exchange

Orders
Limit orders
Market orders
Stop orders

Warnings

Posting of Orders to the Order Book

Order protection
Order Minimums/Maximums

Matching Engine and Order Priority
Fills and Settlement
Trading Fees

Market Integrity
Access information
Scheduled Downtime
Please read more details about trading rules on Coinbase here.
Read also:
Coinbase Trading Bots: Conclusion
---
Coinbase is one of the best and most popular crypto exchanges. In this article, I have tried to cover the best crypto trading bots that Coinbase supports. They have their differences (all listed above) but all of these bots have one thing in common – they will try to limit your trading risks, save you time and earn you money while you are asleep (at least most of the time)
At this point, it is good to note that all opinions and suggestions written in this article are not considered financial advice.
Frequently Asked Questions
---

CaptainAltcoin's writers and guest post authors may or may not have a vested interest in any of the mentioned projects and businesses. None of the content on CaptainAltcoin is investment advice nor is it a replacement for advice from a certified financial planner. The views expressed in this article are those of the author and do not necessarily reflect the official policy or position of CaptainAltcoin.com