BitUniverse Review – Is This a Good & Profitable Crypto Trading Bot?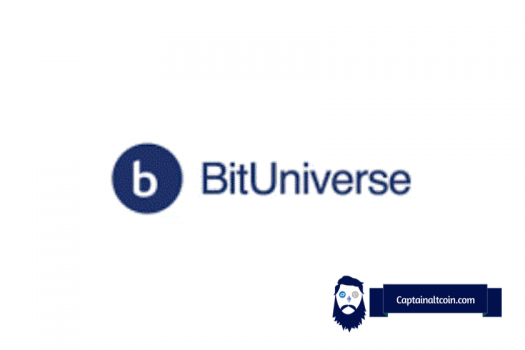 Lots of features packed into a mobile app
Great charting functionalities
Lots of popular supported exchanges
Very simple and easy to use, especially for beginners.
BitUniverse is a cryptocurrency manager that monitors and assists in all your cryptocurrency holding needs. It calculates your profit and loss, displays and tracks your coins prices and portfolio value, contains its own decentralised wallet, supplies you with customisable alerts for whatever price points or changes in price you desire and more. The application is available on Both iOS and Android systems, along with their desktop version.
BitUniverse also features crypto trading bot trading functionalities, which are great for those getting into crypto.
BitUniverse Features.
---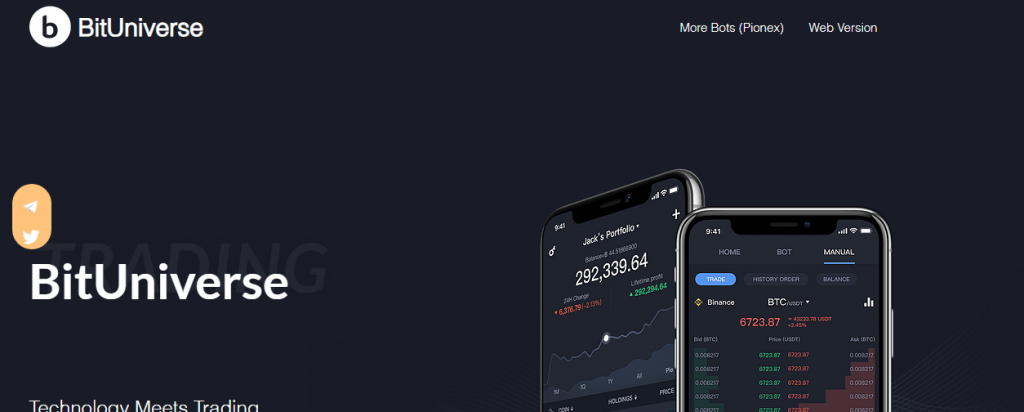 BitUniverse has a wide range of features that assist you in your crypto journey. These features could be considered crucial when it comes to making the right decision when trading and investing in cryptocurrencies. These decisions always require due consideration and should not be taken lightly.
Crypto Portfolio.
---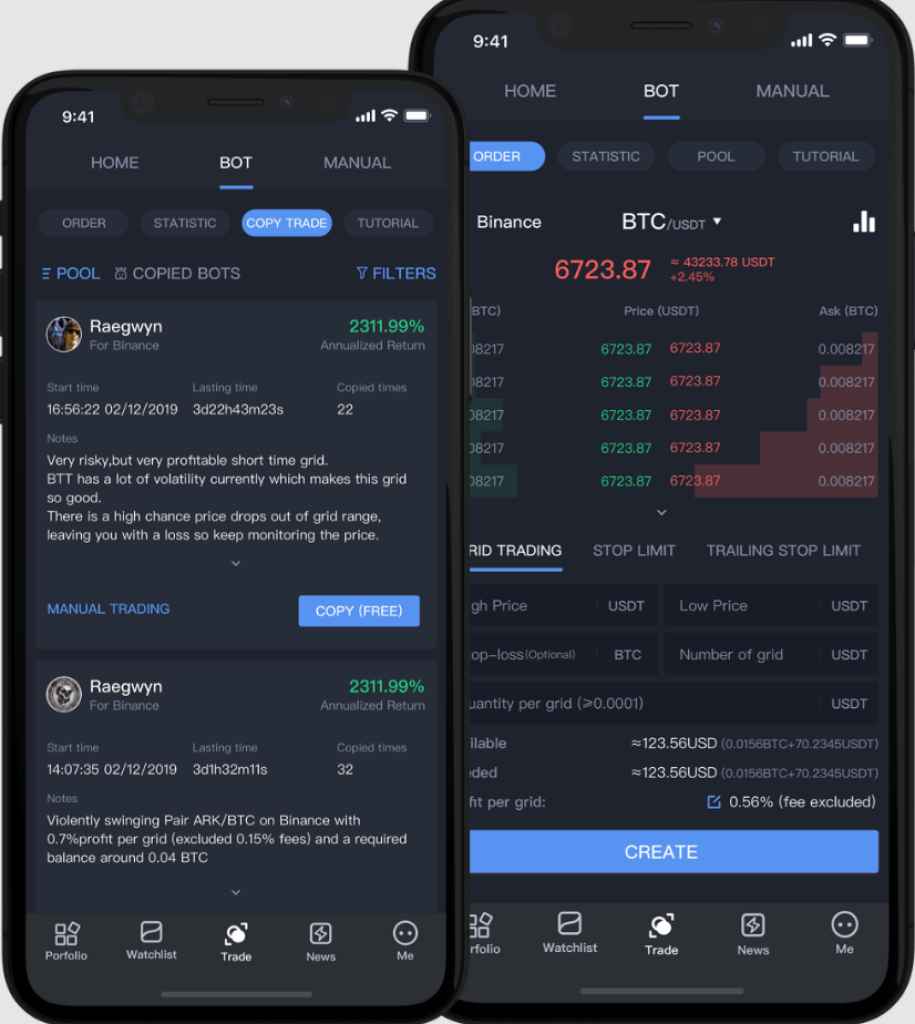 BitUniverse has their simple portfolio viewer, where at a quick glance you can see your profit, your holdings on each cryptocurrency exchange, and other useful information. This data helps keep you up-to-date with your portfolio. The platform supports a wide range of trading pairs.
Sync from Exchange.
---
In order to track your portfolio, you will need to connect it to the relevant exchanges where your coins and tokens are stored. This is done by transferring your API keys from the exchange to BitUniverse. This will keep your portfolio updated on BitUniverse without you having to edit it manually.
Real-time Tracker.
---
There are an incredible amount of tokens out there in the crypto space and BitUniverse does a good job of trying to support as many of them as they can on their system. They keep track of over 2,000 coins, along with supporting over 20 exchanges and wallets, allowing you to easily track your coins over an array of platforms, regardless if you are a small-cap or large-cap investor.
Professional Data
---
BitUniverse is integrated with the leading cryptocurrency data site, CoinMarketCap. By using a site that is supported by the majority of crypto investors, they make sure their stats are updated with accurate numbers regarding the coins they watch.
Arbitrage.
---
Arbitrage is a part of all trading crypto markets. This is where there is a discrepancy between the price of an item on two different crypto markets that can be exploited, by buying on the lower priced market and selling on the higher. BitUniverse supports this practice and has it set up so you can do it effectively when an opportunity is spotted.
Powerful Trading Terminal.
---
BitUniverse provides you with live charts with great editing and assessment capabilities, straight from the popular charting analysis platform, TradingView.
Timely Alerts.
---
With alerts, you can set a price target either below or above the current price of an asset, this will notify you when that price is hit.
Supported Exchanges.
---
BitUniverse supports a wide array of over 20 popular echanges. Here is a list of them:
Binance
Bitbns
BigONE
Bithumb
BitMax
BitoPro
Bybit
FTX
Gate.io
HBTC
Hydax
Huobi Global
LBank
Liquid
MXC
Indodax
KuCoin
OKEx
Poloniex
ShuBao
Pricing
---
There are two different plans available at BitUniverse
Free Plan
---
Just because the plan doesn't cost you a thing, it isn't a plan without value. With the free edition you are still given the tools you need to effectively run your portfolio and with basic crypto trading bot features too!
Premium Plan
---
The paid plan will only set you back $20, which is very small considering the possible profits in cryptocurrency. This plan will give you a number of features, full access to the BitUniverse program. This includes more grids of at least 200+ for your bots, along with a wider range of notification settings for grid trading.
Community & Support
---
Support
---
BitUniverse has numerous support methods, the first of these is their telegram channel. This channel is active and interacts with users, answering their question and helping to give advice resolving issues.
BitUniverse also has a social media presence, namely a Twitter and Facebook account, where they give updates on the platform and can give information to customers.
A more unusual form of support is their reddit forum, where they hold discussions about upcoming features, pressing problems and more, the subreddit is formed to help their users and keep them up to speed.
BitUniverse also has an email address where you can communicate your problems.
Community
---
The BitUniverse community is quite small, with the subreddit only just recently hitting one thousand users, and only a couple posts per month.
Is BitUniverse Easy to Use?
---
BitUniverse is very easy to use, especially for those new to trading. They have a great UI which is very easy to understand and utilise for beginners. Furthermore, their bot trading strategy is very accessible, making them a great start for those new to trading.
How Safe Is BitUniverse?
---
BitUniverse is a very safe platform, out doing many of its competitors. They utilise three-layer protection: AES encryption, code security review and AWS Private VPC. Additionally, this system helps to prevent the bot and its user from any cyber attacks.
BitUniverse offers a military-grade security to provide users with a safe and secure trading experience.
💸 How Profitable is BitUniverse?
---
It should be noted that BitUniverse absolutely does not guarantee you an income, it is a bot that speculates on an asset, attempting to make a profit. That being said, the main function of this product is based on that question so it is important that the bots are successful. Patience and commitment to improving and adjusting your bot is what will net you profit, so don't treat BitUniverse as a passive investment, it is still active and requires oversight and tweaking. 
Get Started on BitUniverse.
---
Getting started on BitUniverse is easy, and doesn't take long to get your account ready and your bots running!
Create an Account.
---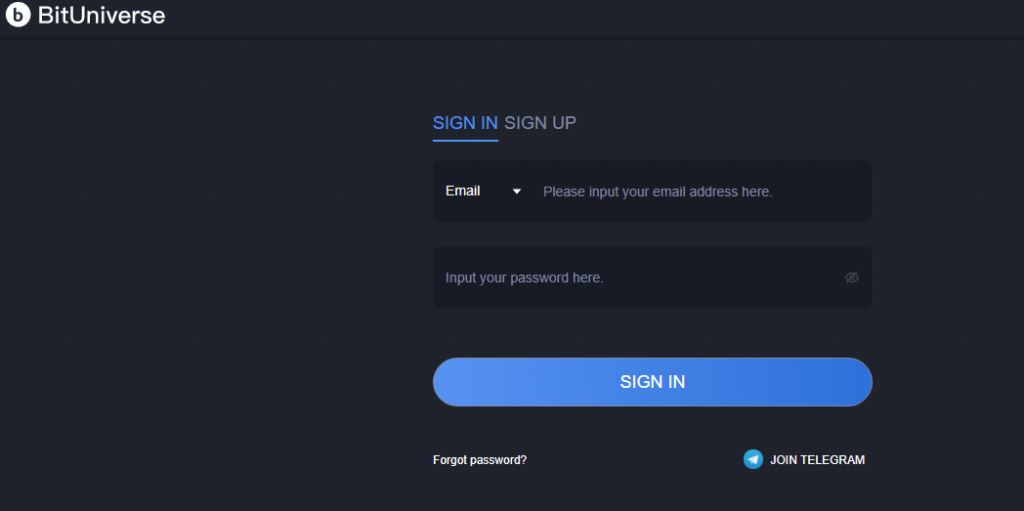 Creating an account on BitUniverse is easy. To start with, you need to visit the landing page of the site, setting up an account with an email and password. Thankfully, unlike other crypto platforms out there, you won't need to go through any painful identification processes that review your ID for days. Sign-up with BitUniverse is quick and easy!
Verify Your Account.
---
Next you need to do a simple email verification. You will have received a special code from the site through your email which you need to input into the site. This will prove you are the owner of the email address in question, verifying it and therefore verifying the account.
Connect Your Exchange.
---
Now you need to linkthe exchange you want to trade through. In order to do this, you will need to have an account on the exchange you want to use. BitUniverse will show you a range of sites you can use, select the exchange you want to use and it will bring you to the API screen.
Now you just need to go on to our exchange of choice and create a new API key, this should be fairly easy to do and can usually be found in the account/personal section of the site. Once you have located and created a new key, simply copy the details into the BitUniverse window, and you are good to go!
Create a Bot.
---
Now we just need to create a bot. You can select from a variety of different preset strategies, or you can even take the reins yourself and create your own.
To start using the bot, on the BitUniverse dashboard, you select it from the bottom right of the screen, there you can select the bot and start adjusting the necessary parameters.
Use BitUniverse Mobile App.
---
BitUniverse is one of the few examples where the Mobile App is just as powerful as the desktop edition, there you can make full use of the program's functions and have a just as profitable and detailed experience.
Conclusion.
---
Overall, BitUniverse is a great portfolio tracker tool and bot platform, especially for those new to crypto. It does have some noteworthy competitors out there though, and due to their small community you may want to go with a more established platform.
That being said, we may see more progress from the project incoming time so hopefully that will come to fruition, in the meanwhile, you need to decide if you want to go with BitUniverse or something more alive.
BitUniverse's features are good and they give a good platform to their customers, and their UI is easy to understand, they also are great for offering a cheap platform with lots of features.
Make sure to check out our guides on crypto bots:
Alternatives
---
One alternative to BitUniverse is Jet Bot. Jet Bot is a similar platform that also lets you copy high profile Binance traders. You can also practice trading on accounts with 100,000 USD in a virtual portfolio.
Another alternative is TradeSanta, this site includes a paid subscription but you can also use their free trials. Their bots are easy to use and do not require any coding ability.
Coinrule is a great alternative to BitUniverse, it is similar in that it is also aimed at those newer to trading. Their bots are simple and follow basic commands.
Zignaly is another great option, it doesn't cost you a penny. There you can copy expert traders and make profit from their trades.
FAQs
---
PROS
Lots of features packed into a mobile app
Great charting functionalities
Lots of popular supported exchanges
Very simple and easy to use, especially for beginners.
CONS
There is no password or fingerprint for accessing the mobile app
No paper trading feature/practice feature

CaptainAltcoin's writers and guest post authors may or may not have a vested interest in any of the mentioned projects and businesses. None of the content on CaptainAltcoin is investment advice nor is it a replacement for advice from a certified financial planner. The views expressed in this article are those of the author and do not necessarily reflect the official policy or position of CaptainAltcoin.com