CoinSmart Review – Fees, Supported Coins & Countries, Payment Methods, KYC Process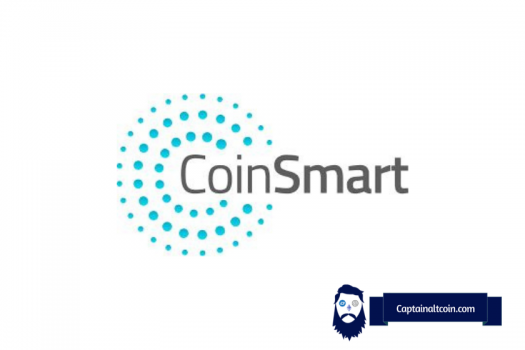 If you are a crypto enthusiast living in Canada or the United States of America, you may likely have met with frustration over the seeming scarcity of legally recognized exchanges where you can buy, sell, or store crypto. This is mainly because of the stricter regulations that come with those advanced countries.
Justin Hartzman and Jeremy Koven encountered the same issue in 2018, when they found it difficult to be registered, verified, and cleared to trade on other exchanges because of their Canadian descent. Instead of whining about the problem, they sought to solve it themselves by introducing an exchange that is both legally backed and offers fast verification. Thus, the Coinsmart exchange was born.
In this article, we will treat important facts about the Coinsmart exchange, examine its merits and demerits and hopefully help you decide if it is the suitable exchange for you. Without further ado, let's start with an overview.
COINSMART OVERVIEW
---
The Coinsmart exchange was created in July 2018 and came in with the mission of making crypto more accessible to the common person in all parts of the world. Based in Toronto, Canada, it has come a long way towards achieving its objective and has implemented easier ways of trading and holding crypto in an increasing number of countries.
Some outstanding facts about it are:
It provides near-instant verification thanks to its partner, Sumsub
It is well registered and regulated by the Canadian financial authorities
It is not only limited to Canada but extends to about fourteen additional countries.
With its user-friendly interface, it is easy for even beginners to trade cryptocurrency.
It offers something called the Smartguarantee that ensures very fast verification, deposit, and withdrawal processes for its users.
It offers referral benefits in which you and the person you refer get $15 each when they make a deposit of $100 worth of crypto or more.
Since November 2, 2021, Coinsmart has been a publicly-traded company in the Canadian stock exchange company, NEO exchange, under the ticker SMRT.
SERVICES AND FEATURES
---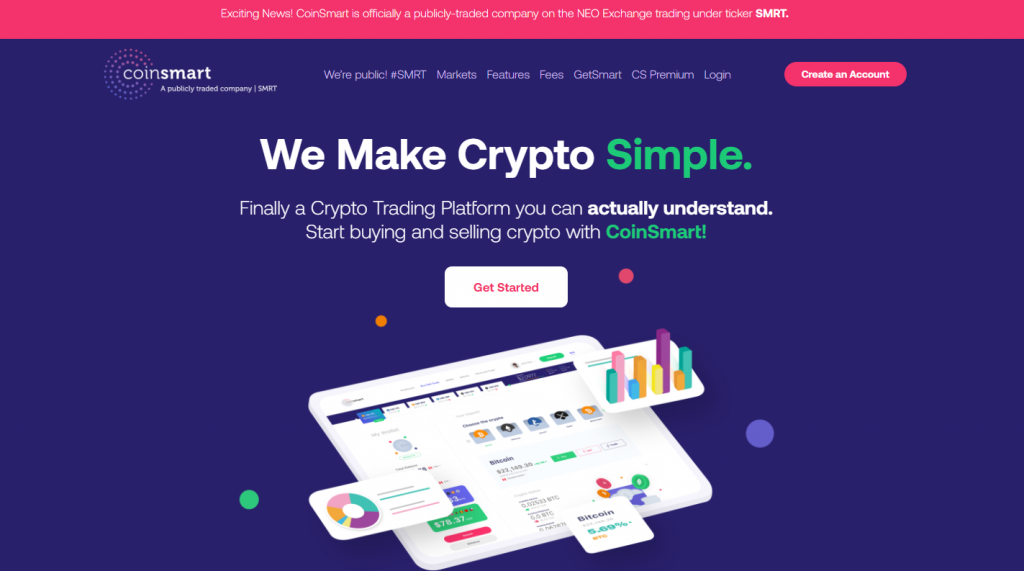 Any crypto exchange should allow users to purchase and sell cryptocurrencies. Coinsmart makes that easy for you as you can trade crypto against crypto or fiat. The exchange currently enables users to trade against three fiat currencies, namely Canadian Dollars(CAD), United States Dollars(USD), and Euros(EUR).
There are two types of trades on Coinsmart. They are the single trade and the double trade. Single trade involves trading any crypto against fiat currency or against BTC. The fee for this type of trade is 0.2%. Double trade, on the other hand, involves trading two cryptos that are not BTC against each other.
COINSMART SUPPORTED COINS
---
Currently, there are thirteen coins supported on the exchange; they are Bitcoin, Ethereum, Litecoin, Bitcoin Cash, Monero, Cardano, USD Coin, EOS, Dogecoin, Chainlink, Polkadot, Uniswap, Shiba Inu, and Tether(USDT). In the future, more coins will be added.
COINSMART DEPOSITS AND WITHDRAWALS
---
| | | |
| --- | --- | --- |
| METHODS | FEES | LIMITS |
| Interac E-transfer | 0% for $2,000+ deposit while it is 1.5% for lower deposits($100 to $1,999) | Minimum of $100, Maximum of $3,000. |
| Bank Wire | 0% for $2,000+ deposit while it is 1.5% for lower deposits($100 to $1,999) | Minimum of $10,000,Maximum of $5,000,000 |
| Bank Draft | No fee | Minimum of $500,Maximum of $5,000 |
| Credit or Debit Cards | A deposit fee of up to 6% is charged; withdrawals are not permitted | Minimum of $100,Maximum of $5,000. |
| Electronic Funds Transfer | 1% withdrawal fee. Deposits are not allowed | Minimum of $50,Maximum of 10,000. |
DOES COINSMART REQUIRE KYC?
---
In line with the Anti-Money Laundering Policy that guides all regulated financial institutions, Coinsmart employs KYC regulations to prevent fraudulent people from accessing its services. It does this in collaboration with Sumsub and databases shared by data collection agencies. The verification process is also very fast and is usually completed within the same day, except there are extenuating circumstances. We will discuss more on the KYC procedure as we move along with our discussion.
COINSMART SUPPORTED COUNTRIES
---
Coinsmart is supported in many countries. They also plan to include more countries as time goes on. Some of the countries currently supported are Australia, the United Kingdom, Nigeria, Japan, France, Russia, Ukraine, Italy, among others.
US citizens are currently prohibited from trading on the platform. However, this may be bound to change soon, especially as the Coinsmart exchange has obtained a FinCen license from the USA government.
HOW TO START WITH COINSMART?
---
REGISTRATION AND ACTIVATION
---
Starting an account with Coinsmart is a straightforward process. Follow the process outlined below:
Go to their website and click on 'Create an account' at the top corner of the page.
Fill out the required information, namely your first and last names, email address, password, location, and Captcha verification.
You will receive an email at the address you provided. To activate your account, follow the link provided in the email.
Once you're done with registration and activation, the next step is verification.
VERIFICATION
---
The first verification step is the verification of your phone number. To do this, enter your phone number with the country code. An SMS will be sent to that phone number containing a code that you need to enter on the screen.
The next verification page will direct you to a form where you are required to fill out more information about yourself, including your name, occupation, date of birth, address, etc. Once you've filled that out, you have been fully registered on the platform. But your verification process is not complete.
To complete your verification process, click on the 'Verify Me' button that will pop up after following the steps above. Here, you would submit your government-issued identity document along with a selfie video. The exchange has partnered with Sumsub, an advanced online verification company, to ensure this process is swift.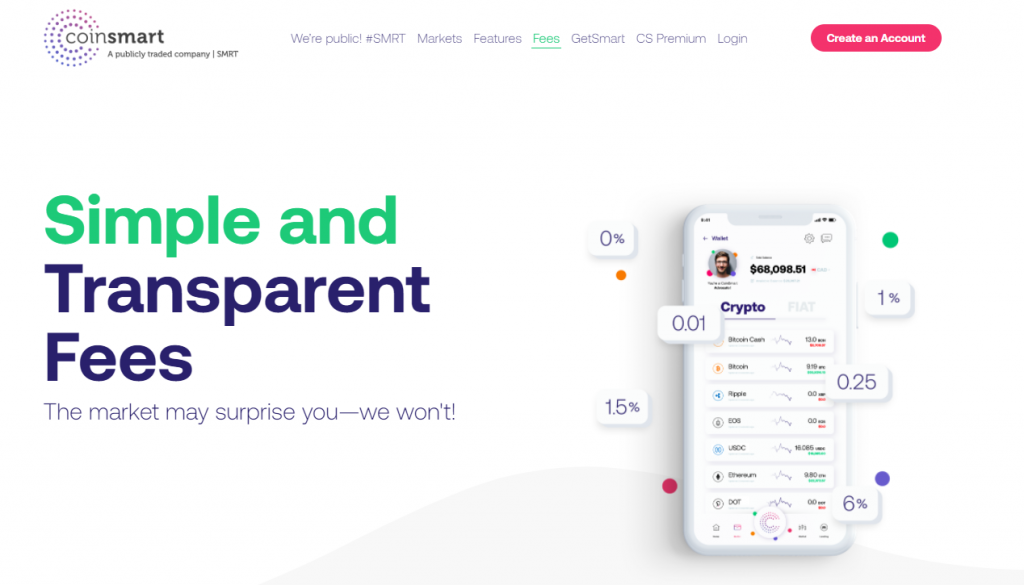 COINSMART NATIVE TOKEN
---
Coinsmart does not currently have a native token. Nevertheless, the exchange is a public company listed on the NEO exchange. It trades under the ticker SMRT and has been publicly traded since November 2, 2021.
IS COINSMART LEGIT AND SAFE?
---
Coinsmart is one of those exchanges that give its users rest of mind regarding the safety of their assets to a reasonable degree. In what way? Consider:
It is registered with the Financial Transactions and Reports Analysis Centre of Canada (FINTRAC). Thus it is a legit money service agency. It is not a scam
Crypto assets are stored in Bitgo wallets, cold wallets that are alienated from the online world. These wallets offer the highest level of security against hackers. In addition, Bitgo has an unparalleled $100,000,000 insurance, which will be used to restore users' funds in the unlikely event of a security hack.
Fiat assets are stored in local Canadian banks. This makes it more secure as users can still access their funds even in the event of stricter regulations or unfavorable business conditions.
Platform users can also log in with two-factor authentication. This facilitates improved account security and reduces the likelihood of keylogger attacks.
IS COINSMART REGULATED?
---
According to their website, the exchange is regulated by the relevant authorities. On the website, the exchange shows that they have obtained the following licenses:
A 'Restricted Dealer Registered' license with the Ontario Securities Commission in Canada
A Financial Transactions and Reports Analysis Centre of Canada(FINTRAC) license in Canada.
A Financial Crimes Enforcement Network(FINCEN) license in the United States of America
A Digital Assets and Wallet Provider License in Estonia.
It is therefore clear that the Coinsmart exchange is duly registered and regulated, a safe place for your funds.
CONCLUSION
---
Cryptocurrency trading is indeed volatile and subject to a lot of risks. However, the brave at heart who choose to tread these murky waters should not have to deal with rigorous verification processes before being allowed to trade. That is what the Coinsmart exchange hopes to simplify for Canadians first and then other countries.
I hope this article has helped you, whether you're a Canadian or not, to learn more about the Coinsmart exchange and determine if you can use it for your cryptocurrency experience. Always remember, though, that you have sole responsibility regarding the crypto decisions you make. Therefore, never forget to look very well before you leap.
If you are not fond of Coinsmart, make sure to check out our guides on other cryptocurrency exchanges:
FREQUENTLY ASKED QUESTIONS
---
HOW LONG DOES COINSMART TAKE TO DEPOSIT?
---
Due to Coinsmart's Smart Guarantee feature, Deposits of funds are guaranteed to be processed on the same day. Therefore, regardless of whether you're depositing crypto through the usual means or depositing fiat through Interac E-transfer, Bank Wire, Bank Draft, or Bank Cards, you are getting your funds on the same day.
HOW DO I WITHDRAW MONEY FROM COINSMART?
---
here are currently three fiat currencies on Coinsmart with unique withdrawal methods. They are:
For withdrawing EUR, you can use either SEPA or wire transfer
For withdrawing CAD, you can use either EFT or wire transfer
For withdrawing USD, you can use wire transfer
CAN I SEND BITCOIN WITH COINSMART?
---
Yes, you can. Sending Bitcoin from Coinsmart follows the same procedure as doing it from other exchanges and wallets. You paste the receiver address in the column provided and check it against the correct network.
HOW DO YOU GET ADA ON COINSMART?
---
To get ADA or Cardano on Coinsmart, follow the process already outlined in this article about how you can create an account with the exchange. Proceed with activation and then verification. Once your verification is complete, click on the 'Buy/sell/trade' button on the homepage and select the currency you want to buy ADA against. The minimum ADA you can buy on the platform is 5 ADA.
WHAT FIAT CURRENCIES DOES COINSMART SUPPORT?
---
There are three fiat currencies supported on the platform. They are United States Dollar USD, Canadian Dollar CAD, and Euros EUR. More currencies may still be added in the future.
DOES COINSMART HAVE FIAT DEPOSITS?
---
Yes, it does. The fiat currencies are USD, CAD, and EUR. They are deposited through Interac E-transfer, Bank Wire, Bank draft, and Bank Cards. Each of those deposit methods come with their own fees and limits, which are outlined in the table below:
| | | |
| --- | --- | --- |
| METHODS | FEES | LIMITS |
| Interac E-transfer | 0% for $2,000+ deposit while it is 1.5% for lower deposits($100 to $1,999) | Minimum of $100, Maximum of $3,000. |
| Bank Wire | 0% for $2,000+ deposit while it is 1.5% for lower deposits($100 to $1,999) | Minimum of $10,000,Maximum of $5,000,000 |
| Bank Draft | No fee | Minimum of $500,Maximum of $5,000 |
| Credit or Debit Cards | Deposit fees are up to 6%; withdrawals are not permitted | Minimum of $100,Maximum of $5,000. |
CAN I TRADE WITH LEVERAGE ON COINSMART?
---
At the moment, leveraged trading is currently not allowed on Coinsmart. However, that can't be ruled out in the future as the exchange is ever bent on expanding its reach in the crypto world. In addition, the company's stock token on the Neo exchange, SMRT, can be traded on margin.
WHERE IS COINSMART EXCHANGE BASED?
---
It is based in Toronto, Canada, where it is duly registered under the appropriate authorities. In addition, it is licensed under the financial regulatory authorities of the United States of America and Estonia. Lastly, its services are available in about 45 countries around the world, including the United Kingdom and most of Europe

CaptainAltcoin's writers and guest post authors may or may not have a vested interest in any of the mentioned projects and businesses. None of the content on CaptainAltcoin is investment advice nor is it a replacement for advice from a certified financial planner. The views expressed in this article are those of the author and do not necessarily reflect the official policy or position of CaptainAltcoin.com