Blockchain.com Test [2022] – Gebühren, Limits, Zahlungsmöglichkeiten



Blockchain.com Test [2022] – Gebühren, Limits, Zahlungsmöglichkeiten
Introduction
---
The word Blockchain has become deeply embedded in our language and culture. Most people have heard of blockchains even if they don't understand what they do, but back in 2011 when Blockchain.com was founded, things were very different. This was only 2 years after the initial release of Bitcoin, when it was only cypherpunks, coders, and other assorted oddballs that even cared.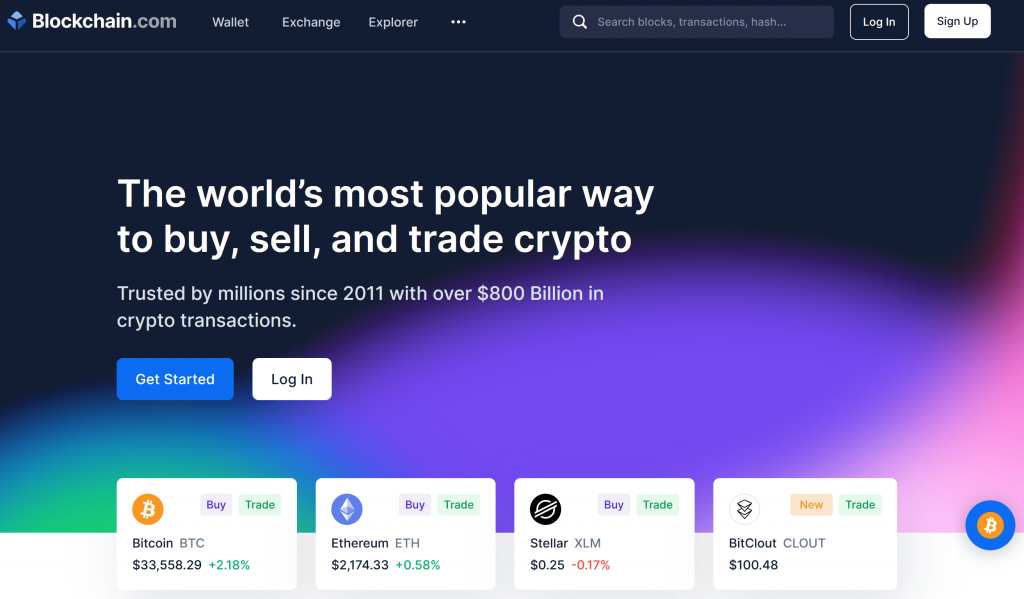 Ben Reeves, a founding member of Coinbase, started Blockchain.com as a blockchain explorer service. His original vision was a tool for crypto fanatics to access block information and monitor their transactions. There were charts, statistics, and historic technical information about the Bitcoin space. This was pretty forward-thinking for 2011.
2014 was their breakout year, despite getting kicked off Apple's App Store. Once reinstated, they secured private funding and have not looked back since. In 2019, Bitcoin.com added an exchange and has followed up by offering just about all the services common to the better-known crypto platforms.
Blockchain.com Features
---
Blockchain Explorer
---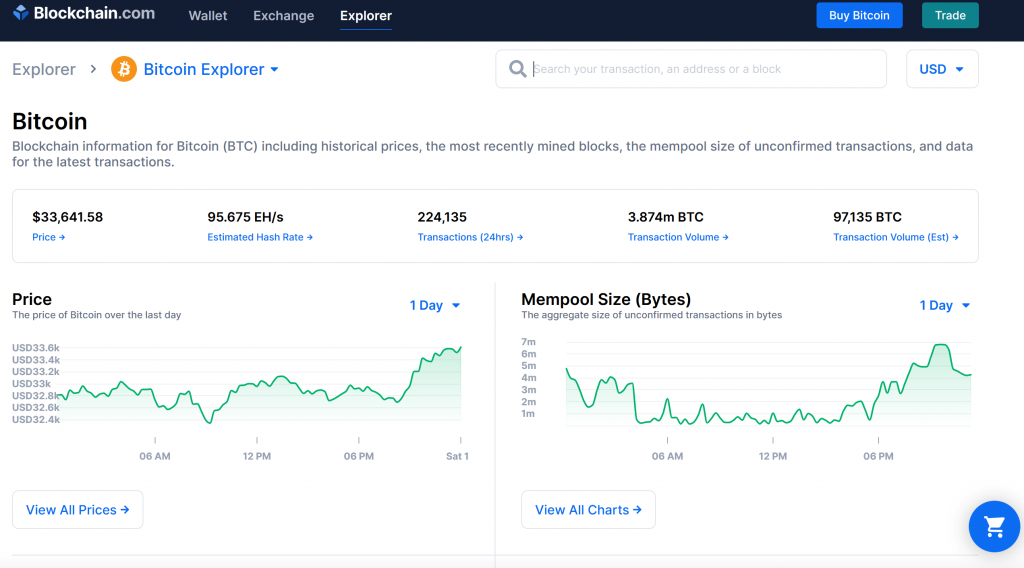 Here, you can enter your transaction ID and monitor the progress of your crypto transfers. This works for BTC, ETH, and BCH, but all the transactions I've tracked recently have been on the  Binance Chain as the Ethereum and Bitcoin networks have become too expensive and slow.
There's a section for exploring DeFi which currently has 28 projects listed. You also get basic coin information like total market cap, price movements, coins in circulation, etc.  It's no better than Coimarketcap or CoinGecko for information, and it's certainly not Blockchain.com's killer app. Check the full list of prices out here. The right-hand columns indicate which of them can be purchased or traded on Blockchain.com.
Exchange
---
The Blockchain.com exchange has all the standard functions but a very limited roster of trading pairs. They're adding more soon, apparently, but you should ensure your intended cryptos are supported before you sign up. The exchange feels like a bit of an afterthought, as we shall discover.
Wallet
---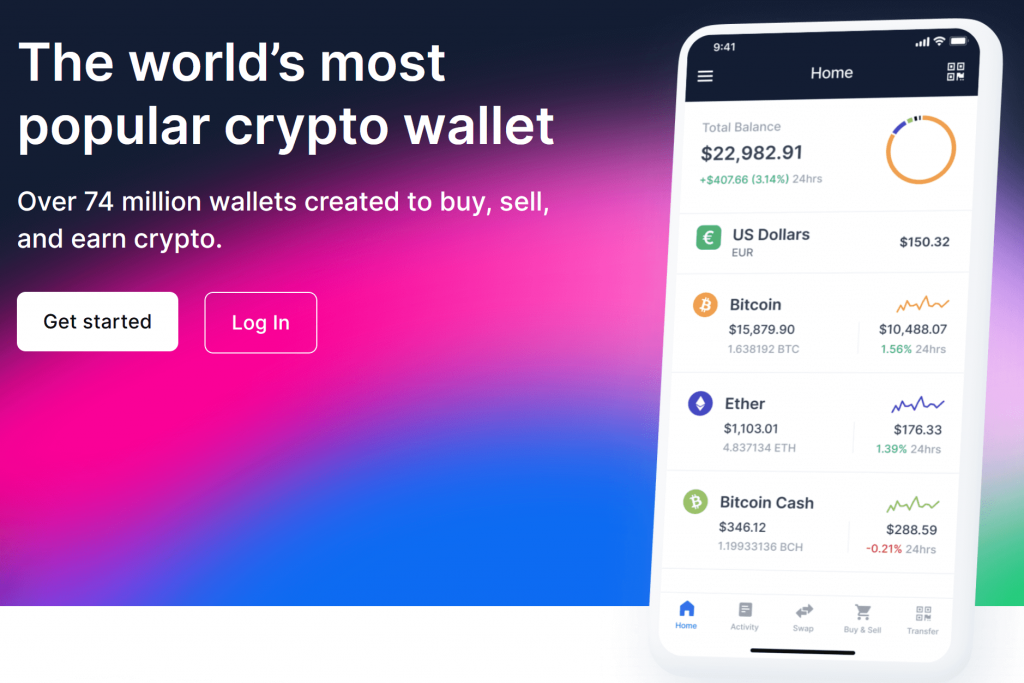 There's the obligatory digital Blockchain.com wallet that's easy to set up and does all the right things. You can buy crypto with fiat, make swaps, and transfer your tokens in and out.  More on the wallet, later.
Investing
---
You can stake your crypto in an Interest Account and earn up to 13.5% APY. This is a stunning rate of return compared to high-street banks, but it's variable according to market conditions. The service is only available to Gold members, so you'll have to upgrade by supplying further personal documentation.
There's a $300 minimum for BTC, $100 for ETH, and a 1$ limit for BCH and XLM. You can also earn interest on USDT and USD Digital. Once you withdraw your assets from the scheme, you will be paid any interest earned directly into your Blockchain wallet.
Blockchain.com Wallet
---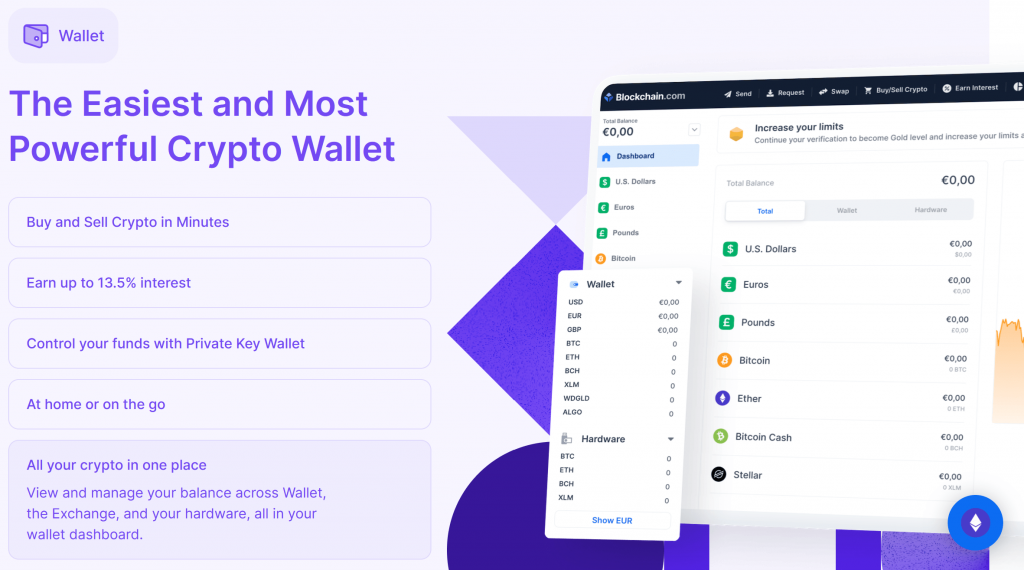 The wallet is Blockchain.com's proprietary, non-custodial wallet. You control your private keys so you need to save and protect both your seed phrase and password. Blockchain.com doesn't have access to this information, so this ticks the most important security box.
It's important to distinguish between the exchange wallet and the Blockchain wallet. The exchange wallet is custodial, so you have to trust Blockchain.com to look after your assets. There are other differences, for example, you need to have crypto in your exchange wallet to trade it, but in your Blockchain wallet to swap it.
Which Cryptos Can I Store?
---
Ther is a very limited roster of tokens compared to other wallets. Each of these tokens has its own private key wallet, but there was no wallet address for Algorand or Polkadot, which feature on the exchange.
Bitcoin                     BTC
Ether                       ETH
Bitcoin Cash            BCH
Stellar Lumens        XLM
USD-Digital             USDD
USDT                      USDT
Wrapped DGLD       WDGLD
AAVE                       AAVE
Yearn Finance         YFI
Fees
---
The wallet is free to download and use. For transfers in and out of your wallet, you pay the standard network fees, so the amount will depend on the cryptocurrency you are transferring. This is the same for swaps, so it may be better to transfer your crypto to your exchange wallet and trade for your intended crypto there.
How Do I Add Currency to My Wallet?
---
There are 2 ways to add currency to your wallet. You can buy crypto straight from your wallet, or receive it from another crypto wallet. To transfer crypto to your Blockchain digital wallet, select 'Request' from the top of your wallet page. You can then select the crypto you would like to receive and copy the address.
Note that you can buy Algorand and Polkadot, but you cannot Request or Send them from within the wallet.
How Do I Make Payments With My Blockchain Wallet?
---
Again, this is very straightforward. Apart from Request, there are options for Send, Swap, and Buy/Sell Crypto. When you select Send, a window will appear where you can select the cryptocurrency you would like to send. You fill in the usual details and confirm the transaction with your private key.
The process is made simple, so as long as you have the correct receive address, there is little to go wrong. This is a common feature of Blockchain.com. Everything is reduced to a minimum of fuss.
How secure is Blockchain Wallet?
---
The risk of being hacked is much greater on the average user's device than at the exchange. Proper internet hygiene is essential, as always. If your computer or phone is hacked, the villain will have access to your password and therefore your crypto. This is why I never store life-changing amounts of crypto in software or online wallets.
Holding your private keys means the responsibility for protecting your loot is yours alone. As long as you follow the advice about how to protect your seed phrase, the Blockchain wallet should be perfectly safe. Again, it's your personal devices you need to worry about.
Blockchain Exchange
---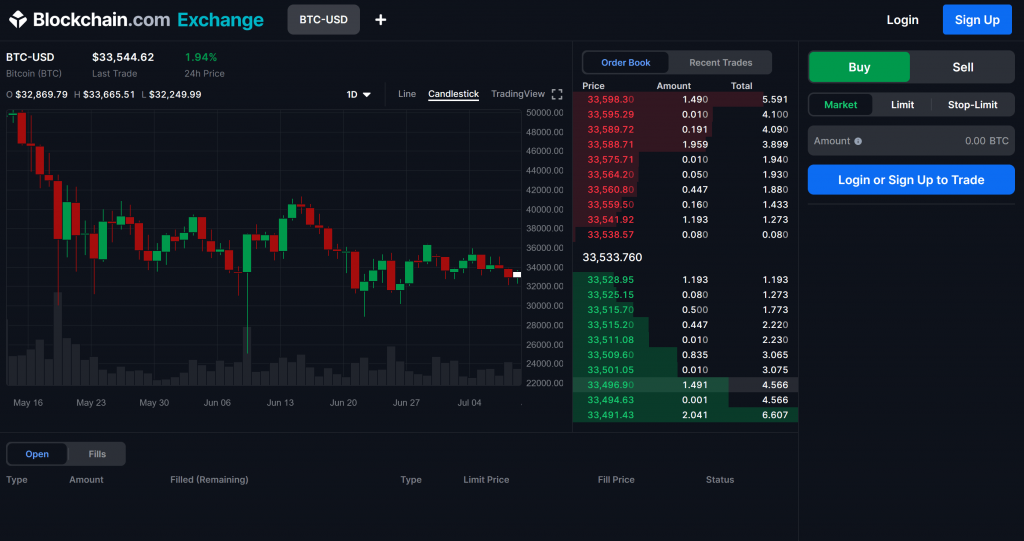 I mentioned that the exchange looks like an afterthought. It's as though the company decided they needed an exchange but went about the project a little half-heartedly. There simply isn't enough to keep me occupied. The selection of coins is way too small and none of the pairs inspire me to trade.
One worrying thing I did notice was that the AAVE/USD pair had absolutely no action! I checked out AAVE/USDT, BCH/BTC, and ALGO/BTC to find the same. There was some movement on the BTC/FIAT pairs, but what's the point of an exchange if there's nobody to trade your crypto with?
The advertising claims that they have the best market depth in the business, but apparently with almost no volume on many of their pairs? The last trade on several pairs I checked was hours before. Alarm bells were ringing, but that aside, here are the main features of the exchange.
Supported  Coins
---
You can use
USD, EUR, GBP, and TRY (Turkish Lira)
To buy
Bitcoin, Ether, Bitcoin Cash, Stellar Lumens, and USD Digital (PAX).
Once you have your crypto, there are several other tokens to trade against on the exchange. Some notables include AAVE, Algorand, Polkadot, Enjin, and YearnFinance.
Many of Blockchain.com's trading pairs involve fiat currencies, which is unusual.
Fees
---
Maker fees start at 0.4% for Takers and 0.2% for Makers. Remember, the Takers are traders that click buy or sell at the market rate for an instant transaction. Makers are those that place a trade and wait for it to be taken. Either way, these are by no means the cheapest exchange fees I have seen.
The fees reduce once you start trading an epic volume of crypto. When you hit $50k per month your fees are halved.  If you are fortunate enough to be trading millions each month, then your fees should be by private arrangement. There is a facility for institutions and high-value customers to access Blockchain.com management directly.
Limits
---
Your limits depend on your user status. Opening an account earns you an assumed bronze status. To deposit money you require silver status, achieved by submitting bank details with the associated name and address. You can earn gold status by uploading an official I.D. document (such as a passport) and uploading a selfie or video.
For both the exchange and swaps, Silver account holders have a limit of $1,000 per day. Gold users can swap up to $25,000 daily, with a maximum swap size of $5,000. ($2,000 in the U.S.)
For buying crypto, the daily limit is $25,000 and the weekly limit is capped at $100,000. There is a maximum order limit of $25,000.
Debit and Credit Card purchases are further limited depending on the currency of origin.
EUR: €800
GBP: £800
USD: $800
CAD: CA$950
Payment Methods
---
Bank transfers and credit/debit card orders are available from most territories. Check here to confirm if you are resident in one of the 131 accepted countries. There are 36 US states and Dependencies included on the list, but around half of mainland US states are not covered yet.
Is Blockchain.com Safe?
---


Yes, they have been around a long time and have a deep understanding of the technology. Reading the small print in the signup agreement, it states that nobody can hold them liable for anything. seriously – it writes, "You agree to indemnify and hold harmless Blockchain.com from any claim, demand, action, damage, loss, cost or expense – arising out of or relating to any third-party claim." LOL!
My view is that their technology is secure and the intentions of the owners are noble. They are based in Luxembourg yet subject to England and Wales law. Seems odd, but crypto-based business has always found it difficult to find a regulatory port in a stormy financial system.
Once crypto is fully accepted by society, things will become less flaky. Either that, or it will all have gone DeFi and regulation will be enacted by smart contracts.
Pros and Cons
---
Pros
---
Does everything it claims
Very easy to use
Comprehensive explanations for everything on the site
Easy to get started
Cons
---
Not enough tokens
No stand-out features/killer apps
Summary
---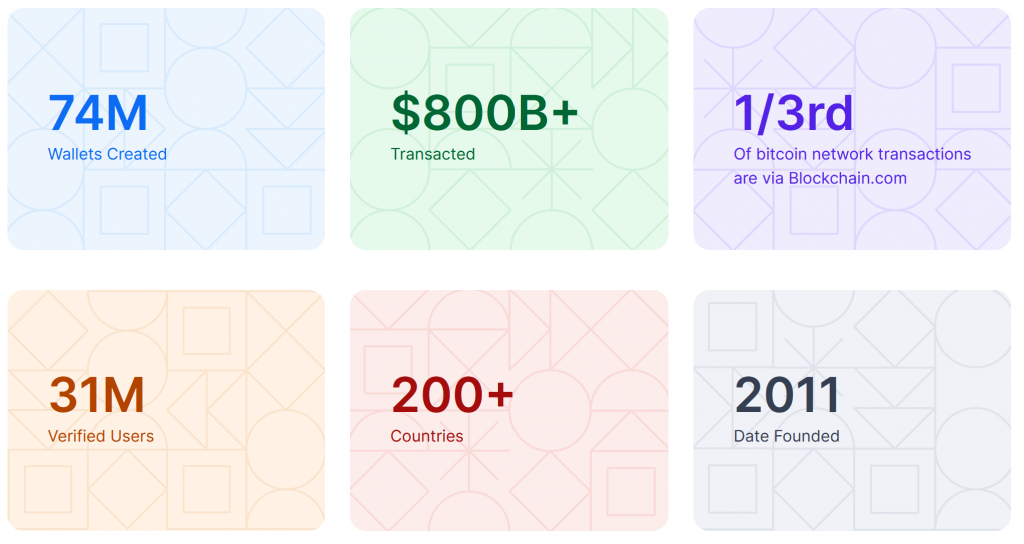 Everything works well enough and it's all intuitive to use. But as I mentioned, there is nothing to inspire me to start using Blockchain.com. They don't do anything other platforms don't do. Given the lack of coins they support, I can't see anything to entice me away from exchanges like Binance, Kucoin, or Coinbase, or wallets like Metamask and Binance Wallet.
Perhaps if you live in a jurisdiction not covered by other crypto platforms, Blockchain.com might be useful. If not, then there's really nothing amazing to see here.
FAQs
---
Can I cancel a transaction?
---
Once you have confirmed a transaction, no you can't. However, at any point prior to hitting confirm and submitting your 2FA codes, you can back out of a transaction.
Can I still receive funds at an old address?
---
You can receive funds at any address for which you have the private key. When using Blockshain.com, it's best practice to use the latest address generated by your wallet, each time you make a new transaction. Copying it afresh every time removes the possibility of using an incorrect address.
How to Swap at Blockchain.com
---
You need to have crypto in your digital wallet to make swaps. Select 'Swap' from the top of the wallet page. and a dialogue box will appear. Choose the tokens, the amount, and away you go. Make sure you have enough in your wallet to cover the network fees.
Can you keep your cryptocurrencies in two or more wallets at a time?
---
You can store your crypto in either your exchange wallet or your digital Blockchain wallet. As I understand it, you can only attach one Blockchain wallet to your account.
How to Deposit on Blockchain.com
---
From the main Blockchain.com page, you can either select Buy Bitcoin, Request, or Buy/Sell Crypto. The Request option sends you to your private wallet, the other 2 options take you to your exchange wallet.
From your exchange wallet, you can select which crypto you would like to buy. From your Blockchain wallet, you can choose which cryptos to import.
Other crypto exchanges to check out: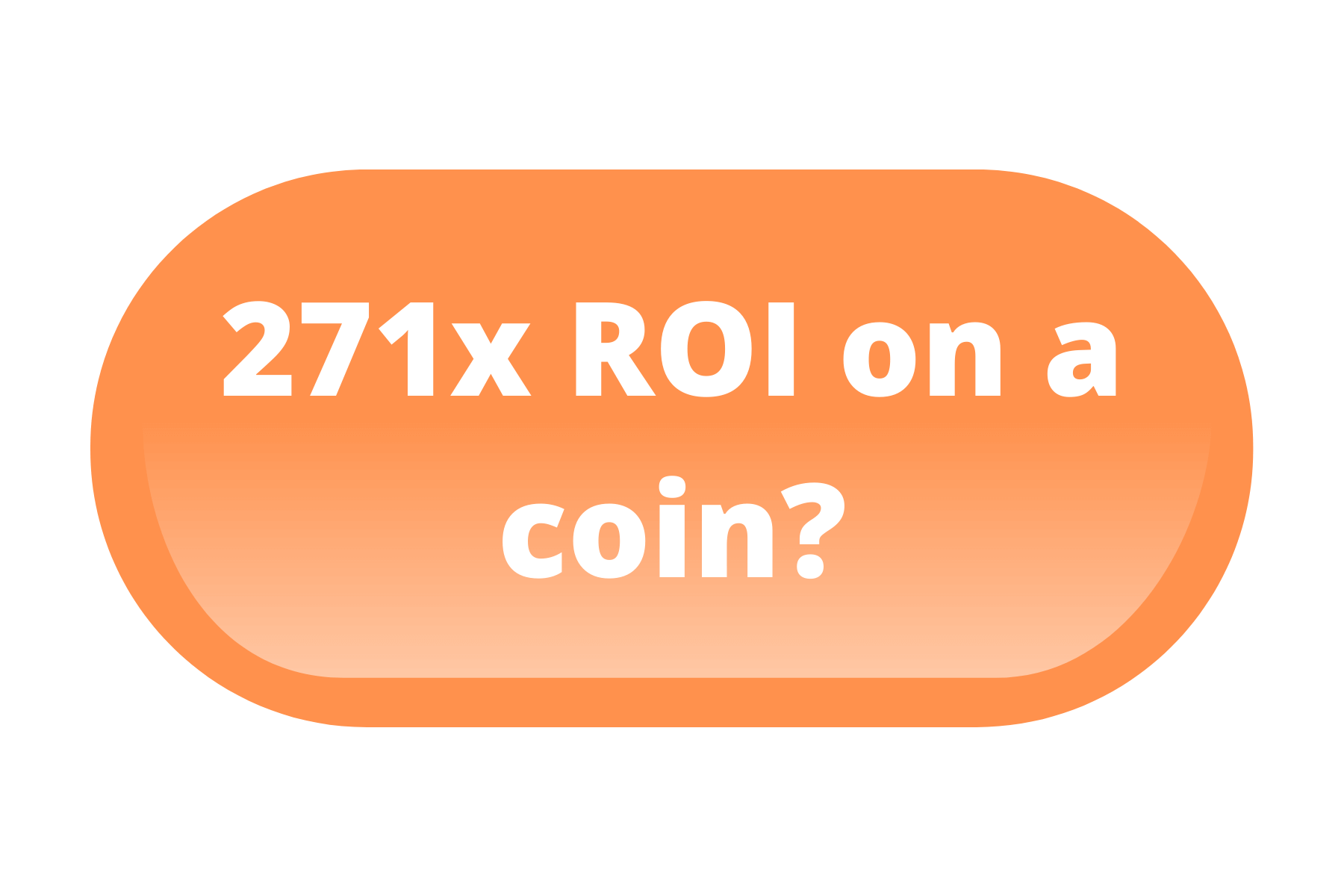 CaptainAltcoin's writers and guest post authors may or may not have a vested interest in any of the mentioned projects and businesses. None of the content on CaptainAltcoin is investment advice nor is it a replacement for advice from a certified financial planner. The views expressed in this article are those of the author and do not necessarily reflect the official policy or position of CaptainAltcoin.com