Minergate Review – Is Minergate scam or legit?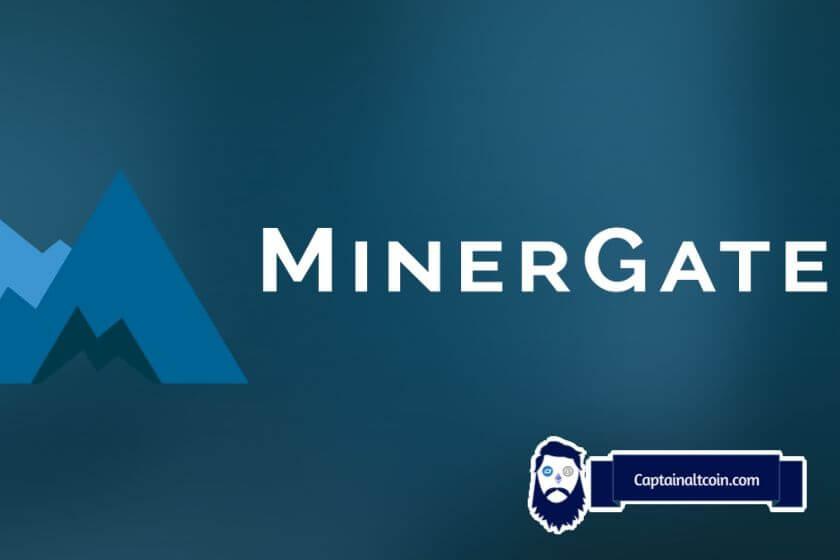 Introduction
---
Cryptocurrency is a growing trend that is becoming more prominent in the news and on social media. With many people claiming that blockchain technology will take over the finance sector, it comes as no surprise that more people are turning towards cryptocurrency as an alternative to traditional investing.
People who don't want to invest directly are naturally attracted to cryptocurrency mining but are often turned away after doing some research. The main reason for this is that they are often led to believe that expensive hardware is required to get started.
Companies such as Minergate are helping to solve this problem by offering access to open mining pools. These open mining pools allow members to mine cryptocurrency on any laptop or computer, making mining much more accessible to the average person. Here is a full guide on how mining pools work.
This article aims to take an in-depth review of the Minergate software, outlining its main features, and discussing whether or not it is a viable option for the cryptocurrency mining process.
What is Minergate?
---
Minergate is just one of many open pool mining programs. The software can run on any laptop or computer and allows the user to mine various cryptocurrencies in only a few clicks.
This kind of setup gives the user a simple way to generate a small but steady stream of income while also providing a smooth and simple entry point into the world of mining.
How does it Work?
---
The software works by giving the user access to several open mining pools. This kind of setup works by utilizing the combined power of many users' machines to mine cryptocurrency. Each member of the pool gets a share of the resulting tokens. The number of tokens received by each member varies with the amount of hashing power that each member contributes towards mining. This setup means that anyone can utilize their computing power to add to the overall hashing power of the pool.
How to set up a Minergate account?
---
It's simple to start with Minergate, and you can start mining with just a few clicks.
Head over to the Minergate website
Follow the instructions to sign up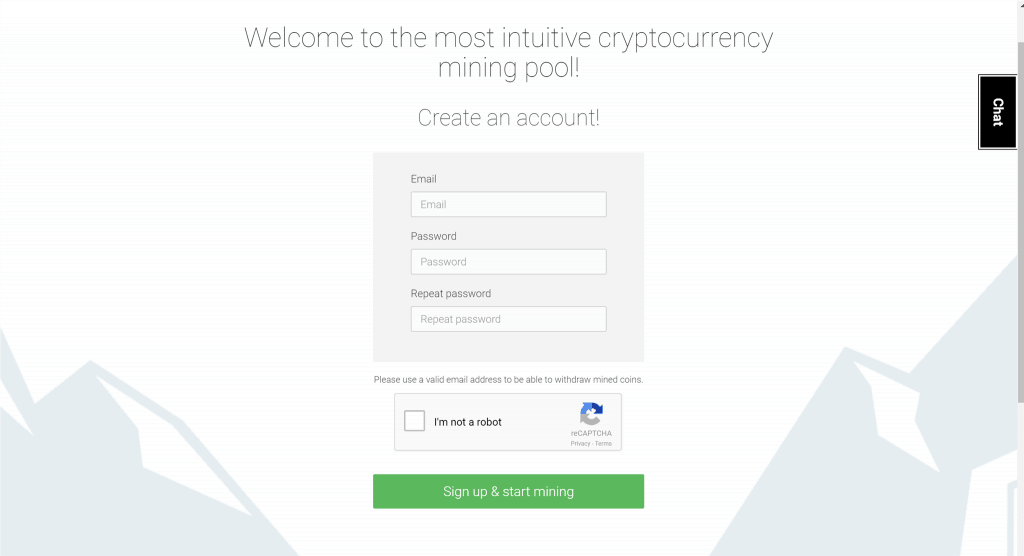 Download and install the software for your OS
Start mining using the smart mining option to start mining the most profitable cryptocurrency automatically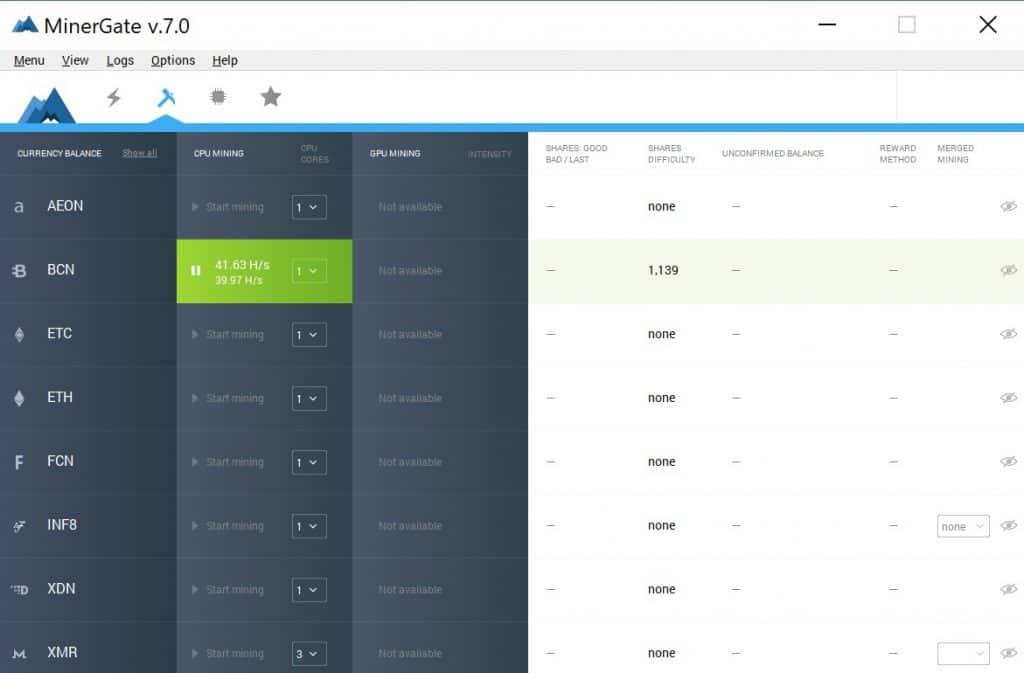 As you can see, the setup process is straightforward, making it ideal for people who want to try mining in order to see if it is something that interests them.
Furthermore, MinerGate offers the power of Merged Mining to create a pool of miners from anywhere in the world.
How Much Can You Make with Minergate?
---
The amount that you will earn is related to what hardware you use. In simple terms, the more powerful your device is, the more you will make.
An easy way to work out how profitable mining on your setup will be is to download Minergate and start the smart mining mode; the software will display your device's hash rate. You can then take note of the hash rate and use an online mining calculator to work out how profitable mining on your machine will be.[1] You can also take a look at our guide on the best crypto to mine with GPU or CPU.
The software used to include a benchmark feature that would estimate profits for you; however, this feature seems to have been removed in the latest update.
Features
---
User-Friendly Interface
---
The first thing that you will notice when you start the software is the simple yet elegant user interface. The software is extremely user-friendly, making it accessible to people with no previous mining experience.
The smart mining feature allows the software to automatically detect what cryptocurrency is the most efficient to mine or what is the most profitable coin by taking into consideration mining difficulty and current prices in the market.
Full User Control       
---
One of the standout features of Minergate is that it gives you the choice of using both your GPU and CPU to add hashing power to the pool. This combination means that you will earn a lot more than you would from other software that tends to focus on using one or the other.
The software does a great job of handing control over to the user. It allows you to select how many cores to use for mining, and it also offers the ability to mine one coin utilizing your GPU and a different currency using your CPU, further increasing your earnings.
Minergate Mobile App
---
Minergate has a handy mobile app available for Android, which enables clients to monitor their mining activities via their smartphone. The app gives the user access to charts and tables, allowing them to see an in-depth breakdown of performance while also providing detailed information sheets about altcoin strengths, specifications, and weaknesses. 
A Wide Range of Cryptocurrencies
---
Another feature of the software is that it gives the user the freedom to choose which cryptocurrency they want to mine, you can choose from any of the following:
Is Minergate still working? If you are looking to mine Bitcoin, you may want to look elsewhere as the Minergate Bitcoin pool is no longer active. Alternatively, you can mine via Minergate and trade your tokens for Bitcoin using an exchange.
High levels of security
---
Minergate has never reported any case of hacking or leaking of data or coins. The website has robust security, and users also have the option to secure their accounts with a 2-factor authentication process for protection. 
Choice of Mining Method
---
Minergate gives the user a choice of mining modes:
PPS Mining
PPS stands for Pay Per Share. It is a more direct method where you get the same payout rate for each share completed. This method may seem the best choice; however, it will decrease your total income per share by around 5%. Using PPS is useful if you want an accessible dataset to work with to carry out calculations to build a sophisticated mining rig.
PPLNS Mining
PPLNS is a way of determining how many tokens you get for your shares completed. This method includes a "luck" factor. Using PPLNS, your payout per share will have substantial variations (30% more or less on your payouts). In the long run, PPLNS earns more than PPS (by 5% or so).[2]
What Method is Better?
If you are looking to make as much money as possible, you will want to use PPLNS due to its higher payout. PPLNS will give you fluctuations in your average 24-hour payout, but for someone who is mining long term, you will earn more this way. This method is the most suitable for those who can commit to long periods of continuous mining.
PPS is for people who want to have statistics that they can use for calculations to upsize their mining power. PPS is not recommended for long-term mining as the payout is less in the long run.
In simple terms, if you are mining for short periods, then PPS is the best option. However, if you are mining for long uninterrupted periods, then PPLNS will increase your profits in the long run.[3]
What is the cost of mining?
---
Minergate fees are relatively low in comparison to competitor software; they charge a fee of 1% for PPLNS mining and a fee of 1.5% for PPS mining, which is relatively low compared with similar software. For a full breakdown of the fee head over to the Minergate website.[4]
Mixed Opinions
---
Everything about this software seems excellent; however, after further research, we discovered that the consensus surrounding the software is surprisingly negative. Some users report that they are having issues when it comes to cashing out their tokens; there are also complaints that the software skims hash rates; however, this may not be true.
On the other hand, plenty of users have said that the software is excellent and that they have received payments with no problems. The software gets updated frequently, so perhaps the company has been working on fixing some of the issues reported by some of the users.
Customer support has also been criticized by many for being slow in terms of replying to queries. We opened a customer support ticket via the website in order to see if these claims were true. We received a reply the following day, so it seems that this is something that has improved as the company has become more prominent.
The simple setup and ease of use of this software stand out, making it easy to try it for yourself in order to form an opinion based on your own experience.
Minergate Virus Warning
---
Windows will most likely pop up a notice claiming MinerGate is a virus. This is normal Windows behavior, but no, you did not just download a virus – as long as you downloaded from the official site.
Is It Worth it?
---
The answer to this is a tricky one. There are various factors one must consider, the most important is your hardware, the more powerful your setup, the more you will earn.
One must also take into account how often they will run the software and take into consideration mining fees and electricity costs.
Another essential thing to consider is the future market price. Cryptocurrency is becoming more popular in modern-day society, with more and more people pushing for mass adoption. As we have already seen with Bitcoin, explosive gains are possible, meaning that any cryptocurrency you mine could potentially be worth a lot more in the future.
Review Summary – Is Minergate legit or a scam?
---
Minergate is a user-friendly open pool mining software that can run on any machine. The software allows the user to mine multiple different cryptocurrencies from their PC or laptop.
While being easy to use, the gains are quite low when not operated on a high-end setup. Additionally, the consensus of the company tends to be slightly negative.
We believe that due to the simple setup process and the overall ease of use, Minergate is something that you should try for yourself before forming your own opinion. It provides a smooth and straightforward introduction to open pool mining, making it an excellent option for someone who wants to test the waters before deciding if they're going to invest in a dedicated mining setup.
FAQs
---
References
[2] https://minergate.com/faq/difference-between-pps-and-pplns
[3] https://minergate.com/faq/which-reward-method
[4] https://minergate.com/faq/pool-fees
Minergate
Good service with tarnished reputation
CONS
Accusations of hashrate stealing
Slow customer support
Non-transparent company background

CaptainAltcoin's writers and guest post authors may or may not have a vested interest in any of the mentioned projects and businesses. None of the content on CaptainAltcoin is investment advice nor is it a replacement for advice from a certified financial planner. The views expressed in this article are those of the author and do not necessarily reflect the official policy or position of CaptainAltcoin.com