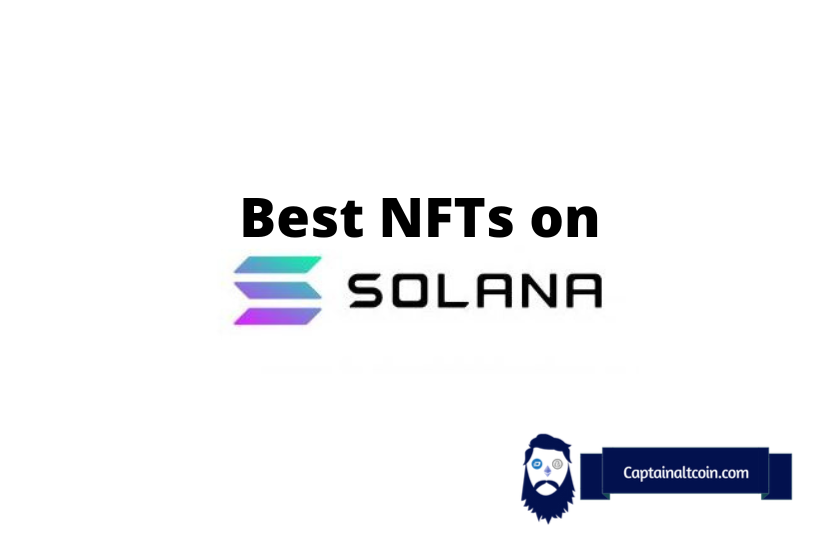 Why Solana?
---
We are all aware of all disadvantages that Ethereum has – low scalability, high gas fees, and slow transactions. There are quite a few blockchains that noticed these flaws and therefore are emerging. One of the blockchains that try to solve all of Ethereum's issues and is often called "Ethereum killer" is the Solana network.
It arrived at the scene back in 2017 so quite later than Ethereum. However, when you take all major factors into account (number of high-quality projects, native coin, market cap, etc.) Solana is the blockchain that stands out of all Ethereum alternatives.
⚡️ Solana offers much lower fees and higher speed when compared to Ethereum and these are its main advantages and focal points of the network.


So, if Solana is the "real Ethereum killer", it has to seriously enter the NFT world and use its advantages to Ethereum in this part of the blockchain universe. Even though Solana's NFT ecosystem is still quite new, there are exciting projects and collections emerging. In this article, we will take a close look at some of the best NFTs on the Solana network.
⚡️ Before we continue, I would just like to highlight that you need to have 2 things if you want to buy NFTs on Solana:
You need to be an SOL holder in order to pay the fees. You can purchase SOL on exchanges like CEX or Bitpanda
You have to use a Solana-based wallet. In my opinion, the best ones are Phantom and Solflare. Both of these wallets work as a Chrome extension
Note: Keep in mind that these are only my opinions based on my thorough investigation of the best NFTs on the Solana network. In any case, please do your own research before deciding whether you want to use some of them or not.
At this point, it is good to note that all opinions and suggestions written in this article are not considered financial advice.
Best Solana NFT collections
---
Upon investigating the best NFT collections on Solana, I found 10 in total that stood out. So, let me break each one. 
SolPunks
---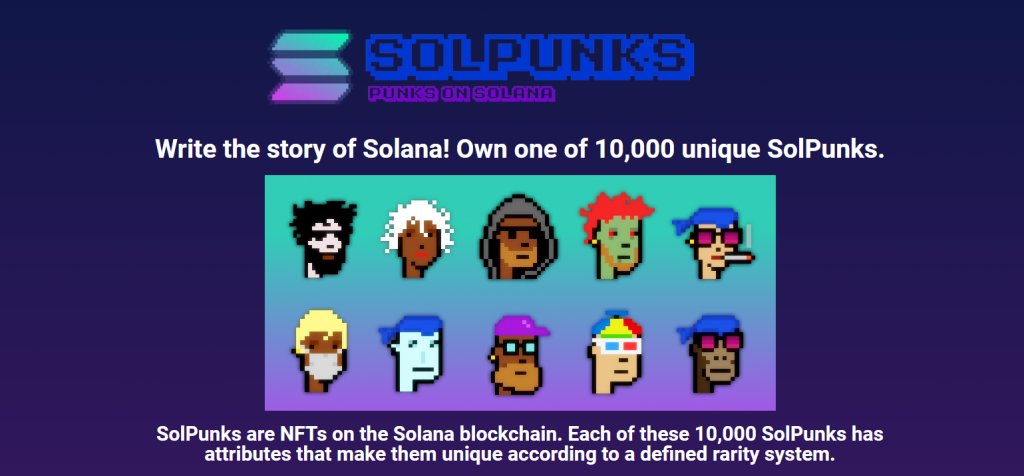 One of the most popular NFT collections on Solana is SolPunks. It is a platform that offers 10,000 unique non-fungible tokens according to a defined rarity system.
The interesting thing about SolPunks is that you will not know the identity of the SolPunks until the purchase is completed. The purpose of this is to give everyone an equal chance two own one or more SolPunks (the purchases are being made on a random basis).
The SolPunks will be exchangeable on SolPunk's marketplace. You can get as many SolPunks as you want but once the 10,000 are sold it will be too late to get one at mint cost.
Degenerate Ape Academy
---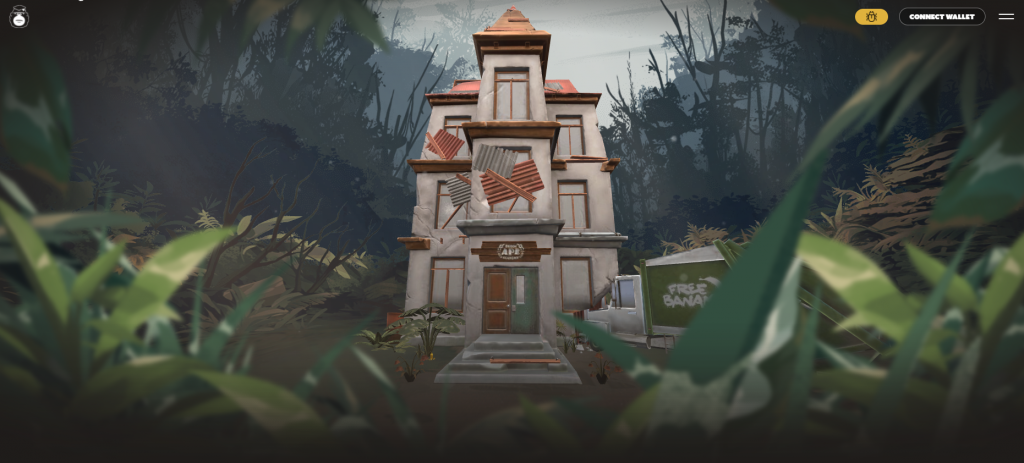 Yet another exciting NFT collection on the Solana blockchain is Degenerate Ape Academy. As the name suggests, on this platform you will find various ape NFTs. In fact, Degenerate Ape Academy is a collection of 10,000 apes on the Solana network. All of these were minted in August of 2021 at a cost of 6 SOL (the price of SOL at that time was ~$40).
To be honest, apes look amazing therefore this is one of my favorite NFT collections on the Solana blockchain. The prices of the apes now go from around 39 SOL to more than 100 SOL. Keep in mind though that at the time of writing (January of 2022), the price of SOL is ~$134. 
Chainers
---
Chainers is an incredible addition to the Solana-based NFT universe. Chainers was created with the intention of putting its community first, giving them the power to design and build their own NFT collections. The game revolves around user generated content and has vast opportunities for personalization of characters. Web3 degen culture is also integrated into the Chainers world, allowing users to enjoy a unique vibes only Chainers can created.
This project is truly outstanding and if you're looking for an NFT experience that's different from other projects on Solana, then look no further than Chainers!
Sollamas
---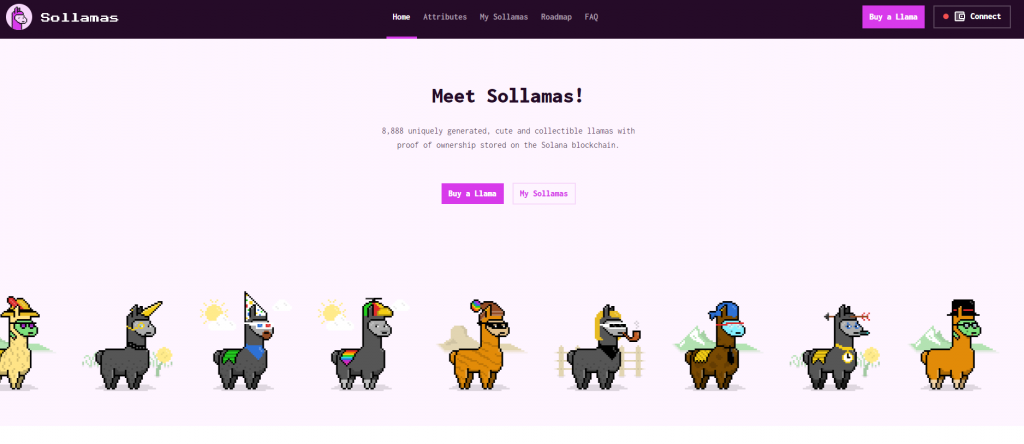 An NFT collection of lamas built on the Solana network is called Sollamas! Exciting collection in which you have 8,888 uniquely generated, cute, and collectible llamas with proof of ownership stored on the Solana blockchain.
As per Sollama's website, each Sollama is special, but some Sollamas are rarer than others. In fact, it goes from "ultra-rare Sollama" to the common or "usual" Sollama.
However, keep in mind that no two Sollamas are the same. Each one is made of attributes based on rarity. There are 165 unique attributes such as ats, glasses, necklaces, back blankets, beards to even the odd poop.
Solana Monkey Business
---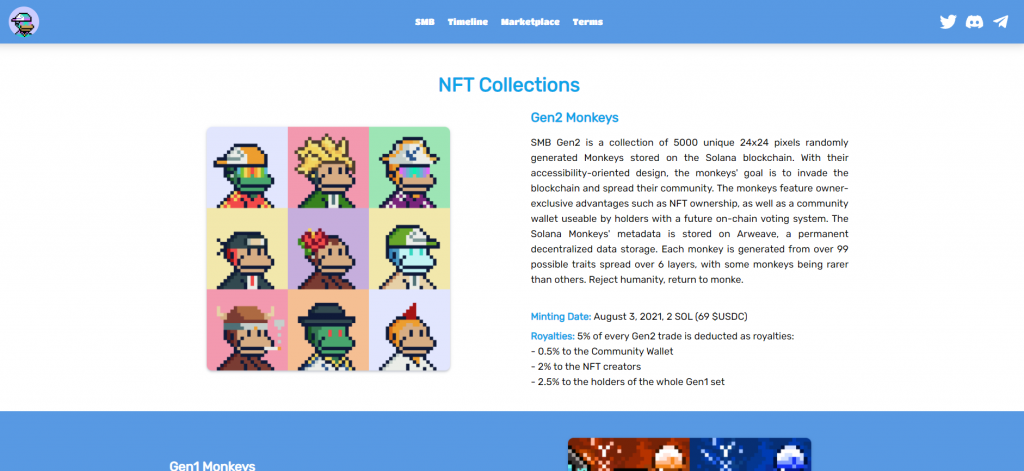 Another monkey-based NFT collection on the Solana network. Solana Monkey Business is a collection of 5,000 unique 24×24 pixels randomly generated monkeys that are stored on the Solana blockchain. The ultimate goal of the platform is to spread its network among NFT and blockchain community.
SMB's metadata is stored on Arweave, a permanent decentralized data storage. 5000 unique monkeys were minted in August of 2021 and the initial price for each monkey was 2 SOL.
The monkeys offer owner-exclusive advantages such as NFT ownership. Moreover, monkeys offer a community wallet useable by holders with a future on-chain voting system.
BabyApes
---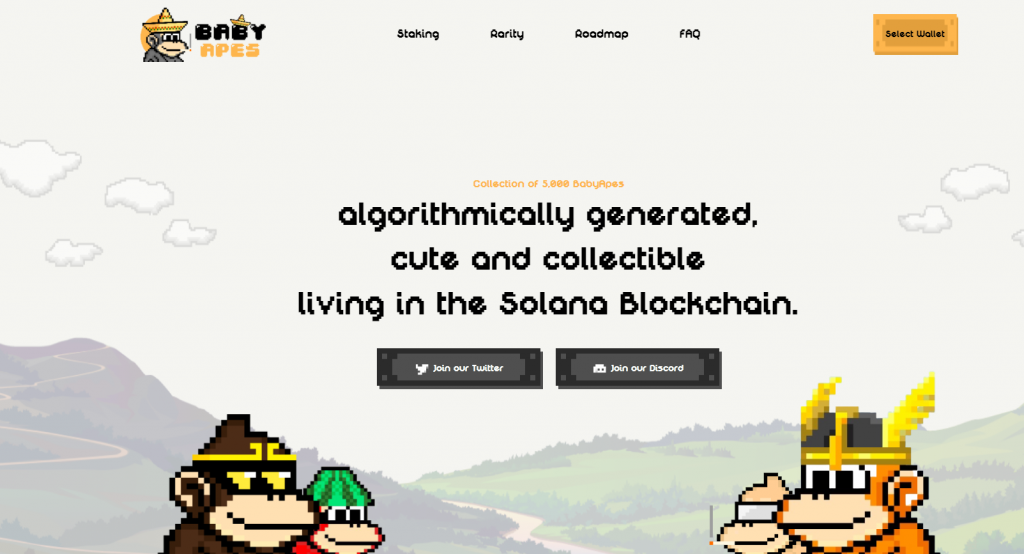 Yet another apes-based pixel NFT collection on the Solana blockchain is BabyApes. The platform considers itself the biggest NFT marketplace on the Solana network.
BabyApes is a collection of 5,000 unique apes that are algorithmically generated, good-looking, and collectible, operating in the Solana Blockchain. The mining of BabyApes began on the 15th of October, 2021 so this is still a new project. The initial price for minting was 0.69 SOL.
Keep in mind that you have to use Solana-based wallets if you want to buy and sell BabyApes (Phantom, Sollet, or Solflare). Whether you are interested in BabyApes type of apes or in Degenerate Ape Academy is just based on your taste – I like more the latter.
Shadowy Super Coder
---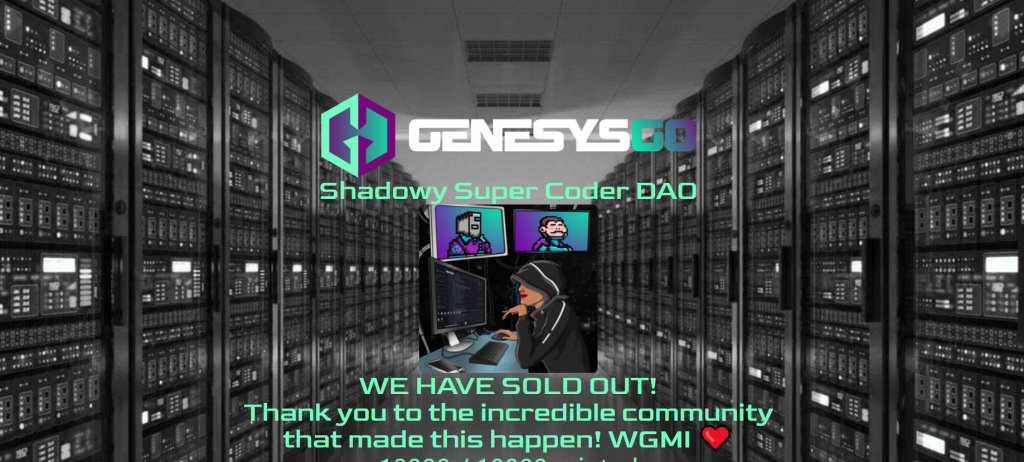 Shadowy Super Coder is a serious project – a startup that builds infrastructure for creating and distributing NFTs, mainly for loyalty programs, and will be operating on ETH and SOL networks.
The firm has teamed up with a variety of projects across the space to give away $315 million total worth of benefits—such as subscriptions, tools, and transaction cost rebates—to more than 110,000 Ethereum developers who meet certain criteria.
Rogue Sharks
---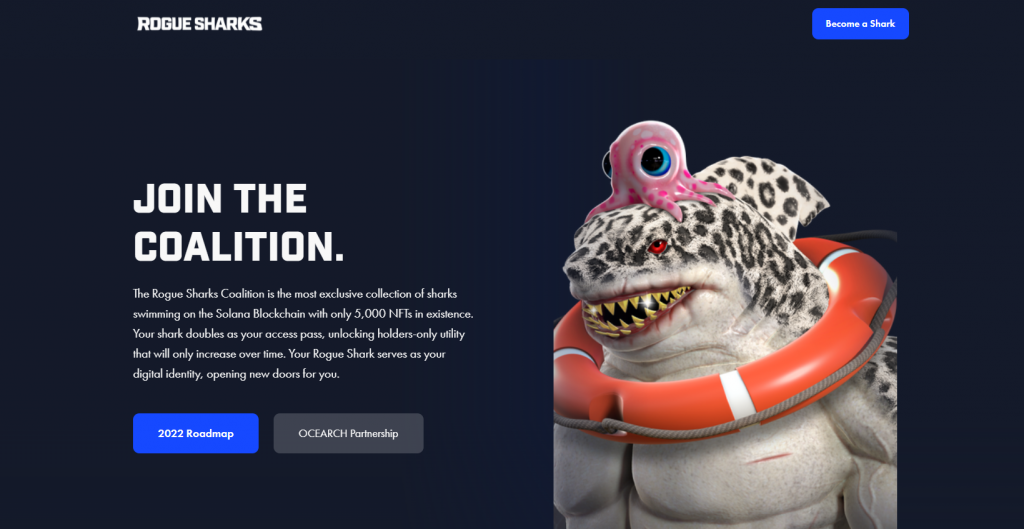 As the name suggests, Rogue Sharks is an NFT collection of sharks built on the Solana blockchain. It is a collection of 5,000 unique swimming sharks. The platform offers a holders-only utility that will only increase over time.
Rogue Sharks was launched in 2021 and the team around the project is pretty ambitious – their goal in 2022 is to build an authentic and distinctive global brand both inside and outside of the NFT space. Sharks look amazing, to be honest!
Frakt
---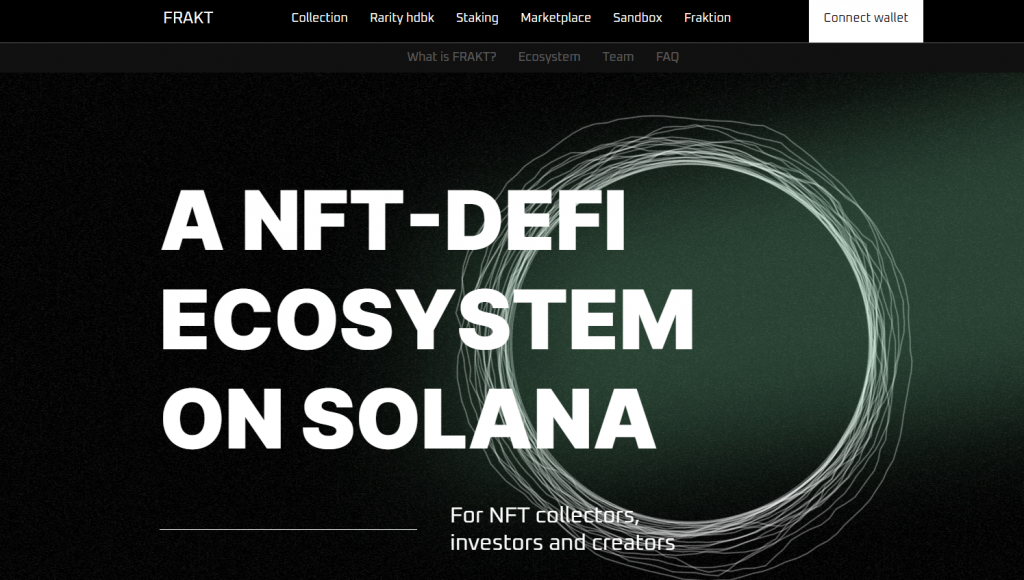 Again you can figure out the collection from its name – Frakt is a generative fractal art NFT collection combining fractals, math, and blockchain with 10,000 unique NFTs.
The whole project goes around "flexibility", at least as per Frakt's website. Flexibility actually means that you can do whatever you want to with your Frakts – airdrop them, share them with your community, or trade them on Frakt's DEX. In fact, Frakt is also an exchange where you can stake your tokens.
Aurory
---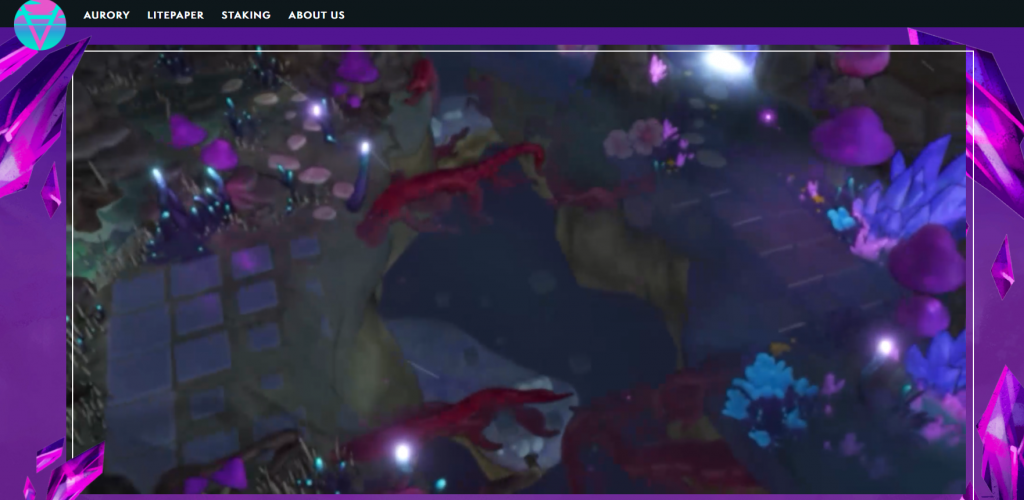 Aurory is yet another serious project on the Solana blockchain. In fact, Aurory is a play-to-earn desktop game where players travel across two worlds – Antik and the crypto one. If you decide to play Aurory, you will come across various magical creatures that can be caught and then accompany you through the game.
$AURY is a native token of Aurory that you can earn while playing the game as well as if you decide to stake it.
Bold Badgers Squad
---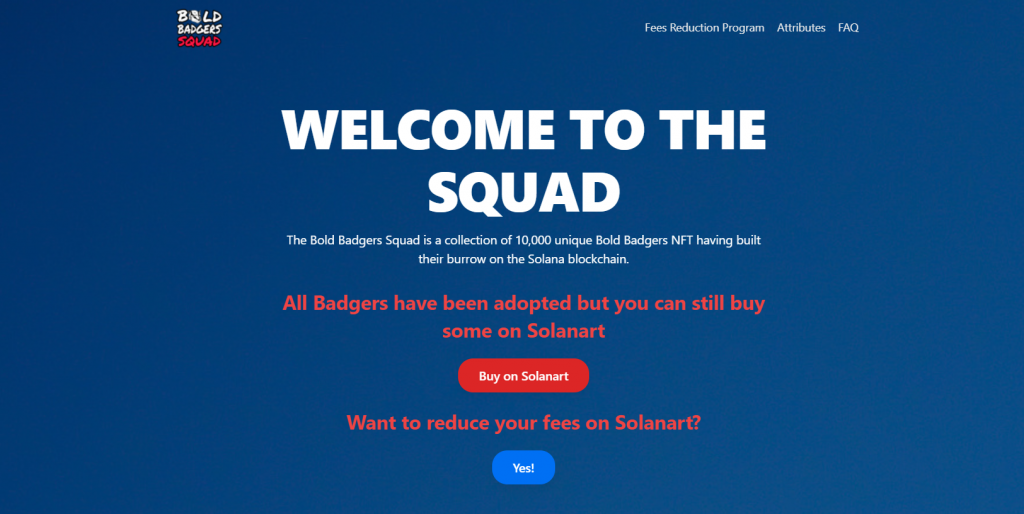 Bold Badgers Squad is an NFT collection of 10,000 unique Bold Badgers NFTs built on the Solana blockchain.
Keep in mind that all Badgers are bold, but some are rarer than others depending on the attributes they have. The rarest Badgers are the most difficult to find – they "usually hide deep inside the burrow."
Bold Badgers is an NFT collection that has not yet been dropped and, as per their website, the drop date will be announced soon. However, you can still mint a random Bold Badger on their website, or select the one you want when they get listed on Solanart marketplace (the largest Solana NFT marketplace in the world).
Read also:
What makes a good NFT collection?
Having a great collection of NFTs is all about being well-curated and organized. You should strive for a selection of high-quality, diverse NFTs that strike the perfect balance between creativity and functionality, as well as having a good liquidity.
A good collection will have buyers and sellers all interested in the various NFTs available in the market. The ability to buy or sell any given piece easily and quickly is essential in ensuring that your collection remains attractive and desirable.
It's also important for an NFT collection to be visually appealing. Having a theme or concept throughout each individual piece can create cohesion in your overall collection, which can make it stand out from the crowd. That said, some collections work best with a variety of themes or aesthetics so that it caters to a wider audience.
Ultimately, regardless of what kind of NFT you are looking for, having a high-quality, creative, liquid, and aesthetically pleasing collection will ensure that it stands out from the rest!
FAQs
---
Let's now look at some of the most frequently asked questions when it comes to NFTs on Solana.
How to Buy Solana NFTs With Phantom Wallet?
---
You first need to fund your Phantom wallet (buy crypto on FTX or crypto.com for example). You can buy USDC stablecoin and send it to your Phantom wallet.
What is the best Solana NFT marketplace?
---
The best Solana NFT marketplace is definitely Solanart. At the time of writing, there are over 2,000 sales a day on this marketplace. Furthermore, almost all of the NFT collections described in this article are on the Solanart.
Where to buy Solana NFTs?
---
Solana NFTs can be bought on Solana-based NFT marketplaces such as Solanart, DigitalEyes.market, Sollectify, or Solible.
Please read our full article on the best NFT marketplaces on the Solana blockchain.
Also, please read our article on the best DEX on Solana, as well as our comparisons of Solana vs Polkadot and Solana vs Avalanche.

CaptainAltcoin's writers and guest post authors may or may not have a vested interest in any of the mentioned projects and businesses. None of the content on CaptainAltcoin is investment advice nor is it a replacement for advice from a certified financial planner. The views expressed in this article are those of the author and do not necessarily reflect the official policy or position of CaptainAltcoin.com