Cryptotaxcalculator.io Review – Cryptocurrency Tax Software For Automatic Reporting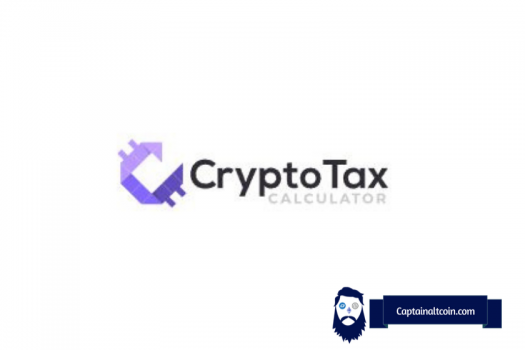 The whole process of tax report creating is automated 
The majority of essential exchanges supported 
Free-trial available 
The team around the platform works with experienced accountants and software engineers in order to constantly improve user experience 
Contacting customer support is easy (either via phone or via email)
Suitable for accountants (have a separate plan for them)
What is Crypto Tax Calculator?
---
What a rapid growth of the crypto market! More and more people are entering the market every day. In the US alone, more than 60 million people own some kind of cryptocurrency. 
However, with all the market's potential, crypto investors, holders, and traders need to understand that they must pay the taxes. They are subject to them just like anybody else. Actually, as the market grew, the interest of governments for the crypto industry around the world did as well. Therefore, this article will take a close look at one of the platforms that help the crypto world pay taxes more efficiently. 
The Crypto Tax Calculator is a platform that helps its users to calculate crypto taxes on virtual trading activity. The platform was founded by Shane Brunette back in 2018. Shane decided to create a Crypto Tax Calculator after he had many issues calculating crypto taxes in 2017 (ICO boom).
Shane's main problem was that crypto accountants were too expensive. In addition, there was no tax software or platform that made calculating taxes easy and smooth. Furthermore, calculating taxes based on a large amount of complex Ethereum-based transactions was complicated and overwhelming. 
The platform's primary purpose is to help crypto investors identify which taxes they need to pay when it comes to crypto investments. Besides identifying the taxes, the tool helps crypto investors to save time and calculate taxes automatically.
The initial idea of the platform was to help crypto investors in the United States, Canada, New Zealand, the United Kingdom, and Australia. However, as the platform grew, the number of supported countries grew as well. But, more about that later. 
In this article, I will try to show you how the tool works and what the best features of the Crypto Tax Calculator are. So, let's dive into the details and main vocal points of the article.
Make sure to check out our guides on other tax calculators:
Crypto Tax Calculator Features
---
Crypto Tax Calculator offers various useful features to its users.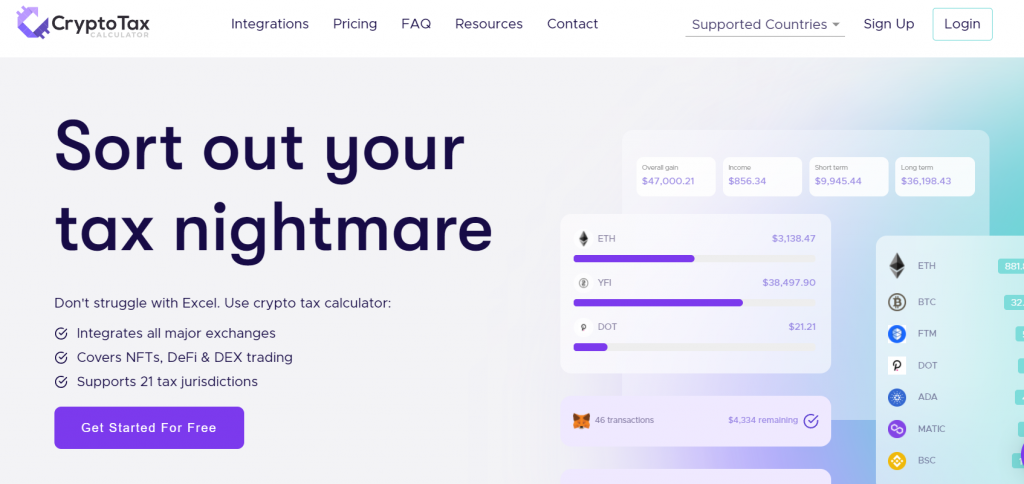 Firstly, the platform looks user-friendly, and it is easy to use. Once you open their website, the buttons you can choose from are integrations, pricing, FAQ, resources, contact, supported countries, and the login button.
Moreover, the main features of the Crypto Tax Calculator are powerful & accurate tax reports and easy-to-understand tax calculations. 
The tax reports created on The Crypto Tax Calculator are very detailed and have all the relevant information. The platform tries to make them as accurate as possible since they include complex tax scenarios such as DeFi loans, DEX transactions, gas fees, leveraged trading, and staking rewards.
Can you just imagine gathering all this info by yourself? It can be very overwhelming, and The Crypto Tax Calculator does it for you, which is pretty cool. However, the tax process can be very complex (in any country), especially with cryptocurrencies (still one of the unknown areas when it comes to calculating taxes).
As per their website, "drag and drop the exchange data into our app, and we do the rest."
The Crypto Tax Calculator also offers features not related directly to crypto taxes, such as mining, staking, DeFi, Liquidity providing, and many others. But, more about them later in the article.
Supported countries
---
The number of supported countries on the Crypto Tax Calculator grew in time. At the time of writing, these are the countries and their respected abbreviations: Australia (AU), UK (GB), Canada (CA), USA (US), South Africa (ZA), Austria (AT), Belgium (BE), Germany (DE), Spain (ES), Finland (FI), France (FR), Greece (GR), Ireland (IE), Italy (IT), Japan (JP), Netherlands (NL), Norway (NO), New Zealand (NZ), Portugal (PT), Sweden (SE), and Singapore (SG). 
To be honest, the platform is still growing, so I expect this list to be more extensive in the upcoming months. In other words, do not be disappointed if your country is not on the list.
On the top right corner of the Crypto Tax Calculator's home page, you can select some country, and the page will automatically update and show what is supported for that country (for example, when you choose Canada, the page will update with "Integrates all Canadian exchanges" message).
Supported exchanges
---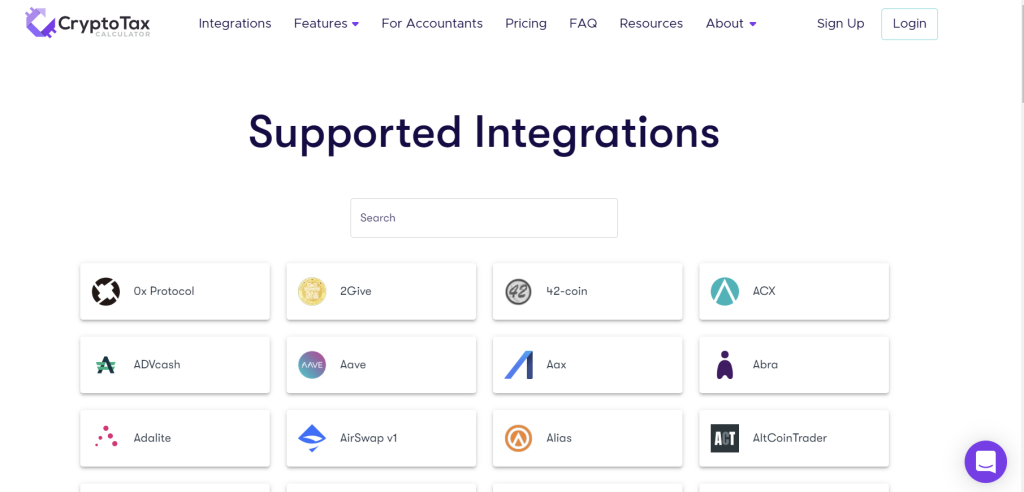 In the latest version of the platforms, the number of exchanges and wallets that Crypto Tax Calculator operates on is over 100 so there are hundreds of exchanges. Literally, all the major ones are supported by the Crypto Tax Calculator such as Binance, Binance.US, BitFinex, BlockFi, Coinbase, Bybit, Crypto.com, Kraken, Huobi, Ledger Wallets, Uniswap, Yoroi, Gate.io, HitBTC, FTX, Conjar, CoinSpot, Swyftx, Poloniex, Liquid, KuCoin, and many others.   
However, if the exchange you are using is not on the list, feel free to contact their customer support and ask them how to import your data needed for the tax report.
Supported wallets
---
As already mentioned, The Crypto Tax Calculator supports more than 100 exchanges and wallets. Therefore, it is pretty challenging to find a wallet that the platform does not keep. Here are some of the most important ones: MetaMask, MyEtherWallet, Coinbase Wallet, Math Wallet, Magnum Wallet, Midas Wallet, Lumi Wallet, Mycelium Wallet, FreeWallet, Guarda Wallet, Crypto.com Wallet, Cobo Wallet, Carbon Wallet, Blockchain Wallet, Bitgo Wallet, and many others.
Other supported services (mining, staking, DeFi, Liquidity providing, NFTs, etc.)
---
Another positive thing I can say about the Crypto Tax Calculator is that it supports various services which are subject to taxes as well, such as mining, staking, DeFi, Liquidity providing, NFTs. Unfortunately, Crypto investors quite often forget that they need to pay taxes for the incomes of those services too.
On the Crypto Tax Calculator website, there is a very nice example of how staking is taxed (in general, I like examples since they can show you how something actually works). It basically says:
"Steve holds 100 ETH in a pool for the purpose of staking. His pool reaches consensus, and he receives an additional 0.001 ETH as a reward. The additional 0.001 ETH was worth $5 at the time he received them. The $5 worth of coins received is considered income for tax purposes. In the future, if Steve exchanges the coins, the CGT he pays will be calculated with the cost base being $5."
How does Crypto Tax Calculator work?
---
We got to the focal point of the article in which I will try to explain how does Crypto Tax Calculator actually works.


Crypto Tax Calculator works by connecting to a user's exchange data by using an Application Programming Interface (API) or Comma Separated Values (CSV) files. Trust me, and the process is more straightforward than it sounds.
Once the platform imports data sources, it will automatically start the process of generating the tax report based on the specific obligations related to the user. So, basically, the whole process is automated.
What I found very interesting about the Crypto Tax Calculator is that the team is in contact with experienced accountants and software engineers so that the user experience constantly improves.
At this point, it is good to note that all opinions and suggestions written in this article are not considered financial advice.
Crypto Tax Calculator Pricing
---
Crypto Tax Calculator offers four different plans for personal accounts. You need to pay for the plan in order to get your crypto tax reports. The platform's pricing works with the yearly subscription method.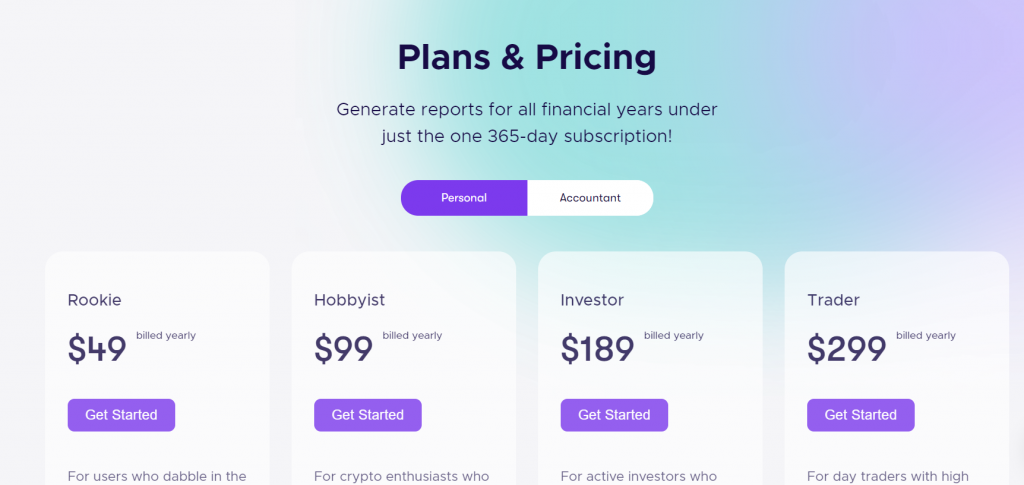 So, four types of plan are Rookie ($49/year.), Hobbyist ($99/year.), Investor ($189/year.), and Trader ($299/year.). If you are into borrowing, lending, mining, and staking, you probably need some of the more expensive plans. Otherwise, if you are on the platform just for the tax reports, Rookie or Hobbyist plans are suitable for you.
Keep in mind that the prices listed above are for US citizens. If you select another country, the currency will change (for Germany, it will be in euros, for example).
If you are an accountant, you can also work with the Crypto Tax Calculator for $499/year. The platform offers you ten clients and up to 100,000 transactions per client. All plans have a 30-day money-back guarantee.
It is worth noting that The Crypto Tax Calculator offers a free-trial period (30 days) as well. Thus, you have the possibility to get to know the platform and see whether it suits your needs before you actually pay for the subscription.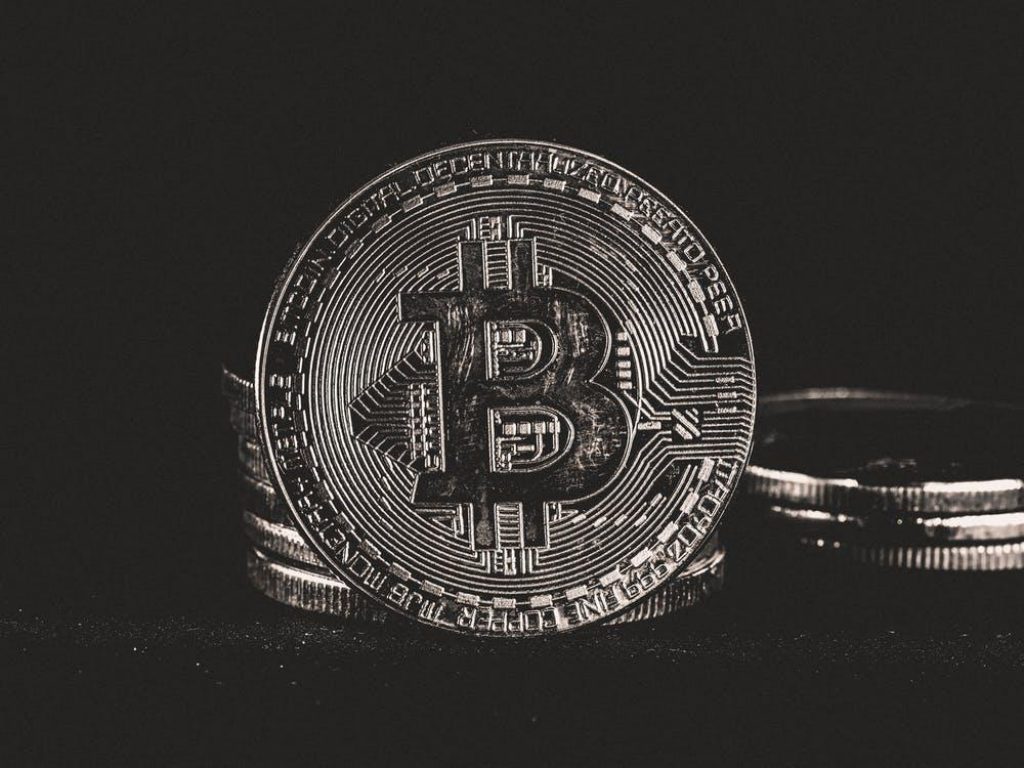 Crypto Tax Calculator Mobile App
---
Crypto Tax Calculator has a standalone mobile app as well, available on both iOS and Android systems. The app has all of the functions as the web version. 
Is Crypto Tax Calculator legit?
---
Yes, the Crypto Tax Calculator is an entirely legit tool. Moreover, it seems that the platform has a lot of users, and more importantly, constantly improves since the team is very ambitious. So, I predict a bright future for the Crypto Tax Calculator. 
Just ask yourself a question, do you have some accountant that can help you with your crypto tax obligations, or do you have the patience to calculate taxes and create reports yourself? If the answer to both questions is no, then you should at least take a look at the Crypto Tax Calculator.
Conclusion
---
Crypto Tax Calculator is a tool that can make your life easier when it comes to crypto tax reports. The most important question you should ask yourself is, "Do I really need to use a tool like this?". I think you will quickly find out an answer to that question once you read this article. 
The critical thing to note is that if you decide to sell your cryptocurrencies for fiat money, you need to pay taxes in your respected country. However, you should do your own research and find out whether you have a need to use platforms like this, or not really.
FAQ's
---
Let's have a look at some frequently asked questions about the Crypto Tax Calculator and crypto taxes in general.
Supported exchanges & wallets
8
PROS
The whole process of tax report creating is automated 
The majority of essential exchanges supported 
Free-trial available 
The team around the platform works with experienced accountants and software engineers in order to constantly improve user experience 
Contacting customer support is easy (either via phone or via email)
Suitable for accountants (have a separate plan for them)
CONS
A limited number of countries supported 
Additional features (borrowing, lending, mining, and staking) are available only on the more expensive plans (Investor. and Trader plans)

CaptainAltcoin's writers and guest post authors may or may not have a vested interest in any of the mentioned projects and businesses. None of the content on CaptainAltcoin is investment advice nor is it a replacement for advice from a certified financial planner. The views expressed in this article are those of the author and do not necessarily reflect the official policy or position of CaptainAltcoin.com