Nowadays, sharing information, tips, and tricks on passions on social media has never been easier in our interconnected world. And today, that is finally possible even in the world of trading.
The Tradelize Traders' network is just that, a network for traders. Designed to connect everyone in this craft, from the professionals to the newbies.
The Tradelize ecosystem includes three products:
Tradelize Traders' Network
Tradelize Terminal
Tradelize Mobile App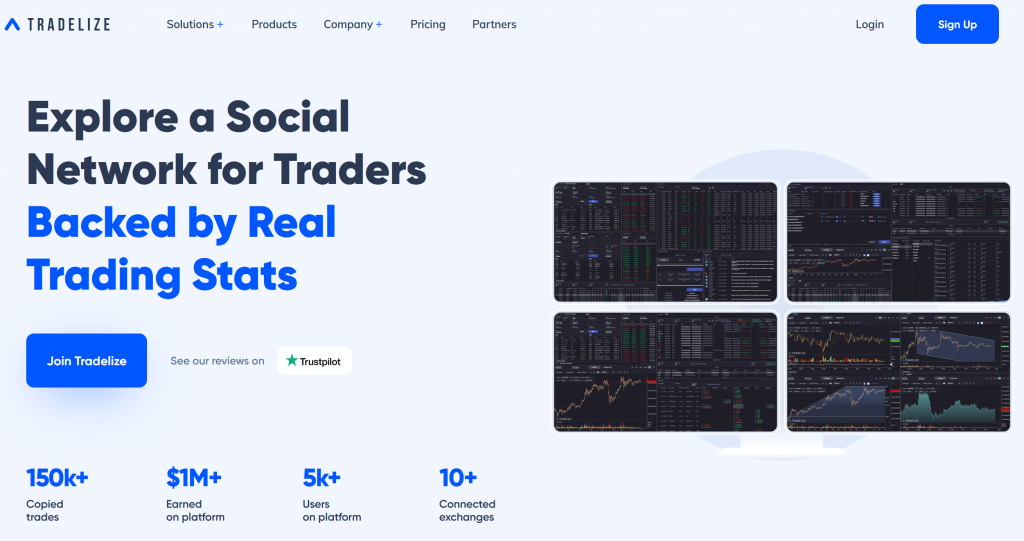 Tradelize Traders' Network
---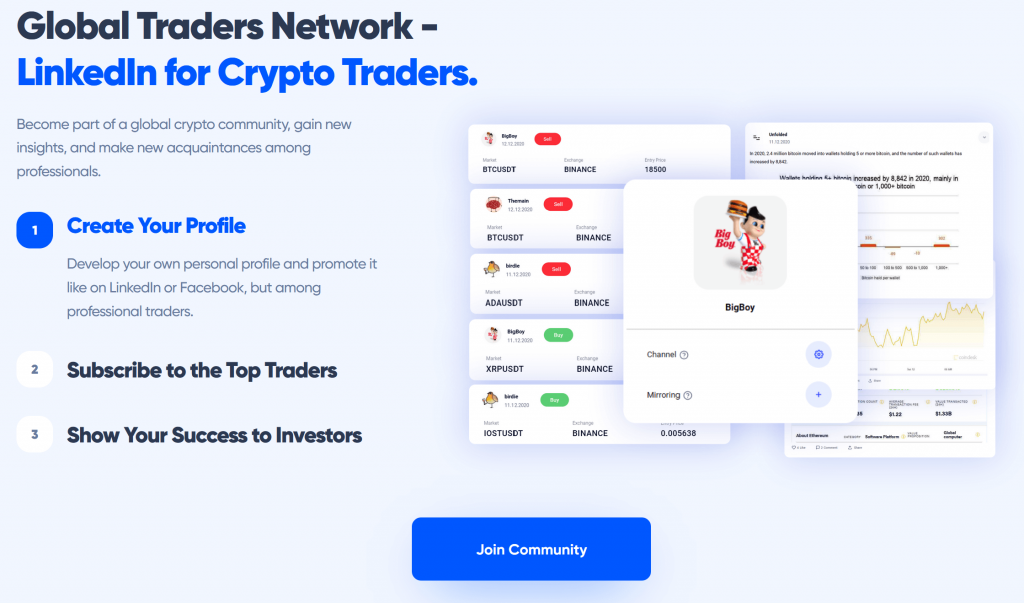 Tradelize traders' network is a social network for traders that share verified trades. A sort of Linkedln but for traders: All you have to do is create your professional-looking profile. Social Networks are great places to meet new people, interact with the community and gain new knowledge, which is also true for trading.
Tradelize in simple terms works like this. Users add their API keys from the brokerage he uses to the platform. And based on his trades, Tradelize automatically records the data that other users to the platform will see.
Once the statistics are recorded, Tradelize assigns each user a rating, which will be used to compete with others on the network. The competitive environment is one of the best ways for traders to master their craft; it serves as motivation. However, users can also choose not to show their stats.
By seeing the real-time statistics of other traders, a user of the platform can even ask other expert traders to manage his funds for him. Once you think about it, it's similar to a broker but on social media.
A newbie trader can even choose a mentor and learn from him by checking his history. Expert traders can also monetize this function by creating a paid channel and stream trades live to their subscribers.
And not only that, an excellent way for experienced traders to make a living on the network is to offer what is known as Mirroring. Mirroring is when a user provides other traders a possibility to copy his trading strategies for a subscription fee.
Tradelize Traders Network Fees
---
Tradelize charges 10% more on every paid service users subscribe to on the network. So by offering paid services, you'll be set off a fee of 10% higher than the standard price.
Customer Support
---
Tradelize offers excellent customer support that is available all day, every day.
Withdrawals
---
Tradelize processes withdrawals once a day but only after they've manually reviewed—a measure taken to protect customers' funds. Users should submit withdrawals by noon UTC if they are to be processed that day.
Tradilize goes one step further in protecting users from hacks or theft. All withdrawals on Tradelize must be audited manually by at least two Tradelize employees before they are confirmed.
Tradelize Crypto Terminal
---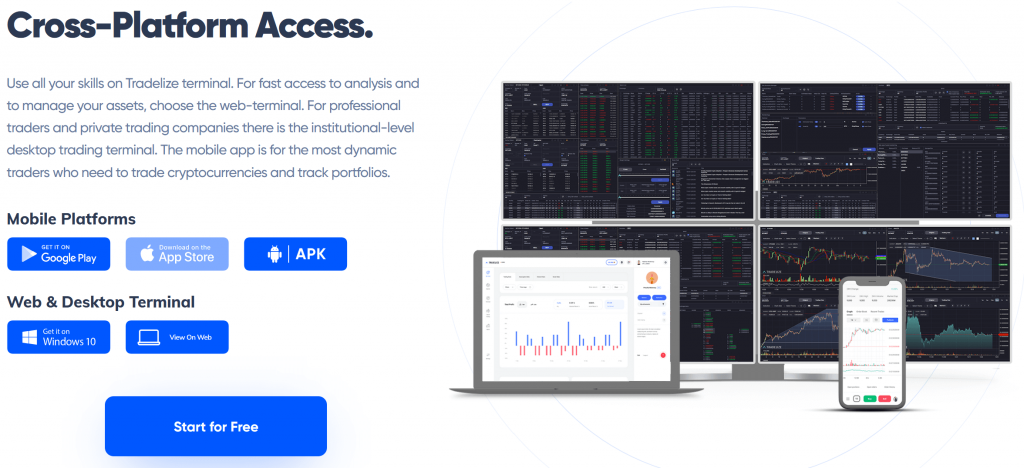 The Tradelize Terminal is a crypto exchange terminal used by institutions and retail investors alike to watch the market. The Terminal includes all crypto assets exchanged on: Bitfinex, Binance, Bittrex, BitMEX, HitBtc, Huobi, Kraken, and OKEx.
Their primary and distinctive features include:
Users can create sub-accounts
Traders can just need one portfolio for all exchanges
All the pairs chosen by traders can be put on the watchlist and displayed on the market screener
The Tradelize Terminal has all users' needs, whether they are day traders or long-term investors.
All users need to trade is their exchanges' API keys. Once done, users gain access to the spot market, derivatives, and futures.
Traders also have the Arbitrage Finder that shows the best bargains available on the market. Here you can compare all the crypto on the various exchanges.
And by using Sub-accounts, you can easily manage your prop company, create other sub-accounts, and move funds within the Tradelize network.
Users can manage their sub-accounts in the Order Monitor window. One crucial fact to remember has different risk tolerance, so set another personal risk management status for each sub-account: Active, Inactive, Only Sell or Cancel, and No Trades.
Tradelize Mobile App
---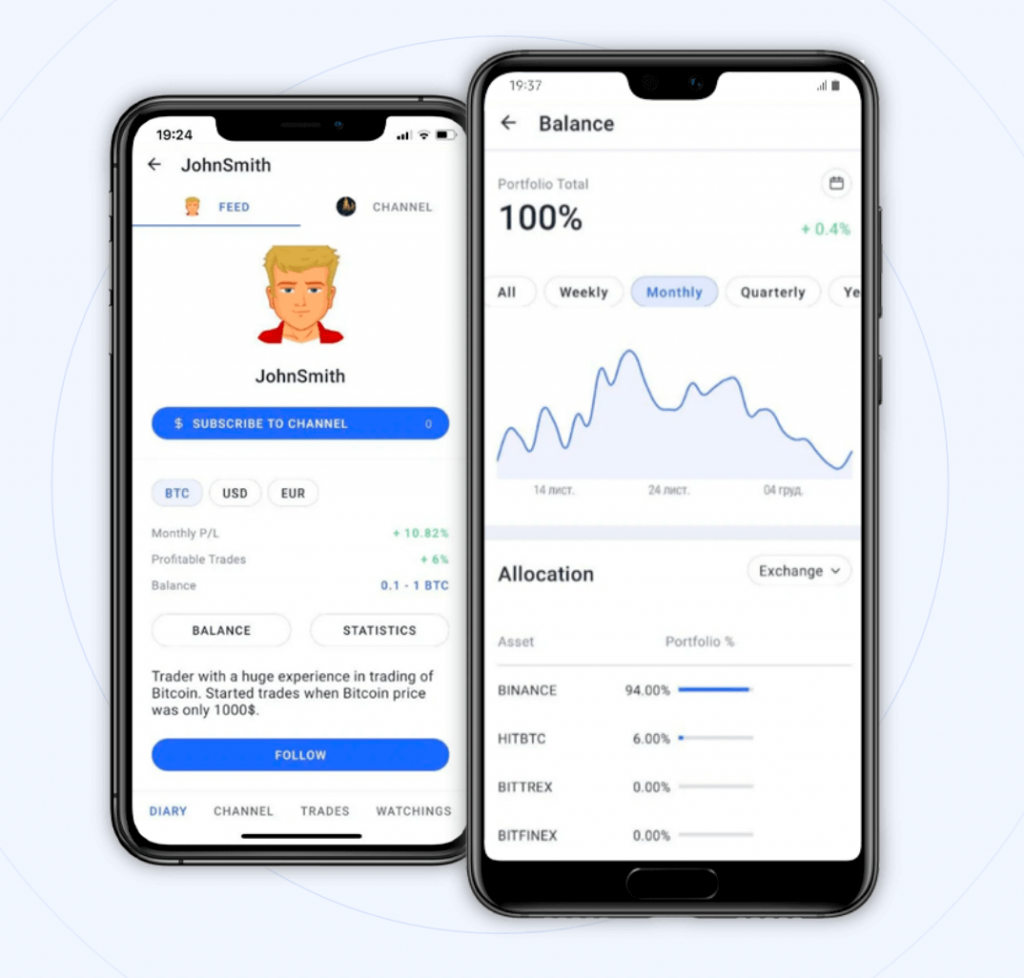 Tradilize also allows users to access their service wherever they are, thanks to their mobile app. You will have access to the same features, track orders and share your trades anywhere you are, just like you would picture on Instagram.
Tradelize Security
---
Tradelize has excellent security protocols, and it separates all of the sensitive user's passcode so that the system uses only the necessary data. The process is done to avoid hacks.
And all of this is done on top of the typical security measures you would expect from any platform, asking for a password, for example.
All of the user's data is not stored in the same servers used for processing trades, web portal servers, and so on. Every time needed, the platform uses only necessary data from secure storage. The sensitive data is, of course, completely encrypted and decrypted on the fly when needed.
Tradelize: The Pros
---
Tradelize is a network perfect for any beginner or professional.
The platform offers various products such as mirror trading that are a lot more than what exchanges offer.
All traders with the necessary skills have the opportunity with mirror trading or the fund's management of other users to grow from a retail trader to an online "hedge fund manager."
Tradelize: The Cons
---
Many crypto exchanges such as Coinbase are not yet available.
To access the professional options, users will have to pay more.
Conclusion
---
Tradelize is an excellent way of connecting traders allowing them to communicate between them and learn from each other. The platform helps traders improve their business and trading habits, with a wide range of tools such as mirror trading that help the trading space become more efficient.
Projects like Tradelize are also great in lowering the entry barriers for people wanting to become traders. Getting into the craft of trading has never been easier. On Tradelize, users can observe the best and learn from them. Many skills, habits, and tips go into a good trader, and users can learn them. On top of that, users can also decide to let another trader manage their funds or even pay a subscription fee to copy their trades.
Of course, I am talking about my opinions. This is not financial advice. I could be wrong. You should always do your research before making any investment decision. Remember always to trade responsibly and don't invest more than what you are willing to lose.
Why is copy trading popular among newbie traders?
---
Copy-trading allows for traders to copy the positions of another trader automatically. When the copied trader buys or sells, so will the copying trader, and without him having to move a finger.
The allure of copy trading is unmistakable, and it is particularly popular among newbies. Trading is an intricate craft to master. Most traders end up losing more than they make.
Becoming an expert involves having significant losses in the process and slowly seeing those gains multiply. Without a doubt a tedious path.
So naturally, some people, often beginners, look for shortcuts. And that's when copy trading comes into play. It's a straightforward concept to understand, just choose the right trader, and you'll see your profits multiply.
That, of course, isn't always the case. And often, the naivety of beginners is taken advantage of, and copying loses all their funds while copied traders make a killing. Of course, this isn't always the case. Copy-trading can make you some serious money, but choose to only copy traders you know are trustworthy and skillful.
What are the main alternatives to Tradelize?
---
Some of the best Tradelize alternatives are:
CryptoCompare is similar to Tradelize, a social network platform where users discuss different crypto assets.
eToro is an online brokerage that also offers copy trading and social trading platform where users can share their positions
Aivia is a trading platform that allows linking top Crypto Traders and Trading Bots via API Keys.
In case you are looking for more similar platforms, below is our list of reviews:

CaptainAltcoin's writers and guest post authors may or may not have a vested interest in any of the mentioned projects and businesses. None of the content on CaptainAltcoin is investment advice nor is it a replacement for advice from a certified financial planner. The views expressed in this article are those of the author and do not necessarily reflect the official policy or position of CaptainAltcoin.com