Coinbase and Coinmama have been around for almost 4 years and have built quite the reputation. These two platforms are two of the fastest and most popular ways to buy cryptocurrency. In this comparison, we'll go over everything from the key features of each site, how those features compare, which site is easiest to get started on, and ultimately which one is best for you.
You can read full guide on Coinmama and see if it is legit exchange. Here is also Coinbase full review and guide.
Coinbase vs. Coinmama: Key Information
| | | |
| --- | --- | --- |
| | | |
| Site | Visit Coinbase | Visit Coinmama |
| Company Launch | 2012 | 2013 |
| Company Location | California, USA | Bratislava, Slovakia |
| Site Type | Easy Buy/Sell Methods | Easy Buy Method |
| Buying Limits | $25000/day | $5000 |
| Available Cryptocurrencies | Bitcoin (BTC), Ethereum (ETH), Litecoin (LTC) + 20 other coins | Bitcoin (BTC), Ethereum (ETH) + 8 other |
| Buy/Deposit Methods | Bank Transfer, Credit Card, Debit Card | Credit Card, Debit Card |
| Sell/Withdrawal Methods | Bank Transfer, PayPal, Cryptocurrency | Cryptocurrency |
| Cold Storage | 90.0% | 0.0% (doesn't store coins on their servers) |
| Fees | Medium | Medium |
| Security | Great | Great (holds no coins, sends them directly to your wallet) |
| Community Trust | Great | Great |
| Verification Required | Yes | Yes |
| Requirements | Full name, phone number, email, bank account in allowed countries | Full name, country, email |
| Customer Support | Good | Medium |
| Countries Supported | 33 Countries | Most Countries |
| Languages | English, German, Italian, Spanish, French, Portuguese, Dutch | English, German, French, Italian, Russian, Spanish |
| Mobile App | Yes | No |
| Beginner Friendly | Yes | Yes |
The Features of Coinbase and Coinmama
Coinbase and Coinmama are perfect platforms for those who want to dip their toe into the world of cryptos to see what all the fuss is about. Coinbase has become a leader in the cryptocurrency exchange space and if you've been doing a bit of research, then Coinbase will probably come up as a regular option to purchase Bitcoin. This is because Coinbase is very beginner-friendly, but it may also stand out as a fast and simple option with few complications.
So what is the real difference between these two platforms, is it just price or is there something more to it?
Both platforms provide easy cryptocurrency purchase options that are almost instantaneous. You can purchase Bitcoin and Ethereum in low amounts on a credit card with a quick account setup and no verification. However, you will need to go through standard verification checks with both sites for larger purchases.
You will notice the big differences between these two companies when comparing the rest of the features offered.
Founded in 2013, Coinmama very much presents itself as a quick buy option. However, they only allow you to purchase digital currency via credit card or debit card. This means that there is not much else you can do on the Coinmama site once you acquire Bitcoin or Ethereum, which means that you can't sell or trade through Coinmama. One more thing worth noting is that you need a wallet to store your Bitcoins, but Coinmama doesn't provide this service. They'll send your BTC to any wallet address you provide but they won't store them for you, which means that you will have to choose a secure storage method elsewhere before purchasing your cryptocurrency.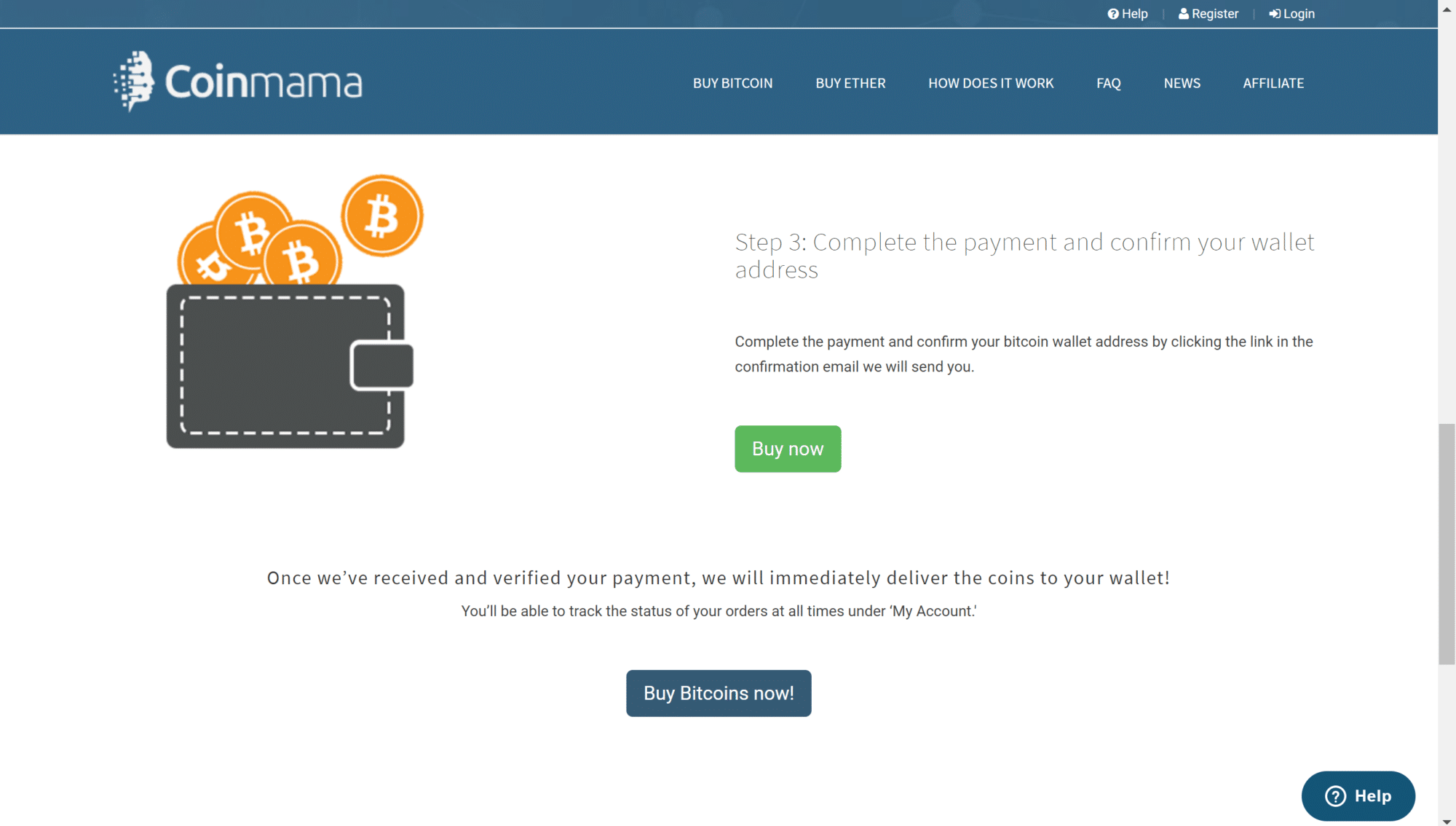 With Coinmama, you simply pay with your payment method of choice and your cryptocurrency will be sent to the specified wallet immediately. You are probably thinking 'Ok, great. What more do you need?' Well, maybe not a lot. However, if you are looking for a more rounded site, then Coinbase could be a better fit.
Launched in June of 2012, Coinbase provides a greater selection of buy options. Along with credit card, you can make a bank transfer into your Coinbase account, which balances the options available between lower fees and convenient speed. Another string to the Coinbase bow is the fact that secure wallet services complement these buy options so you can buy and store your funds in a single Coinbase account.
One more thing worth mentioning is that Coinbase allows you to sell cryptocurrency back through the site, which is a beginner friendly way to trade or 'cash out' your funds. Of course, you need to be aware that the rates won't be as favorable as the open market price because they are effectively a currency exchange at this point.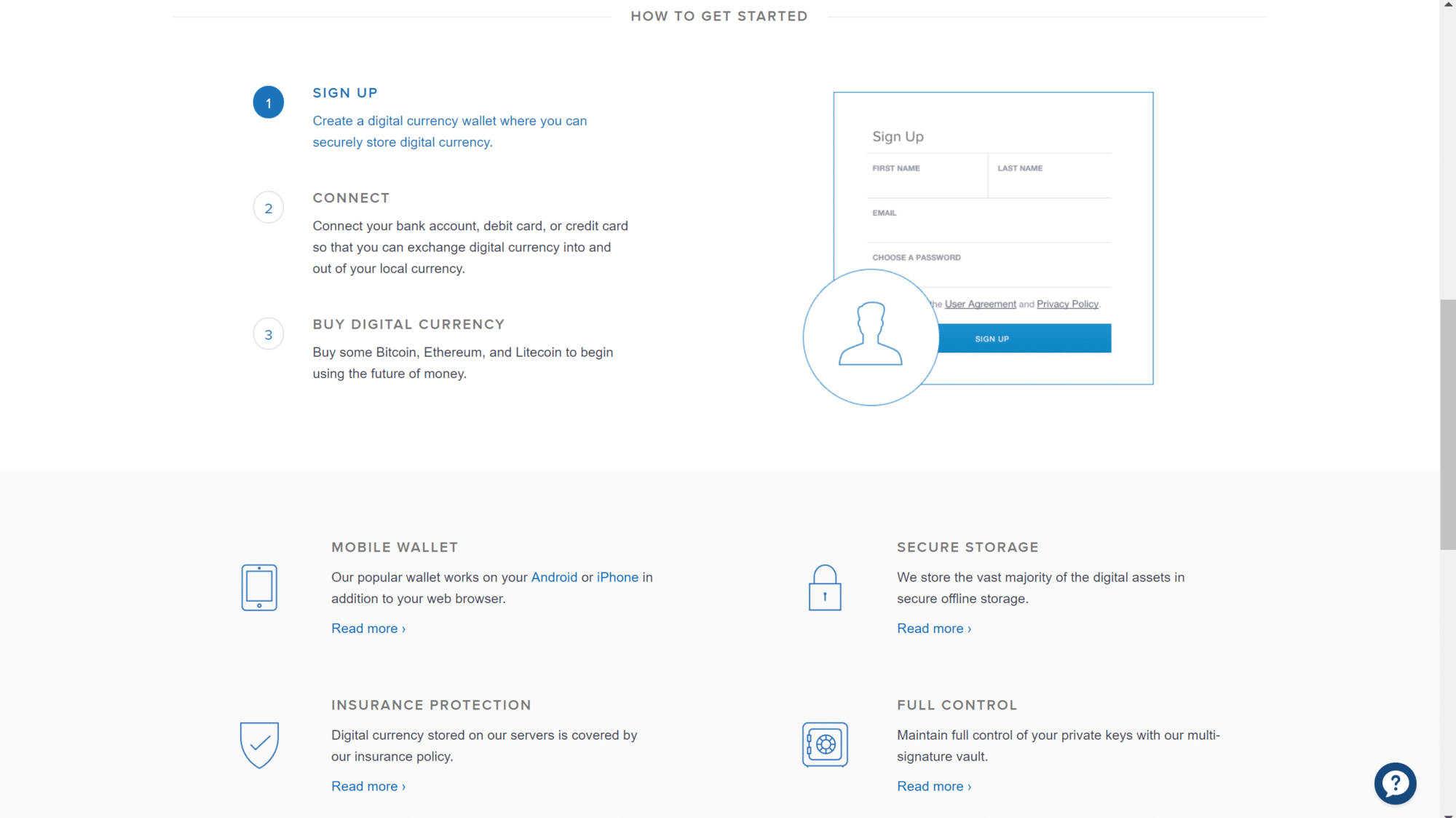 Coinbase might look a bit more complicated and daunting. However, they do offer a full cryptocurrency solution compared to Coinmama. Coinmama is a buy-only outlet serving consumers that want to buy major cryptos (Bitcoin and Ethereum), but this solution might work for if you already have a wallet ready to go elsewhere.
When using the platforms, Coinmama is a bit like a 'lite' version of the two while Coinbase does feel like a powerhouse of the industry.
Available Cryptocurrencies
Coinbase has an advantage of allowing its users to buy and sell 50 of the most popular cryptocurrencies – starting from the most popular like Bitcoin, Ethereum, and Litecoin to smaller projects like BAT. This means that Coinbase is a pretty solid foundation for those who are looking to create a portfolio of strong digital currencies. It's important to note that they plan to add more cryptocurrencies in the future. Additionally, Coinbase has its Pro version where you can trade even more coins at a cheaper rate as well.
On the other hand, Coinmama allows you to buy Bitcoins and Ethereum and 8 other coins like Ripple, Cardano and QTUM. However, this is not too much of a problem if you are just looking to get yourself started. The great thing is that you can switch it up in the future if need be because you are not tying yourself into a certain wallet provider with Coinmama.
Supported Countries
When it comes to the number of countries where Coinbase is supported, a total of 32 countries are available for you to turn to, including United Kingdom, United States, Greece, Hungary, Ireland, Italy, Jersey, Latvia, Netherlands, Norway, Liechtenstein, Malta, Monaco, Australia, Austria, Belgium, Bulgaria, Czech Republic, Denmark, Finland, Canada, Croatia, Cyprus, Poland, Portugal, San Marino, Spain, Sweden, Switzerland, Singapore, Slovakia, and Slovenia.
Coinmama currently operates in 226 countries worldwide, from Afghanistan to Zambia. Click here for a full list of eligible countries. It's important to note that Coinmama adhere to prescribed sanctions lists, which means that if a country shows up on a sanctions list maintained by United Nations, the US Office of Foreign Assets Control (OFAC), UK Treasury, or European Union, Coinmama will not operate there. Within the United States, only U.S. residents in the following states can use their services: Arizona, California, Colorado, Florida, Illinois, Indiana, Kansas, Kentucky, Louisiana, Michigan, Missouri, Montana, Massachusetts, Maryland, Nevada, New Jersey, New Mexico, North Carolina, Pennsylvania, South Carolina, Tennessee, Texas, Virginia and Wisconsin.
Fees
Both platforms offer the use of credit cards. However, this comes at a price because the fee with credit card purchases is 4% due to the fees charges by credit card companies and risks of fraudulent chargebacks. It's recommended to deposit money from your bank into your Coinbase account, which will save you around 2.5%.
Coinmama, by their own admission, charges higher fees. However, that's a price you pay for convenience. The price is based on current market values, with Coinmama's 6.15% fee included in this pricing, and that's the markup on the market rate. In addition, Coinmama charges an additional 5% fee on each credit and debit card transaction, and this fee is added once you have chosen payment method.
Safety and Security
Security is definitely the most important component of any great exchange platform.
Coinbase features industry-leading security and combines its easy to use service with top-tier security. 98% of customers' cryptocurrency funds are stored in secure offline cold storage and they use two-factor authentication (2FA) meaning your account can't be accessed with just your regular password.
Coinmama, on the other hand, does not need such stringent security as you will not be holding funds in a wallet on your account, which makes it less susceptible to attacks than other exchanges. They do use trusted security and they are protected by Trust Guard and Comodo security specialists confirming that 256-Bit SSL encryption is actively used on pages that contain private information.
Although it's pretty much a given that financials should use two-factor authentication (2FA) these days, Coinmama does not currently offer it. It's a little worrying that someone could gain access to your account, so be sure to choose a strong password that contains lowercase and uppercase letters as well as numbers and symbols.
Both Platforms Are Trusted by the Community
Coinbase remains a longstanding name within the cryptocurrency world and they have got the necessary licensing that enables you to trust them with your Bitcoins. Coinbase has cemented its reputation as early adopters and is now starting to penetrate the wider public. Headquartered in San Francisco, California, Coinbase was launched by Brian Armstrong and Fred Ehrsam. It's also worth noting that Coinbase has many trustworthy investors backing the company, including Alexis Ohanian (Reddit Co-Founder), Digital Currency Group, Blockchain Capital, and Bank of Tokyo.
Coinmama is based in Bratislava, Slovakia. This company is a property of NBV International s.r.o. – a daughter company of New Bit Ventures Ltd, which is registered as a Money Service Business with FinCEN – view the certificate here. There aren't many information about Coinmama.
Customer Support
Customer support is still a vital ingredient in the overall success of your customers, but when we talk about crypto industry, customer support is still a bone of contention with many companies leaving this as an unaddressed area.
You are generally better sticking to email because neither company is particularly easy to get hold of on the phone. Coinbase offers customer support through email, and in our personal experiences, we've typically received responses from support within 24-72 hours, depending on the nature of our query. Their website is pretty much modern, simple, straightforward and quite helpful with a few introduction guides and a support centre that answers most of your major questions. However, no live chat is available, which makes it harder to contact the representatives in case of an emergency.
Coinmama has the live chat option and their customer support is available via email, as well as an extensive list of FAQ's. As with most cryptocurrency exchanges, online reviews of their customer service response has been mixed, but it doesn't appear that there are any major problems with response times, with most queries consistently replied within 24 hours. However, their website support is a little lightweight because they walk you through how to purchase their product but then there is little else to appease your questions and concerns.
Conclusion
There is validity and trust to both sites and both sites have been around long enough to prove they are here to stay.
Coinmama is perfect for those who are looking for a quick transaction without the need to verify your identity and for small amounts of money. Coinbase, on the other hand, is a more rounded option once you have made your purchase and if value for money is the most important aspect I'd go with them. Coinbase can be used for all your major cryptocurrency dealings whether you are purchasing to hold or to use.
Important Note: If you value your privacy I'd definitely stay away from Coinbase because they have been known for tracking user funds and also banning accounts if they think the fund are being used for questionable purposes.
Buy coins on Coinbase
Buy coins on Coinmama
Coinbase vs. Coinmama Pros and Cons
Coinbase Pros
Easy to use
Safely stores customer funds.
Has lower fees than "easy buy" competitors
Purchase cryptos faster than most exchanges
Simple and modern website
Regulated and trustworthy company
You can purchase cryptos with Credit Cards and Debit Cards (In addition to bank transfers)
Coinbase Cons
Has slightly higher fees than most exchanges
May track how its users spend their cryptocurrency
Prepaid credit cards are not allowed
Coinbase wallets are less secure than a wallet you control yourself
Coinmama Pros
Live chat available
Available in many countries
Responsive and fast customer service
Good for newbies
Coinmama Cons
No mobile app
High fees for purchasing with a credit/debit card
Only sells Bitcoin and Ethereum and 6 other coins

CaptainAltcoin's writers and guest post authors may or may not have a vested interest in any of the mentioned projects and businesses. None of the content on CaptainAltcoin is investment advice nor is it a replacement for advice from a certified financial planner. The views expressed in this article are those of the author and do not necessarily reflect the official policy or position of CaptainAltcoin.com