One of my favorite crypto platforms is definitely Waves. I personally hold Waves and believe it has an amazing future ahead of itself. It provides a number of interesting features and bills itself as "Blockchain for the people". This platform is based on an improved authenticated dynamic dictionaries scalability approach being built on top of the Scorex framework. Waves allows anyone to create their own tokens on the platform in a few clicks. It is very simple to create your own crypto token on the platform. It also has its own decentralized exchange (DEX). This exchange allows you to trade any of the tokens created on the platform, along with other currencies such as Ethereum and Bitcoin. The total supply of Waves tokens is 100 million and the supply does not increase. The tokens were issued on the genesis block and distributed to users that participated in the ICO and/or bounty campaign.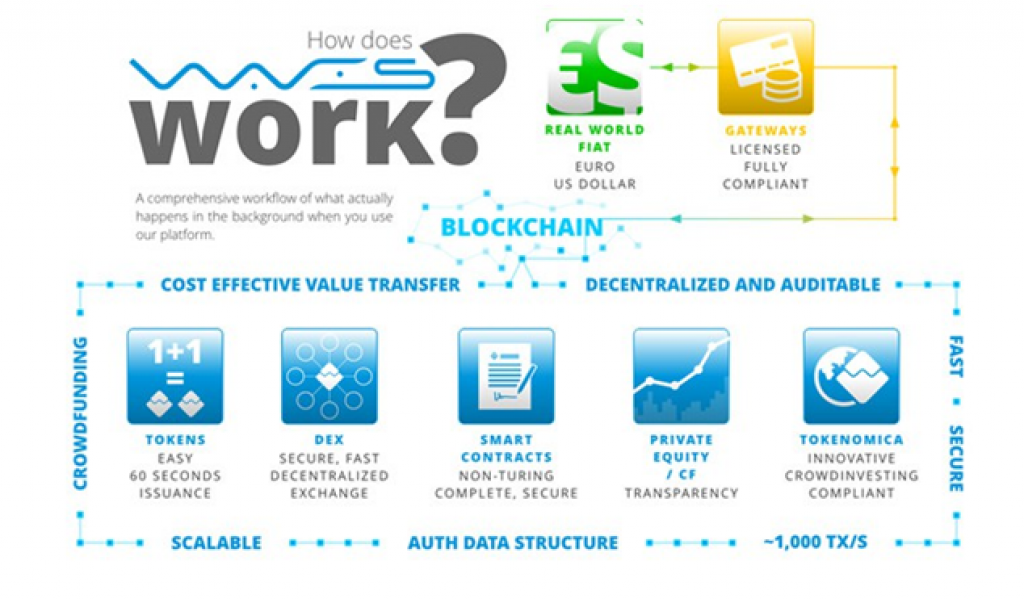 Currencies such as Ethereum and Bitcoin rely on Proof of Work (PoW) via mining. On the other hand, Waves uses something called Leased Proof-of-Stake (LPoS), which allows Waves holders to profit by using their balances to secure the network — whilst retaining full control of their funds. The great thing about this method is that you can hold your Waves tokens securely in your wallet, lease them out and collect rewards for doing so. You can also exchange the miner's rewards on the DEX for more Waves or other currencies and tokens. And finally, you can lease your Waves to a staking pool which will pay you out rewards weekly or monthly in the form of more Waves and Miners Rewards.
In this guide we will walk you through how to setup your Waves wallet. We will also show you how to begin leasing your Waves to earn extra income.
Leased Proof-of-Stake (LPoS)
Rather than opt for a vanilla proof-of-stake (PoS) approach, in which staking nodes are rewarded in proportion to their coin balances, or bitcoin-like approach, in which miners are rewarded for securing the network with new blocks of coins, Waves has implemented a consensus system called Leased Proof of Stake (LPoS).
The network is secured by active nodes. They require a balance of a minimum of 10,000 Waves to generate blocks. If they have this amount, anyone can run a mining node. However, it is also possible for users to lease their balance to a node. This will give them additional 'weight' in the network. The extra rewards earned by the node are then shared with those who have leased balances to them. The nodes will naturally compete to offer leasers the best deal. Leased Waves can be transferred or exchanged at any point, and they remain in the full control of the account holder.
Waves Wallet
You will need to create a Wallet in order to get started with Waves. Wallet is used to store your tokens and access the DEX. You can also lease your waves from here. The wallet can be downloaded and run as HTML, or as a standalone Chrome app from the official website here (https://wavesplatform.com/downloads.html), that automatically updates when new versions are released.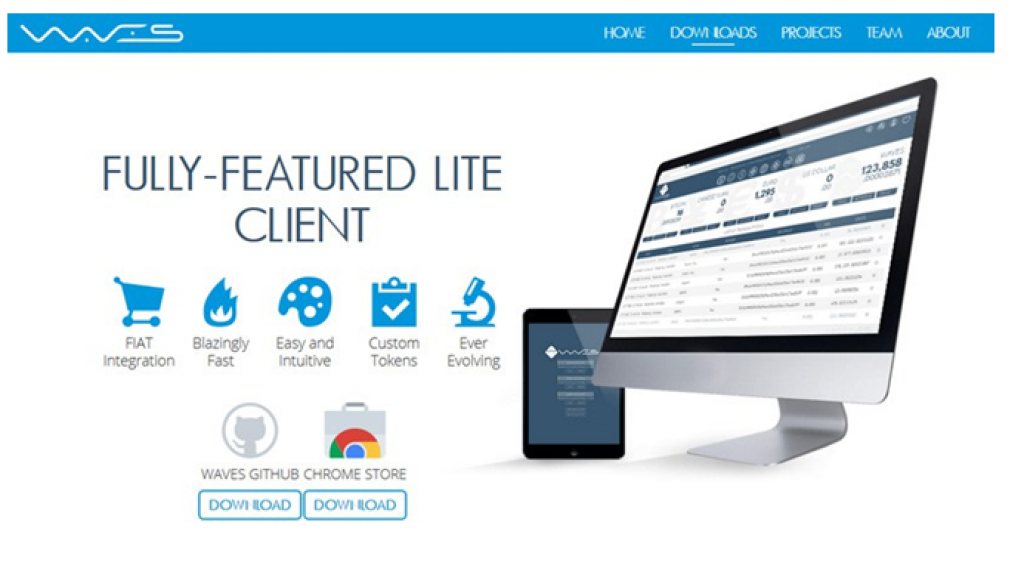 ---
Trade while you sleep with two of the cryptocurrency bots on the market - Cryptohopper or 3Commas.
---
Another way to create your wallet is to visit Waveswallet.io and create it there. This is the online wallet that you can access in your browser. When creating your wallet it will give you an address, ask for your name and password. It will also give you a wallet seed that consists of a number of different words. It is very important that this information is copied down on a piece of paper and stored somewhere safe. It can also be saved as a text file and put in on a thumb drive somewhere safe. This is how you backup your wallet and you can recreate it at a later date.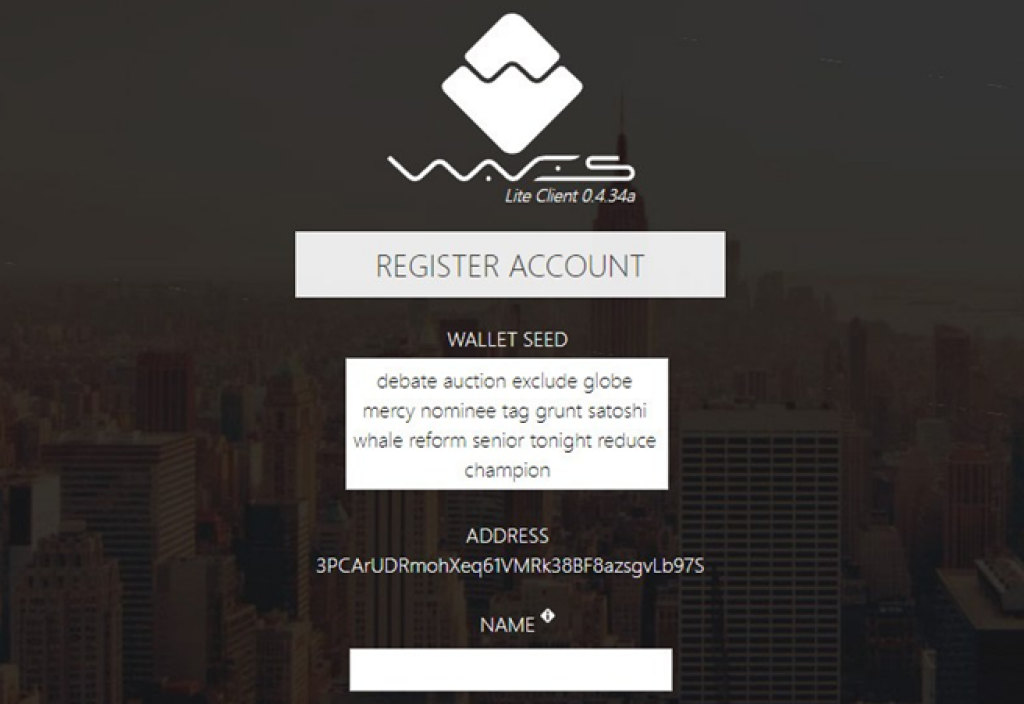 Waves provides entrant users with an introduction to the world of blockchain technology and cryptocurrencies through its easy-to-use lite client and implementation of integrated fiat gateways.
Users can deal with fiat currencies or familiar commodity-backed assets on the blockchain. Also, if they wish to, they can later explore other investment opportunities like Bitcoin and others. Users will also be able to invest in company stocks or assets through the Waves' crowdfunding platform. This makes it easier for companies and developers to raise funds for their projects.
There are three categories of waves wallet:
Waves wallet for PC – Control your Blockchain Account finances using the Waves Client as Chrome App. In order to retreive up-to-date Blockchain Information, the Waves Lite Client connects to public Waves nodes. It is important to note that you have all the crypto to create addresses, sign and verify transactions for the Waves Blockchain. You read all the data from the public nodes when using the Lite Client, you write the transaction directly in the browser and just broadcast a finished transaction. You can download lite client from the wave platform.
Android waves wallet – It is a mobile client to WavesPlatform that can be downloaded from Google playstore. This is easy to use the mobile application. It allows you to quickly access your WAVES and other Assets funds. In order to retrieve your transactions and send payments, the wallet is connected to public Waves nodes.
Waves wallet for the web – You can manage this wallet from waves platform, with all its features.
Buying Waves and Using Faucets
You will need to buy some Waves from an exchange to begin staking them. Waves are currently available on the following exchanges (https://coinmarketcap.com/currencies/waves/#markets). For buying Waves, I personally use Bittrex. However, they can also be bought directly in the Lite Wallet with USD.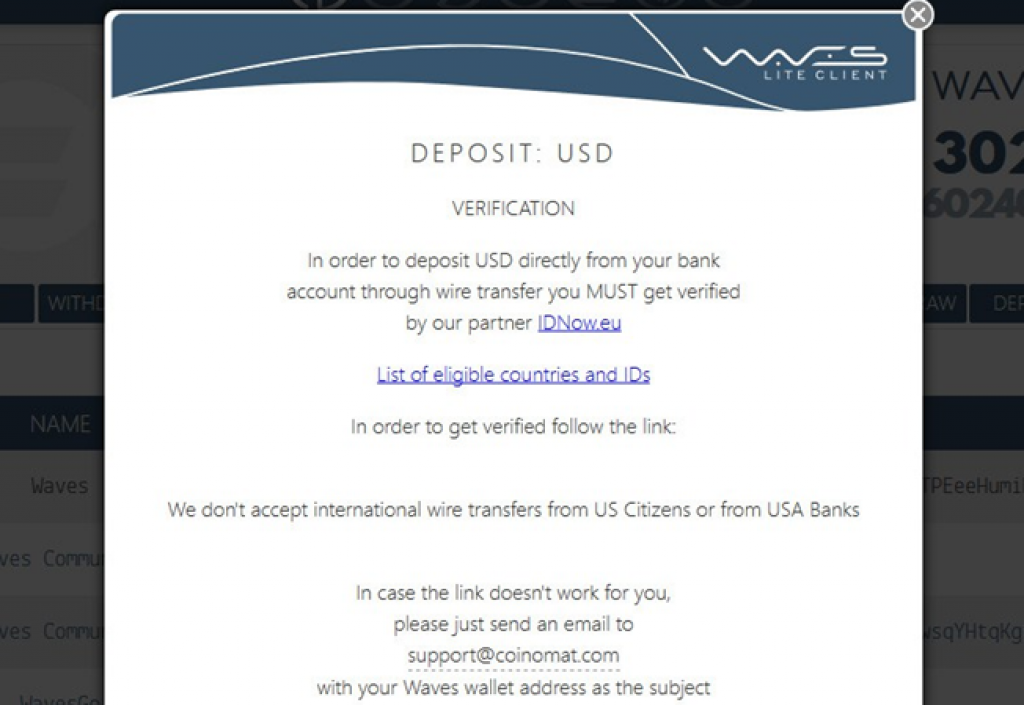 If you just want some Waves for free to figure out the wallet and get used to how it all works, you can visit websites called "Faucets" and get some. All you need to do is to enter your Waves address and the Faucet will then send you a small amount for free. Sometimes they also send you some other bonus tokens at random. You can sell them on the DEX or hold them in your wallet.
Waves Platform Faucet (http://wavesplatformfaucet.com/)
Waves Drop (https://wavesdrop.com/)
Waves Go (http://www.wavesgo.com/faucet.html)
Waves Leasing
You have your Waves and have sent them to your Wallet address. Now you can start leasing them. I personally use Waves Go (http://www.wavesgo.com/mining.html) for leasing. They pay out weekly on Friday. They send you Waves, Miner Rewards and also an amount of their own Waves Go tokens.
Here is a list of Waves nodes for leasing:
Follow these steps to lease your Waves:
Grab the address from your chosen node
In the Lite Client, click the "L" icon at the top
Enter the recipient address at the top
Enter the amount of Waves to lease
Click the "Lease" button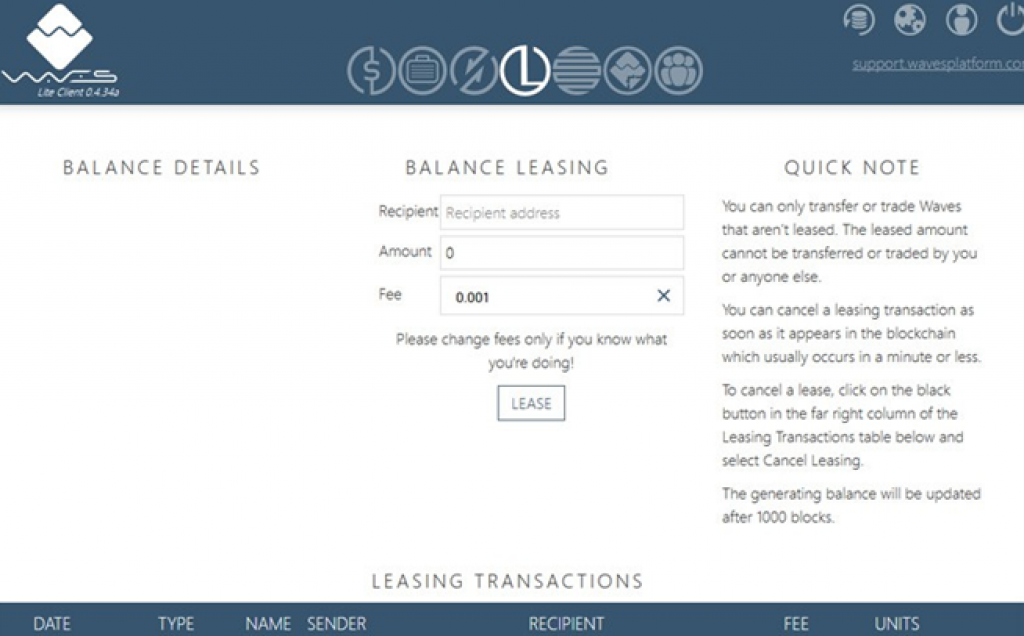 It's a simple as that. All you have to do now is to wait for your rewards to be sent each week. It is important to note that your Waves can't be transferred out of your Wallet while you are leasing them. So you will need to cancel the lease first if you wish to move your Waves to sell them, etc.
Waves Rewards
As I already mentioned, you will receive your Waves rewards weekly or monthly, depending on which pool you use. Another benefit of Waves is that some Waves Community tokens are air-dropped to your wallet on the 15th of each month. These are free tokens to rewards Waves holders which you can either sell on the DEX for Waves or any other token or currency, or store in your wallet.
Summary
We hope that this beginner's guide contains useful information. You should be up and running and leasing your Waves in no time at all if you follow our complete guide.
The rates of return for mining are currently about 1% per month on Waves balances. The cost of entry at 10,000 Waves is just a few BTC. As the price of Waves rises, so too will both returns and the price of becoming a new miner, so those who get on board early, while Waves is still below $1, will likely see quite remarkable returns in the future.
Useful Links