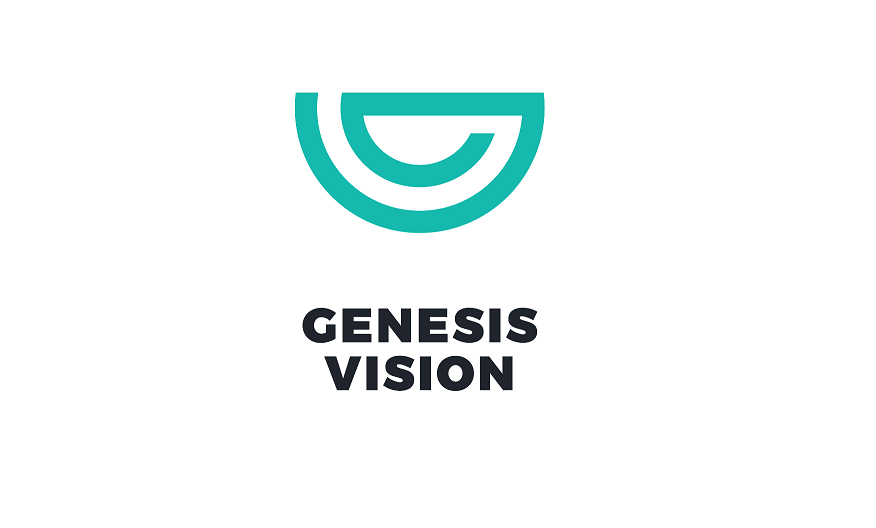 For quite some time now, traditional fiduciary management systems have been a black box of sorts for potential investors, because their inner workings are most of the times hidden and misunderstood. A platform where investors, managers and brokers could interact with eachother freely and transparently has long been a necessity, not just in the crypto world but in the fiat world as well. Up until recently markets were sluggish in transferring funds from one party to the other. The transfers were also quite non-transparent, as an investor never got the chance to look into where his fund manager invested the money. You might be given periodical statistics regarding the use of your funds but those are never clear enough and can come in too late, after your money has been spent unwisely. Malicious companies like to exploit this by scheming to attract customers with high promising figures that turn out to be not so promising in reality.
Genesis Vision is a trust management platform that looks to solve these issues and more by creating a decentralized network where investors, managers and brokers can work together and interact.


Managers (or traders, fund managers) have a proven trading history and look at investors for investment funds. Investors are usually not well versed in (or licensed for) trading and are actively looking to give their money to traders who will invest it for them. Finally, brokers are the ones who provide financial instruments that the traders invest in. Genesis Vision overcomes the current lack of information and connection between these parties by implementing smart contracts and blockchain technologies. The increased transparency will inevitably lead to an increase in trust among the parties included. The team's clear vision and the platform's scalability should help it stand out from other blockchain offerings.
How does Genesis Vision work?
Like we pointed out before, Genesis Vision looks to tackle the issues with lack of information, transparency, and trust in the world of cryptocurrency. The industry is currently growing steadily but the lack of quality trust management mechanisms is a glaring problem. Both managers and investors struggle, as invested funds are tied with their exchanges/brokers. The issue is further complicated by the fact that reliable sources of statistics and information are difficult to identify and are usually located in various locations. This leads to a lack of transparency; as brokers possess the skills to fabricate the statistical data and trade histories of managers, and investors have no way to see what of this information and history is real. Market participants are completely removed from having access to the details of the entire process of investing, earning profits and distributing commissions.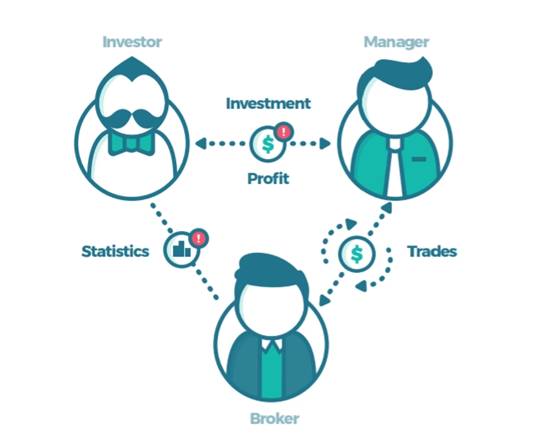 This complicated, hidden nature of the investing system resulted in a booming market for scams and frauds such as Ponzi schemes, which are ran under the guise of currency, stocks and other asset trading. Fraudsters take advantage of the lack of transparency and cause worse market conditions for everyone. Namely the increased lack of trust requires the tightening of regulations which makes it harder for traders and investment managers to become licensed. This will keep some well-minded people from the markets and will limit investors' investment options.
---
?Interested in pool mining? Check out the leading Genesis platform for mining and our guide about it.
---
Genesis Vision relies on decentralization, smart contracts, and blockchain technology to solve the issues mentioned above. Decentralization is a key principle of the blockchain technology itself, therefore it comes naturally. The blockchain technology itself delivers openness, censorship resistance, and immutability of information. Finally, the smart contracts further ensure openness and transparency by allowing for clear naming and defining of trading terms and conditions.
Everyone involved in trust management can benefit from the way Genesis Vision is set up. The range of financial instruments, managers and brokers is greatly expanded and much more transparent, giving investors unlimited access from anywhere in the world.
Investors are given an ability to easily survey the statistics and trading history of a manager before deciding if they want to give him their money to invest. Both of those databases are reliable and available on a single platform that is Genesis Vision. There are also no issues of trust thanks to the transparent investments and distribution of profit. Investors can invest in both fiat and cryptocurrencies which adds an increased liquidity; person that invested in a cryptocurrency can at any time turn it into fiat.
As for the managers, every one of them gets to set up their own cryptocurrency and take advantage of unlimited scaling to boost their trading strategy. Transparency and clear trade reports guarantee that competition is fair between managers. They also will see an increased investment activity and additional trading opportunities. A manager can use the intuitive platform interface to promote his trading strategy and attract new investors. The rest of their experience basically stays the same, as they will keep conducting their business activities through an exchange or a broker.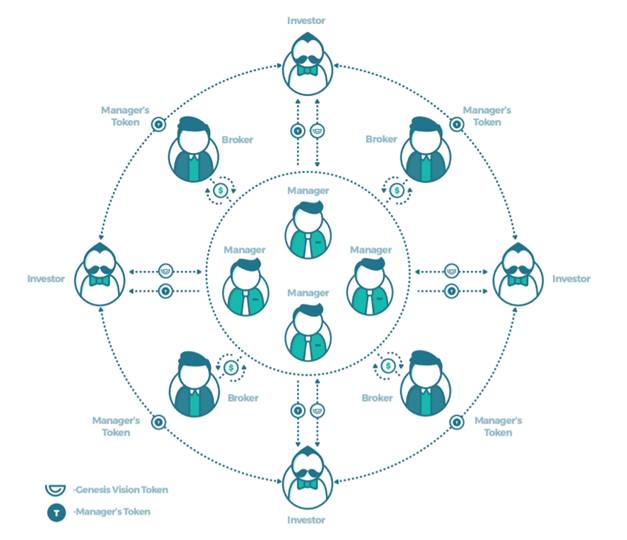 Finally, brokers will also see increased trading activity and will enjoy the benefits of added trust from investors and fund managers. All the software is also open source, making it free to use and transparent to understand. They will be able to utilize this software to set up trading conditions and do promotional activities which should attract new managers.
How Do the Individual Cryptocurrencies Work?
The unique feature of this project is that it gives each trader his own cryptocurrency. The amount of currency issued will depend on how successful his trading is. This will incentivize and reward traders for doing better trades.
Investing is performed by purchasing a manager's cryptocurrency. This method has several advantages over the traditional scheme of transferring money to a manager's account:
The manager's coin itself is an asset. At any time, the investor can transfer/sell this cryptocurrency on the internal exchange. The investor has the right to return the coins to the manager. However, the return occurs only at the end of the reporting period.
Unlike the traditional investment schemes, the user does not just give his money to an unknown until the end of the reporting period. Instead, the user buys "tangible" coins that are displayed in his or her personal wallet and can be cashed at any time. This encourages investors to potentially assemble large packages of different coins, which is a contrast to traditional investing.
There is an additional factor of involvement and user retention. In the traditional investment scheme, investors are not involved in the process that occurs between the moment of investing and making profits. In Genesis Vision's case, they will be able to constantly monitor the exchange rates of their managers' coins and the issuance of new coins, trade cryptocurrency on the internal exchange and so forth.
Investors have the option of investing either in a strategy set up by themselves or by other market players. There is an internal exchange that allows them to swap their crypto tokens whenever they want, which opens up their investment opportunities and gives them liquidity. While they can choose to follow their own investment strategies, investors can also decide that their best strategy is to follow a manager on the market. To do so, they will go and buy that manager's cryptocurrency on the internal exchange with the designated Genesis Vision token named GVT.
GVT Token
GVT is the platform token, which will basically work as GAS for fueling the Genesis Vision economy. It will be part of all investment operations and profit distributions. For example, if you as an investor want to invest a certain amount of dollars you will have to buy that amount of dollars' worth of GVT. Upon buying your GVT you will then use those on the internal exchange to get your desired manager's tokens. When your manager's investment time frame expires, you will be able to buy back GVT with your manager's tokens (which will hopefully be worth more as a result of manager's good investment strategy).
---
?Read our head to head comparison of two younger but leading crypto exchanges: Binance against Kucoin
---
Token ICO was held from 15th of October to 15th of November 2017. During the ICO, each GVT was valued at $1 USD. The total supply amounts to 4,436,643 GVT tokens. 3,327,482 GVT were sold during the token sale and the unsold ones were burnt. A further 11 percent of the total tokens, equal to 488,030, was reserved for the team and was frozen for a year. Another 5 percent, or 221,832 GVT, is reserved for the Genesis Vision Fund. These frozen tokens will become useable on the date of platform release and will be used to find ways to motivate managers and brokers to become a part of the platform. 33,274 GVT were reserved for the Bounty Program.
As the Genesis Vision platform starts growing and more clients start pouring in, it is expected that an increase in trading volume will follow suit. Alongside a well-thought-out plan for marketing and development the coin's price is expected to rise further in the future.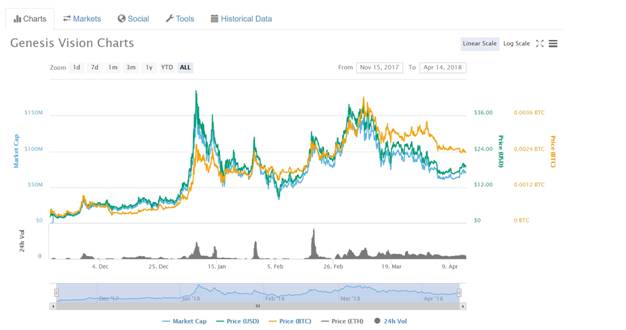 How to Buy GVT
As of the time of writing, you can buy or sell GVT on several exchanges, including Etherdelta, Kucoin, HitBTC, and Binance, all of which are good exchanges that take in very few bad coins. You are not able to purchase GVT directly with fiat currency so you will need to first purchase another currency like Bitcoin or Ethereum. For a full instruction on how to purchase Genesis Vision check out this linked guide.
Roadmap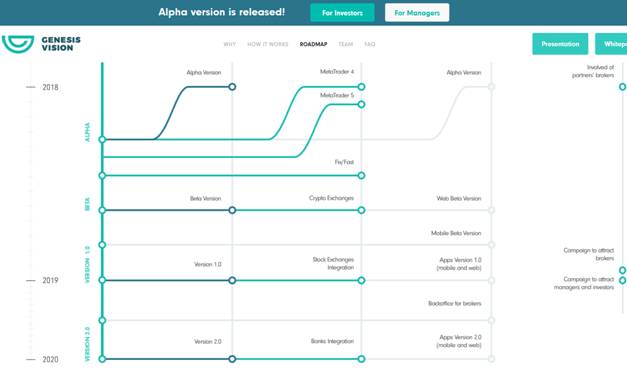 A somewhat confusing roadmap gives out a decent amount of information, signaling an alpha release in the first quarter of 2018 and a fully working product being available in 2019. The alpha has indeed been successfully launched; it has an investor version and a manager version which can be looked at here and here. Next on the team's agenda is the Metatrader integration, which should help bridge the gap between the Forex and crypto worlds.
Team
Genesis Vision team boasts a mostly Eastern European line-up. With the CEO you can find names like Ruslan Kamensky at the CTO spot and Alexey Kutsenko as the Chief Business Development Officer. Mr. Kutsenko is the CEO of the well-known Tools4Brokers platform which allows Genesis Vision to tap into the existing broker database of T4B. This should motivate managers and investors to follow suit. Finally, the advisor board contains a familiar name in Charlie Shrem, the famous founder of the Bitcoin Foundation.
Final Thoughts
Genesis Vision is a project that should revolutionize the trust management industry. By addressing the obvious lack of information, reliability, and trust, they are creating a platform that everyone should feel comfortable using. Their application of blockchain technology is expected to resolve many issues of both crypto and fiat investment worlds and will definitely be the one to look out for in the future.
Official Website: https://genesis.vision/
Whitepaper: https://genesis.vision/white-paper-eng.pdf
Twitter: https://twitter.com/genesis_vision
Telegram: https://t.me/genesisvision
Reddit: https://www.reddit.com/r/genesisvision/
Coinmarketcap: https://coinmarketcap.com/currencies/genesis-vision/
Github: https://github.com/GenesisVision

CaptainAltcoin's writers and guest post authors may or may not have a vested interest in any of the mentioned projects and businesses. None of the content on CaptainAltcoin is investment advice nor is it a replacement for advice from a certified financial planner. The views expressed in this article are those of the author and do not necessarily reflect the official policy or position of CaptainAltcoin.com